With 2018 versions of Adobe program releases came much scrutiny of Lightroom naming conventions and confusion over the purple line that appeared when using Photoshop's brush tool upon update (we highlight the work of Pratik Naik and go into detail about what that purple line is here) but what's new and useful in Photoshop 2018? Nathanial Dodson of Tutvid has answers.
SELECT AND MASK
Photoshop's initial transition from "Refine Edge" to "Select And Mask" caused an uproar, but this new edition claims to have made improvements. Adobe has updated the algorithm that drives this feature and, as demonstrated in Dodson's video, does, in fact, perform better than its predecessor.
Using the "Refine Edges Brush," Dodson was able to quickly bring back hair detail around the edge of a model he was compositing to a satisfactory degree after making a quick selection. The results would still require a bit more meticulous cleanup, but Dodson was able to get things off to a fast start.
COLOR AND LUMINOSITY MASKS IN CAMERA RAW
These masks apply to the Brush, Gradient, and Radial tools in Camera Raw. They allow an applied effect to refined to a specific color range, sampled via eyedropper and refined by a slider, or luminosity range selected via a slider. These new masks will be useful for applying refined effects to only targeted areas within a selection in Camera Raw.
VARIABLE FONTS
Those who regularly use text in Photoshop will appreciate new type options. There is a new panel for text properties, and it contains some easy-to-use and very precise tools for customizing text when using variable font types. Photoshop users can now customize a font's weight, width, and slant via a slider, provided that they are using a variable font.
CURVATURE PEN TOOL
The original Pen Tool has stymied many a photographer upon first encounter, but the new "Curvature Pen Tool" seeks to simplify the creation of curved shapes and selections. With this new tool, curved shapes can be created without clicking and dragging to create tangent handles, though to further refine the shapes those can still be accessed by changing pen tools after the initial shape has been created.
BRUSH SMOOTHING
Ah, here we have the culprit when it comes to the mysterious (upon first discovery, anyway) purple line. Turning up Brush Smoothing allows the user to create smooth brush strokes easily. Gone are jittery-looking strokes with this feature, replaced by buttery-smooth lines. The purple line, or 'brush leash,' shows where your stroke will land as the smoothing algorithm follows behind. More on the brush leash here.
Check out Dodson's video to see everything in action, as well as pick up a few tips and tricks for getting the best use from the new updates!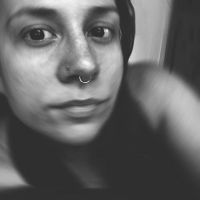 Holly Roa
Seattle based photographer with a side of videography, specializing in work involving animals, but basically a Jill of all trades. Instagram:
@HJRphotos