To learn more tips and tricks, tune into Photoshop Week 2014 this February 24-28 on creativeLIVE. When you RSVP for the event, you'll receive a coupon for 15% off any purchase at the SLR Lounge store as well as other special offers from the industry's best brands. Just look for the details in your RSVP confirmation email.
When we speak about "the little details" that make the difference between a good and great image, we're usually talking about specific techniques. But sometimes it's about the subject itself, especially in the world of portraits and fashion photography. How do you make those details shine? There are plenty of alterations you can make with your lighting and on-camera, but with Photoshop, there's very little reason to spend your precious time with a model or client worrying about those intricate details. Some of the trickiest areas to master are those fine, delicate eyelashes.
[REWIND: Color Portrait with Retouch and Enhancement ]
Lindsay Adler, a portrait and fashion photographer who has spent years experimenting in Photoshop, has learned the quickest and most effective ways for perfecting these details in post-production. Here's a quick rundown of how she goes about fixing eyelashes:
When smoothing out the areas and applying makeup around the eyes to get that perfect facial color in post, you always run the risk of ruining your model or client's natural eyelashes. What happens with the blending tool is the skin color erases those beautiful lashes. In the screenshot below, which was taken from her Photoshop Week 2013 course, Lindsay purposefully shows her students how applying black eyeliner can create this negative effect.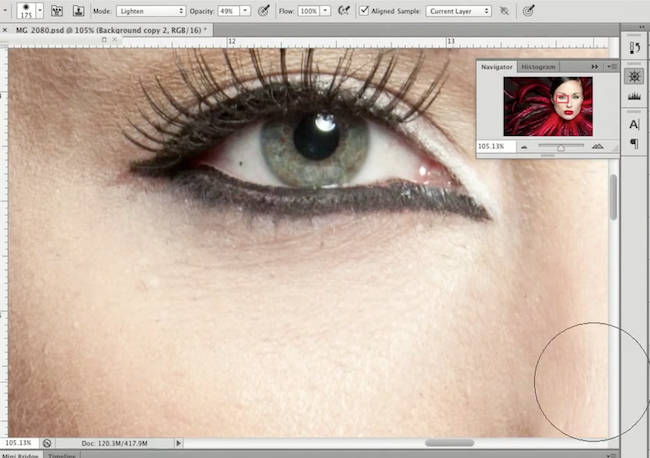 There are two ways to remedy this situation. The first involves selecting the smallest brush available and simply drawing them back on manually:
Lindsay explains that this method involves a bit of cleanup that can be done with the eraser or clone tool. The other option is to visit the brush tool and select a set of bottom eyebrows from the side menu. From there, it's a matter of using your warp tool and trial an error with settings such as the opacity to make it look as realistic as possible. This process is also highly variant depending on the size of the print. If you are dealing with a large ad, say a billboard for example, the details are that much more visible and important to touch-up correctly.
These images are obviously not final, but they give you a glimpse into the technique Lindsay uses. To watch Lindsay in action, check out this short clip:
Don't forget to tune into Photoshop Week 2014 this February 24-28 on creativeLIVE.

Topher Kelly
Topher Kelly is a San Francisco based freelance writer and editor at creativeLIVE – an online education platform dedicated to providing free interactive photography, business and design courses taught by some of the world's best instructors.