Recently our own Pye Jirsa  was a guest on Andrew Hellmich's podcast "Photobiz Xposed" to discuss everything from TikTok Vs Instagram to running a photography business with over 30 staff members. Andrew found Pye by asking members of his own Facebook group and past interview guest, Tanya Goodall Smith suggested he talk to Pye about his new course and all the fun he's been having on Tik Tok would make him the perfect guest.
Trusting Tanya's judgement, I (Andrew) invited Pye for an interview. Since setting up this recording, I did some investigating to learn more, and WOW… my head is spinning!

I checked out Pye's photography website to see THE most incredible studio space! Trust me when I say you will be blown away when you see it.

A team of over 30 staff! Fantastic photography.

Plus, I learned Pye is not only a founder and partner of Lin and Jirsa Photography, a boutique Southern California photography studio with an incredible team that shoots over 300 weddings each year, with nearly 1,000 yearly client commissions.

In this interview, Pye shares his views and ideas on creativity, business, TikTok, and education while surviving and prospering during a crazy year of COVID.
[Related Reading: On the Other Side of Fear – A Creative Live Podcast With Pye Jirsa]
[Related Reading: Our Favorite Podcasts for Photography, Business and Life]
Here's Some of What's Covered in this Podcast:
How the pandemic has affected Pye's different businesses
Pye's multiple revenue streams
Why SLR Lounge was created
Pye's reasons for putting up free photography education online
What works best for Pye's studio
Having the right attitude towards learning
The downside of hiring people and training them to be perfect second shooters
A brief look at how Pye runs his business
Pye's business model and could it work for you
Why Pye doesn't use the traditional IPS model in his business
How Pye attracts photography clients
How Pye's referral system works
How to effectively network and build vendor relationships
Interesting photographs are vital when creating education and content
Can anyone learn to be creative?
How does a photographer become creative?
Why Pye feels he is not creative enough
What it means to feel creative
Is it okay to copy another photographer's style and bring it into your business?
Shooting to sell vs taking risks
Doing test shoots to stretch your creative boundaries
The difference between running full studio vs shooting for yourself
Is it worthwhile for photographers to invest time and effort into TikTok
Pye's TikTok strategy
Dabble on TikTok or stay with Instagram
The importance of understanding who your target market is before building social media content
Be sure to give this 1-hour conversation a listen and let us know what you think in the comments below.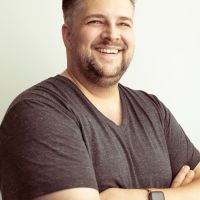 David J. Crewe
David J. Crewe is a full-time commercial photographer and Senior Editor with SLR Lounge. Based out of both Southern California & Las Vegas, Nevada. View his work and blog:
DavidJCrewe.com
Follow his Instagram:
@DavidJCrewe