Purchase the D7100 from B&H by clicking the following links:
The Nikon D7100 (body only) for $1196.95
(Currently with 2% cash back rewards!)
The Nikon D7100 (with the 18-105 DX VR lens) for $1496.95
(Currently $100 off, plus 2% cash back rewards!)
The Nikon D7100 battery grip, MB-D15 for $269.95
Also used in this review:
The Sigma 8-16mm f/4.5-5.6 EX DC (Nikon mount) for $649
(Currently $50 off, rebate ends June 30th!)
Nikon seems to be the champion of "trickle-down features".  What does that mean?  Over the ~4 generations of Nikon DSLRs that have come out in the past decade or so, Nikon has had the habit of taking flagship features from their high-end pro cameras, and putting those features in the more affordable model cameras.  For example when the Nikon D300 came out along side the flagship D3, it was a $1800 camera with roughly the same autofocus system as a $5,000 camera. (Among other very similar qualities)
Now, Nikon has broken that mold again.  The D7100 is a $1200 camera, with (roughly) the autofocus system of a $6,000 camera.
Of course long-term real-world testing will prove whether or not the true performance of the D7100 is actually identical to the Nikon D4, but on paper this is still an amazing fact.  (And in my initial testing, the D7100 focuses amazingly well!)  Either way the bottom line is that no other camera in the price range comes even close to making such a claim!
Nikon D7100, Sigma 8-16mm EX DC lens, Tripod
1/4 sec. @ f/11 & ISO 100
JPG image with "Extra High" Active D-Lighting, plus Lightroom fine tuning
What I like About the D7100
The Feel
The first thing I noticed about the D7100 is how it feels, of course.  It feels rock-solid, but small and light.  It feels like a miniature version of the D800, moreso than the D600 did.  (Let alone the D7000, and other previous "advanced amateur" bodies!)  Clearly, Nikon has delivered a built-tough pro-grade camera body, with a price and usability that will entice everyone from beginner to pro.
But a camera's handling is nothing, if the image quality isn't there. Thankfully, the second thing I noticed (and liked!) about the D7100 was it's image quality.  It is incredible!
The Images
I'll be honest, ever since I got the Nikon D700, I have been spoiled by the high ISO performance of full-frame.  I have wondered, will new crop-sensor generations ever be able to match the high ISO quality of Nikon's first generation of full-frame?  In theory, it's possible.  Of course you'll always see a huge difference between crop sensors and full-frame when comparing the same generations, but what about a 5+ year old full-frame camera versus a zero-year-old crop sensor camera?
I am happy to say, that the D7100 comes within acceptable distance of the D700, at least for my own personal needs as a wedding and portrait photographer.  Especially if you down-size the D7100's 24 megapixel images to a more manageable 12-16 megapixel size, the images start looking downright amazing even up to ISO 3200 and 6400.
Unfortunately, we do not have Adobe Camera Raw support for the D7100 yet, so these are JPG images.  I expect the image quality to improve (significantly!) when I have access to my usual special recipe of Camera Raw sharpening and noise reduction…
The first image is a rough test of the D7100 at full-resolution and ISO's 1600 thru 12800, and the second image is the same test at "M" size which is 16 megapixels.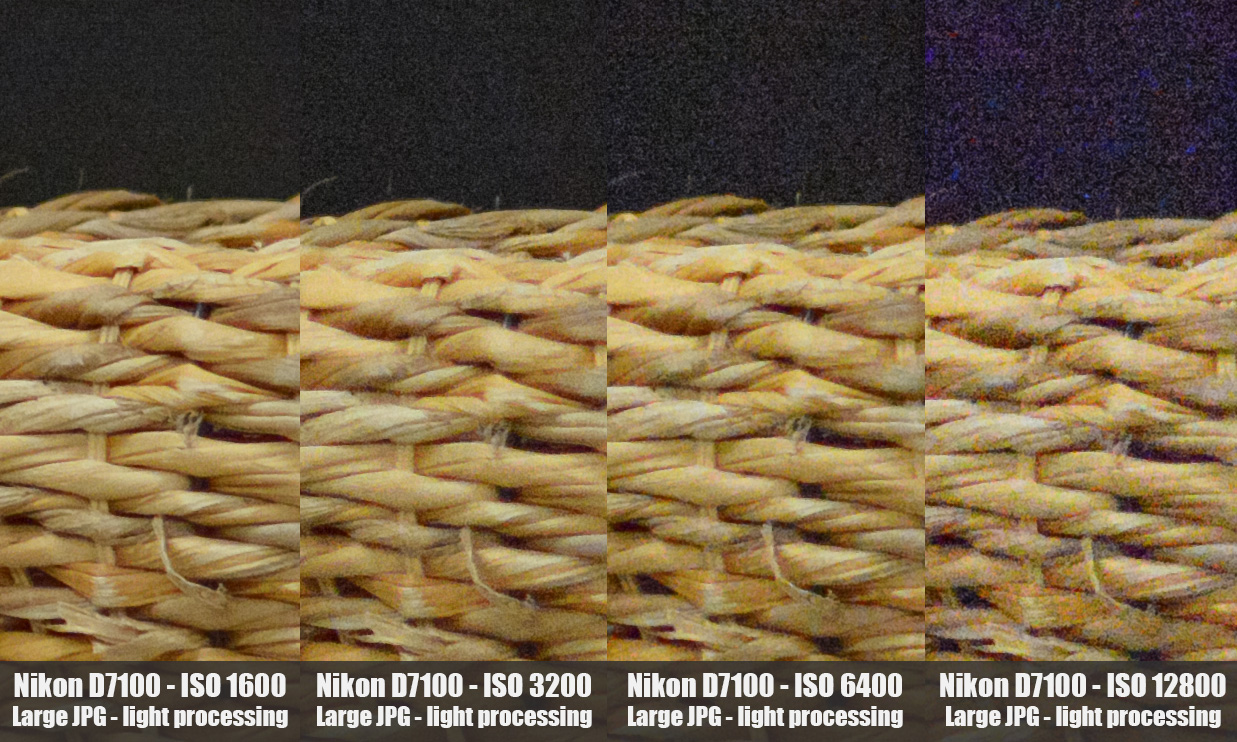 (Click the image to view a full 100% crop!)
(Click the image to view it as a true 100% crop!)
Next, a test between the Nikon D300, the Nikon D700, and the Nikon D7100.  Unfortunately Nikon's Picture Controls differ from generation to generation, so the color and contrast are slightly different, however the noise levels are a good representation overall in my opinion:
(Click the image to view it as a true 100% crop!)
 …Of course I'm sure you're wondering why we didn't compare the D7100 against the D7000, and the answer to that question is twofold:  1.)  We don't have a D7000 laying around, and 2.) My main interest with the D7100 is, …can it actually replace the D300 as Nikon's flagship DX camera?
In short, at ISO 3200 the D7100 is FAR more similar to the D700 than the D300.  Of course the D300 is two generations old compared to the D7100, but the important thing to note here is how similar the D700 and D7100 are.  True, you have to scale down your 24 megapixel D7100 images to ~16 megapixels before the truly impressive image quality starts to show.  But for my line of work, which is wedding photojournalism, 12-16 megapixels has always been the sweet spot.  Thus, personally I am thrilled with the D7100's image quality and I would strongly consider it to be a serious contender in numerous different markets.  Even markets and industries where full-frame was previously the status quo!
The Features
While testing the D7100 over the course of this past weekend at both a wedding and in a landscape environment, I found a couple very pleasant surprises with respect to the camera's overall feature set and functionality.
Firstly, the "surprise" that I already knew:  The Nikon D7100 has one-click 100% zooming during image review, unlike all previous advanced amateur bodies from Nikon including the D7000 and D600.  This is something I really find hard to live without now, having used such a feature to aide in confirming image sharpness for many years now.  (Since the D200!)
Beyond that however, I discovered that Nikon has also enabled one-click 100% zooming during live view!  This was really helpful in quickly focusing manually in live view.
Secondly, my biggest surprise came when I discovered an extra exposure mode beyond the usual "bulb" exposure mode.  Like the oldschool SLR cameras from 10+ years ago, this "–" mode is like "bulb", but slightly different.  You see with bulb exposure, you basically have to hold your finger on the trigger the whole time you want to take a picture.  With "–" mode, you simply click once to open the shutter, and click again to close the shutter.  Essentially this allows you to do long exposures without any accessories!  Many times when a landscape photographer is shooting a sunset, they get to that 30 sec. "limit" within a few minutes of the sun going down.  Beyond that, you either need a cable release, or you start compromising on your aperture or ISO.  Now, you can simply open and close your shutter at will, allowing you to break past the 30 sec. "barrier" and continue to 1 minute, 2 minute, and longer exposures.
Of course these two features are probably a little obscure for most, and I understand that.  They are just the two features that I was most excited about, as a nature / adventure / landscape photgrapher.  Overall, the camera functions amazingly well and that's about all I can say. I highly recommend it.
Nikon D7100, Sigma 8-16mm EX DC
1/125 sec. @ f/16 & ISO 100
JPG image with "Extra High" Active D-Lighting, plus Lightroom fine tuning
Concerns I (used to) have about the D7100
When the D7100 was first announced, there were a few things that concerned me at first.  I'll just go over them in bullet form:
The diffraction issues of having 24 megapixels in a 1.5x crop sensor


Thankfully, Nikon's choice to remove the AA filter seems to help in recover a lot of ground in the battle against diffraction.  I couldn't see any image detail loss / softening even at f/8, f/11, and even by f/16 the detail was still superb!  Only f/22 seemed to "fuzzy up" the image a little too much, and even then I would use it in a pinch.
So, essentially, the D7100 feels almost like a full-frame camera when it comes to the battle against diffraction!
The lack of an AA

 filter


Of course the lack of an AA filter has it's own drawbacks.  Moire is a huge concern with sensors that lack AA filters.  Well, I'm sure there is some evil moire lurking out there in certain fabrics and patterns, but thus far I have found that the D7100 is very resistant to moire in most scenarios.  Actually, the ONLY times I could get the D7100 to show any moire, …every other camera I would test showed the same amount of moire!
Also, if a little bit of moire does start to show up, zooming in or out just a tiny, tiny bit can often completely eliminate the issue.  (In semi-technical terms, it only takes a very minor change in the per-pixel frequency relative to the pattern frequency in the image for any problems to vanish or become manageable)
The Buffer Size
This one was a huge concern, and the focus of my article about whether or not Nikon still has a (DX) D400 up it's sleeve.  Does the D7100 "choke" in fast-action shooting conditions, with such a small buffer?
If you shoot 14-bit lossless compressed RAW, the bufffer is a measly 6 images large.  At the camera's native frame rate, that's just 1 second of shooting before the buffer slows.
However, turn the D7100's RAW quality down to 12-bit and true (lossy) compressed, you get a good 9 frames in before the camera slows down.  Then, jump to 1.3x (total 2x) crop mode, and you get a good solid 10-11 frames (at 7 FPS!) before the buffer fills.
For most photographers, this is going to be absolutely more than enough.  Only the most serious sports shooters are going to miss the larger buffers offered in the flagship sports cameras.
Even then, if you really need an unlimited buffer, just switch the D7100 to Large JPG with the JPG compression set to "Size Priority", …and happily blaze away with an unlimited buffer.  (Assuming you have a moderately fast memory card)  Now I know that some will scoff at the thought of shooting JPG, but honestly I've shot plenty of sports over the years and although I'm not employed as a sports photographer, I definitely believe I can get great quality results without "the RAW  advantage"…  So once again, for the average and even the above-average shooter,  the D7100 is a killer action sports camera!  (Does this mean there won't be a Nikon D400?  I still don't know, but I do bet Nikon is strongly considering it)
Nikon D7100, Sigma 8-16mm EX DC, tripod
1.5 sec. @ f/16 & ISO 100
JPG image with "Extra High" Active D-Lighting, plus Lightroom fine tuning
Initial Verdict
I believe that we have a new crop-sensor champion for adventure and landscape photography.  The D7100's combination of overall image quality plus the lack of an AA filter makes it the ideal lightweight alternative to the likes of the D800.   In fact if the RAW dynamic range can hold it's own once I get my hands on an update for Adobe Camera Raw, I might even decide that a D7100 is the best landscape / adventure camera, PERIOD.  The Canon 6D would still beat it for astro-timelapse photography, but as far as Nikon in general is concerned, the D7100 could be my new favorite.
And of course, as a general all-around camera for the advanced amateur photographer, the D7100 is stellar.  Its price is amazing considering its semi-flagship feature set, and I am hard-pressed to think of a type of photographer from beginner to pro who wouldn't feel good about having a D7100 as either their main camera, or at least as a backup.
This glowing opinion begs the question, of course:  If you own the D7000 for example, should you upgrade?  Honestly, it always comes down to the same thing:  How much do you push the envelope?  If you're not even feeling the limits of your current camera, then stick with whatever you've got!  The only reason to upgrade, in my opinion, is when you can truly feel that a camera his holding you back or significantly inconveniencing you.  Which is, let's be honest, a very rare situation.  The last time I felt like I was truly hurting for a better camera, it was 2004 and I was shooting weddings with a Nikon D70!
However I know those envelope-pushing photographers are out there.  Maybe the ones who curse that 30 sec shutter speed boundary, and who really wish they had a faster way to check focus during image playback.  ;-)
Until next time, take care and happy clicking!
=Matthew Saville=
(PS!  This is only part one of our D7100 testing!  We'll return with part two, just as soon as Adobe updates their Camera Raw engine to support the D7100. So, stay tuned!)
Purchase the D7100 from B&H by clicking the following links:
The Nikon D7100 (body only) for $1196.95
(Currently with 2% cash back rewards!)
The Nikon D7100 (with the 18-105 DX VR lens) for $1496.95
(Currently $100 off, plus 2% cash back rewards!)
The Nikon D7100 battery grip, MB-D15 for $269.95
Also used in this review:
The Sigma 8-16mm f/4.5-5.6 EX DC (Nikon mount) for $649
(Currently $50 off, rebate ends June 30th!)