Knowing how to utilize light is one of the most valuable skills that a photographer can possess. Natural light, studio light and a combination of mixing the two provide a never-ending supply of options and looks. That in and of itself can be overwhelming when it comes to determining which source of light works best when developing a style.
Photographers Manny Ortiz and Jessica Kobeissi have paired up in a Chicago studio to capture three different looks of the same model and highlight the difference between natural light and studio lighting.
The Gear
Jessica
Manny
Natural Light
Natural light is an abundant light source that can be captured from anywhere. One of the biggest hurdles is that the light is constantly changing and learning how to quickly adjust the exposure to compensate does take a while to master. 
Jessica demonstrates the versatility of shooting with natural light in a studio setting such as this. She makes great use of the space by having the model move within the frame and captures unique compositions as well as a sense of motion that can be more difficult to attain quickly with studio light. The light and shadows pouring in through the windows also add an extra element of visual interest.
Studio Light
Studio light, on the other hand, makes it easy to control any lighting condition without needing to adjust the exposure. Manny does an excellent job of mixing the available light with the studio light during this shoot. 
One of the concerns mentioned was that studio lighting is more confining in regard to where a model can work and that it is more difficult to get the dynamic posing with motion. A way to combat this is to learn the spread of the light, get the camera angle and have the model walk into the light. It will most likely take a few frames to get the desired result, however, it can be done quickly. 
Both natural and studio light have their benefits and caveats. Models and most clients typically don't have a preference of one light source over the other as long as they look good in the final image.
As photographers, learning to manipulate both types of light adds versatility to a body of work which is important to potential clients. It also opens up a slew of shooting possibilities and is a lot of fun learning along the way. Fair warning, it is addicting and it is perfectly normal to want every piece of gear imaginable in the beginning.
You can subscribe to both Jessica's YouTube Channel and Manny's YouTube channel as well as follow them on Instagram.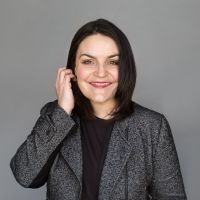 Brittany Smith
Brittany is a fashion and beauty photographer who works between NYC, Montana and LA. She photographs the way she has always wanted to feel and believes in the power of raw simplicity. When not behind a camera she can usually be found at a local coffeeshop, teaching fitness classes at the YMCA, or baking something fabulous in the kitchen. Instagram: @brittanysmithphoto