Today, Microsoft made an announcement which could have major ramifications on our photography workflows. They have expanded their line of touchscreen Surface computers, previously only available as laptop/tablet sized devices, into the desktop arena with a massive 28-inch screen all-in-one workstation, the Surface Studio.
The new machine is targeted directly at creative professionals, with an ultra-high resolution, 4500 x 3000 LCD screen. That's 13.5 megapixels, and 192 ppi, and it's only 12.5mm thick. The screen also supports an extended color gamut which Microsoft is calling "True Color." It will certainly support more colors than sRGB, but it's still unclear how it will compare to AdobeRGB. Beneath its gorgeous display, it will feature Intel's latest 6th Generation Core i5 and i7 processors, 8, 16, or 32GB of RAM, GeForce graphics cards, either 1TB or 2TB hybrid hard drives, and all of the ports and inputs you'd hope for. Prices will start at about $3,000 for a base configuration, and go up to $4,200 for the fully loaded version.
With this beautiful new beast, Microsoft seem to have the mighty iMac squarely in their sights. Although the Surface Studio's screen is a touch smaller and slightly lower resolution than the 28-inch 5k iMac, and more expensive (currently), the added touchscreen functionality could be huge for anyone who currently relies on expensive, high end graphics tablets. It's also built on a "zero gravity" chrome hinge which can quickly and easily convert from an upright desktop configuration to a 20 degree drawing/retouching angle. For anyone interested in maximum versatility in their desktop workstation, this could be the new standard.
Another interesting addition to the system is the new "Surface Dial," a palm-sized rotating puck, which can be used either alongside the Studio, or on the screen itself to control various parameters, with a radial, on-screen menu. The idea here is that digital artists could use both hands simultaneously while they work, with one wielding the Surface pen, and the other operating the dial to adjust their brush size, color, opacity, etc. The dial itself also features haptic feedback so that users don't have to look away from what they're doing in order to use it.
The possibilities for photographers are clear. The ability to view, and cull your images with the huge vibrant screen in its upright position, adjust your Lightroom sliders quickly and precisely with the Dial, and then swing the screen down into its drawing angle for precise, location specific retouching could be a game changer.
Tech specs for the Microsoft Surface Studio include:
Display: 28-inch 4500 x 3000 PixelSense LCD (192 PPI), 3:2 aspect ratio, Adobe sRGB and DCI-P color settings, 10-point multitouch
Processor: sixth-generation Intel Core i5 or Core i7
Storage: 1TB or 2TB hybrid drive
Memory: 8GB, 16GB, or 32GB of RAM
Graphics: GeForce GTX 965M 2GB (in Core i5 Studio) or GTX 980M 4GB (in Core i7 Studio)
I/O: 4 USB 3.0 (one high power), 3.5mm headphone jack, SD card slot, Ethernet, Mini DisplayPort
Wireless: 802.11ac Wi-Fi, Bluetooth 4.0
Cameras: 5MP front camera with Windows Hello support, 1080p video rear camera
Sound: Stereo 2.1 Dolby audio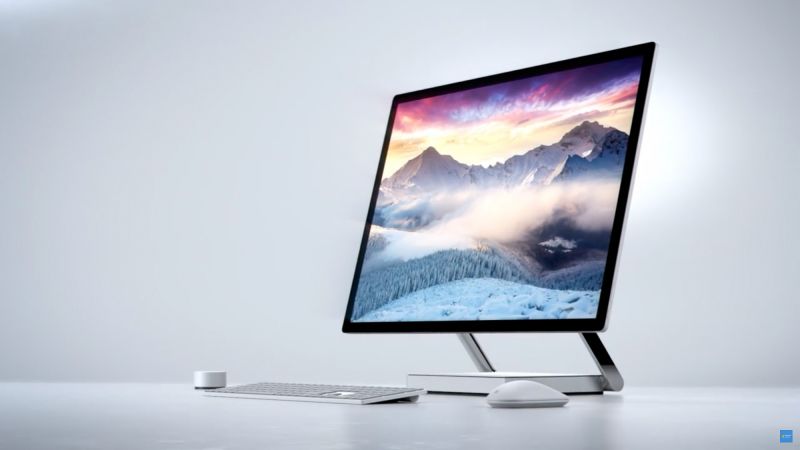 Personally, I'm a mac guy. I like the design of their products, and I'm familiar enough with OS X that I'm perfectly happy to stay within the Apple ecosystem. However, I'm not a fanboy, and am honestly intrigued by Microsoft's new announcement. The screen looks like it could be amazing, the specs are on point, and the ingenuity of this new form factor is impressive. Of course, Apple has an event scheduled for tomorrow where they're rumored to be announcing some new products in the Mac family, so I'll wait till all the players are on the field before I place any bets. What are your thoughts on this new foray by Microsoft?
The Surface Studio will be available in limited quantities this holiday season for $2,999, $3,499 or $4,199, depending on configuration.
Bing Putney
Bing is a professional portrait and on-set still photographer who lives in Los Angeles, and frequently travels the world to explore new and interesting cultures and pastries. Website:
bingputneyphotography.com
Instagram:
@bingputney