I have Apple computers, an Apple TV, Apple Airport Express, and iPads, so as you might expect, I have an iPhone. What I can assure you is that I am not what you'd call an Apple fanboy. I do like Apple products; I like their Stockholm coffee-house minimalist design, and their blonde-proof usability. I like how they all speak to each other in a language we all understand, and generally make my life easier, and prettier, even if a bit more expensive. It is not, however, why I have an iPhone.
I'm more than aware of the iPhone's limitations and faults; its less-than-best camera, its meager battery life under heavy use, its irreplaceable battery, in-expandable memory, and that the current one may bend in my pocket – maybe. But I won't switch to another brand of phone, no matter how dashing the Sony Xperias are, or how multi-functioning the Galaxies become, because I literally cannot be bothered to learn a new system.
This is the way it is with so many other things. I have dogs, and I don't want cats because I don't want to learn how to take care of one and learn how to be used. I have a Nespresso machine, and I won't get a Breville Oracle because I don't have half a year to learn how to work it without burning myself, and I have friends, who I won't replace with new ones because the ones I have are great. This is the way it is with most things. Familiarity, while it may breed contempt in a relationship, is a friend in terms of utility. We don't change systems until something's broken, or something really special comes along.
Camera manufacturers know this, which is why, I assume, they keep their operating systems so long and so different from each other, and why it is so hard to switch brands. To stake your spot behind the locked doors of the photographic kingdom, you've got to steal the key, and you do that by filling a gap with no rivals, or by going above and beyond for your class. This is what Panasonic has done with the GH4, and LX100 respectively.

The feature set of the LX100 is like a fish-farm pond – rather stocked. The basics you can find in the list below, but in addition to the specs on the box, there are a host of other nice functions that help make this a premium camera.
It shoots up to 11fps, allowing you to capture a scene or fleeting moment with confidence. It features a 49-point area autofocus along with face/eye detection, tracking, custom multi, 1-area and pinpoint AF options, as well as manual focusing ability. To aid in that ability, the LX100 provides Focus Peaking that shows areas of highest contrast, and zebras that show areas that are blown out.
Furthermore, you'll get an electronic shutter that goes up to 1/16,000! Others are discussed throughout, and in more detail.
12.8MP 4/3″ Type Multi-Aspect MOS Sensor
Leica DC Vario-Summilux f/1.7-2.8 Lens
24-75mm (35mm Equivalent)
2,764k-Dot EVF
3.0″ 921k-Dot Rear LCD Screen
4K Ultra HD Video at 30/24 fps in MP4
Full HD Video at 60fps in MP4 or AVCHD
Manual Control Rings and Dials
Built-in Wi-Fi Connectivity with NFC

The LX100 arrives on the scene at a time when more people are photography savvy than ever before, and more demanding. So much so that the point and shoot market really only survives in the high end. It seems people are content with their iPhone images for photographing their dinner and proving they are at the gym, and when they want something more, they go with a DSLR, or mirrorless system, or for high performing compacts. Sony turned the high-end compact market on its head with the RX100 in terms of price and ability, and people, myself included, paid handsomely for it. Panasonic has tried to best the Sony with the LX100 and at an even heftier price-tag. So, has it?
Image Quality
This is where the LX100 has the leg-up on all of its rivals. The image quality is truly brilliant for a camera of this size. It's using a Micro Four Thirds-type sensor with 16 megapixels and 'Leica' glass. The sensor however, will not give you 16MP in any one photograph, which for some, is going to be annoying. The LX100 utilizes Panasonic's Multi-Aspect Ratio system so any single image will only ever use 12.5MP at most, and that's in 4:3 aspect mode [This, I think, is partially to accommodate the new lens design – more on that later]. To be honest, I don't like the system, but it doesn't leave the images wanting for 16MP because the pixel size is up four times from the predecessor. This, is the key.
The Venus engine and sensor duo gives a native ISO range of 100 (with expansion – normally 200) to 25,600, and lets you shoot 4K, though you'll need, as I found out, a UHS-II SD card to do it. But the 4K video is great, to no one's surprise since it uses the same engine as the GH4, and it does well at retaining tonal values and dynamic range through ISO 1600 with few artifacts.
If you want really clean JPEG images, you're going to get them, though you're still going to want to keep this thing reigned in at ISO 800 or below for the cleanest if you're going to be viewing the images large, but I was quite comfortable shooting most things up through ISO 1600. Once you pass there, the details begin to fade, and dark tones lose their character. That's sort of nitpicking because that's to be expected from this size sensor. Really though, the images this produces are beautiful. They aren't oversaturated like you'll often find with Canon point & shoots, they are nicely neutral, and JPEGs seem to have just the right amount of sharpening.
Two other features that help this LX100 render such pleasing images are the white balance ability, and the impressive lens. This thing has got to have the most accurate auto white balance I've ever come across on anything shy of a DSLR, and better than many of those. While it can take a second for the camera to figure out what's right, it tends to nail it! That's such a joy and gives such confidence in shooting, and requires less fidgeting.
The lens on the LX100 also cannot be ignored for its part in the image quality. It's a Leica DC Vario-Summilux 24-75mm (equivalent) f/1.7-2.8, and paired with the size of the sensor, racked out at 75mm f/2.8, you can actually achieve some nice background defocus for portraits, which is where I lived while using it. Though I also was impressed with the lens' 3cm close focusing distance, making for nice macro shots, and overall, it focuses faster than the Sony RX100, and about the same as the Canon G7X – both of which are the main rivals, and neither of which can take images that are quite as good.

I may catch flack for this, but I have specific reasons for giving this only 2 stars. It's a good looking camera, to be sure. Its all black (or silver depending), retro styling is sure to catch the eye of most. It has good button layout, and a wonderful little 'iA' button that you can use to switch shooting modes with one hit, which becomes heavily used. It has another dedicated button for filters, making them easier to access and more frequently used, though I think most people would prefer this button to be re-assigned, but it can't be. There are, however, also 3 programmable buttons, but none as easy to hit while shooting as the filter button, but overall the ergonomics of this camera make operation easy.
When you look at it, from any angle, it's not displeasing to the eye. When it's off, it has the newly favored, retro-manual hallmarks of so many cameras today: manual shutter speed dial, exposure dial going three stops either way, and a lens with a manual adjustment ring. This lens also has a manual aperture ring and aspect ratio selections, which are nice touches, and the dials all move well  with a satisfying sense of authority. Things don't stay so positive from here on though.
That lens, I think is probably the most problematic thing about the camera. For one, it's noisy, and pretty much makes video a pain because the mic is sensitive and any manipulation of the lens while filming, is not only seen, but heard. The lens also protrudes from the body when closed, in the vein of the Sony RX1, but that Zeiss on the Sony is matched perfect for the sensor and immaculate – this is not. It has a major tendency to give flare when the sun is near the edges, which becomes very annoying. I live in Miami, and the sun is always out, so it was always an issue. If you're a Cullen and you live in Oregon this may not trouble you as much. (Ironically, one of the creative picture modes adds an even greater sun flare, which renders nicely, but clearly not needed.)
Now, I understand that in order to get a 24-75mm f/2.8 equiv. lens in this small body, concessions had to be made, and that's understandable. But what's the point if it robs the sensor of pixels (sort of), and gives this annoying type of flare? There's also no built-in lens protector, so you always have to walk around with this tiny lens cap that can get lost in a thimble.
I'd also be remiss not to mention that when the camera is on, the lens extends in such a way that it's appears it's being vulgar. I actually had moments of embarrassment when using it, and made every effort to hide it like a 14 year old boy walking to class with a binder in front of him. This wasn't too difficult given that the overall size of the camera isn't large, but it's by no means pocketable – the lens, even when closed, and the EVF eyepiece, make certain of that.
The EVF does work very well though; it's bright, quite accurate, 2.76 million dots, and I found myself using it more than half the time. It is certainly easier and more comfortable to use than the one found on the Sony RX100 MKIII.
But there are a few other, what I would call major design flaws. For one, the LCD is not touchscreen, nor is it articulating. Up against its main rivals it should at least do one. The G7X does both, and the RX100 III articulates. And one would think at it would at least articulate given the touted 4k video ability, encouraging people to shoot video.
Furthermore, there is the proprietary USB which would be a pain to replace if lost, and probably most annoyingly….the flash. This camera has no built-in flash, and in what is clearly a complete and classic afterthought, Panasonic includes in the box, a little fabric bag that holds a tiny attachable flash. This, to me, was laughable. The last thing we want to do when carrying a small camera around, is look after its even smaller flash attachment and lens cap. The flash works okay when attached, but I never used it because I didn't feel like walking around with it, and Panasonic's decision to put it in a little jewel bag just draws attention to the fact they are trying to cover up a mistake.
You may think a flash on a small camera is not too necessary, especially one with this size sensor, high ISO ability and fast lens, but I use the flash on my RX100 to great effect. It can be bent back and bounced off the ceiling giving indoor shots an incredibly soft-box-lit look.

The build quality is solid, and it's clear this is one camera that aims for a higher-end user who is going to expect good quality for a price. It feels good to use, and much more ergonomic than the G7X and the Rx100 series. There's a notable level of reliability in the functioning of all parts of the camera, and it all lends to a confidence in use.

Far be it for me to presume what you should or shouldn't find valuable, or to assume how much something is worth to you. That said, this is not an inexpensive camera, and its two main rivals both come in under this $900 price tag.
On paper, and in the hand, the LX100 looks the part. It looks like a group of men in white coats with high IQs put a lot of time and effort into building something attractive and purposeful, and what they've ended up with is a small-ish camera that trumps its closest rivals, and plants Panasonic as a major player in the high performing compact camera zone. And if you had any doubts, once you see the picture quality, it hits you like a brick wall and all doubt is removed. There is no other compact camera that renders images as well as this. So $900 to get larger format camera results in a smaller package, for under $1000? Yes, you're going to want this camera, and when you buy it, you'll walk away happy in the knowledge your new toy is king of the hill.
Except you won't, if I'm honest. Well I wouldn't be. Then again, I'd never buy one.
I've listed some of the problems in the design portion of this review, but I'm afraid there's more. The size of this camera makes it impossible to pocket, unless you shop where LeBron James buys his suits, or you have a purse – which doesn't help half the population. So it is not really in the same league as the Canon G7X or the Sony Rx100, which are truly pocketable compact cameras, even in my slim-fit jeans. The LX100 isn't much smaller than the Olympus OM-D E-M10 in fact, or even the Panasonic GX7, and that has a touch screen.
So it begins to compete with mirrorless cameras too then, like the Fuji X100, or any manner of other mirrorless pieces that take even better images, have higher specs all round, and have the option of interchangeable lenses (not the X100T, clearly), which makes this seem less appealing. In a way, this size-predicament reminds me again of the RX1R, but that's a spectacularly special camera that makes images you'd have to get a D810 with an Otus lens to rival, and it's worth every penny. This, plainly, in my humble opinion…is not.
Sorry Panasonic, I'm not switching.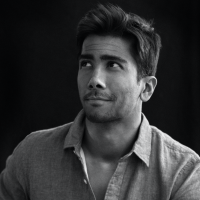 Kishore Sawh
A photographer and writer based in Miami, he can often be found at dog parks, and airports in London and Toronto. He is also a tremendous fan of flossing and the happiest guy around when the company's good.