Marko Pirc, creator of Lumu Light Meters, has introduced an effortless light-shaping experience for mobile photographers with bluetooth connectivity and high-speed sync (HSS). The LIT Flash is an innovative new handheld wireless Xenon Flash that's designed to meet your mobile photography needs while attempting to change how smartphones are used in photography.
Watch the Kickstarter video for the new light below.
"As a photographer myself, I sometimes struggle with either getting the best shot possible with available ambient light or having enough control over the light and mood of the final photo.

So our team decided to bring a powerful Xenon flash into the hands of mobile photographers. It turns complex photography setups into seamless playful experiences for the mobile-first era.

Leveraging all the smartphone technology traditional cameras lack enables it to be the first intelligent wireless Xenon flash ever made. Our ultimate goal is to bring light mastery within the reach of any mobile photographer.

All the photographs you ever see coming from us are made with mobile phones and LIT Flash." – Marko Pirc
Flash Power & Remote Triggering
With exposure times ranging from a few seconds to 1/10s, the LIT flash boasts being incredibly simple to use and very powerful. The system states it eliminates the hassle of complex setups by giving you an intuitive & powerful tool for fast creative production turnarounds. You can even trigger your phone's capture remotely with a button located on the flash unit itself , allowing you to "light paint" a series of images (see GIF below for an example).
Cost & Shipping Dates
The LIT flash is expected to ship to backers of the project by January, 2020 (if they make good with their promise), with an expected MSRP of $329; early pledges, however, can get the system at a very large discount for just $179!
Technical Specifications
Flash Power output: 40Ws at full power (equivalent to Guide No. ~32)
Flash Power settings: 1/1 to 1/256 (100-0.4%)
Flash Duration: 1/350 to 1/30,000 Second
Modes: Classical, HSS
Recycle time: 0.1-2.5 Seconds
Flash-Ready Indicator: Yes
Light beam angle and shape: 90°, cone shape, even light distribution (no hot spots)
Battery: Built-in Li-Ion, 2800 mAh, 3.7V
Battery life on a single charge: 200 full-power flashes, 400 flashes in real life usage (as tested)
Photo capture triggering: with app or with Flash (remote capture button)
Exposure control: Auto (TTL), Creative modes, Manual
Mounting options: 1/4" tripod thread and bayonet accessories mount
Dimensions: 4.1 x 2.4 x 1.5″ / 105.0 x 65.0 x 38.0 mm
Weight: Approx. 8.8 oz / 250 g
Compatibility: iPhone (7, 7 Plus, 8, 8 Plus, X, XS, XS Max); Android (full range of compatible phones to be announced)
Wireless Sync: Bluetooth 5.0 (works with lower versions as well)
Wireless Range: approx. 130 feet (40 meters)
Multi-flash Sync: Yes, up to 4 units, controlled separately from the app
My precious: With this (optional) setting, LIT Camera app notifies you (even if closed) if your LIT Flash gets out of reach + shows you the "last seen" location of it. Alternatively, triple pressing the LIT Flash button will make your misplaced phone ring even if it's on silent.
Some Comparison & sample images below;
Special Feature
An interesting feature listed above in the technical specifications is the "My Precious" tool. It will alert you if your flash gets out of range of your phone and will show you it's last known location before it lost connection to your device. Conversely, triple tapping the LIT Flash's button will make your phone ring (even in silent mode), allowing you to find your phone if the opposite happens. You can also sync up to 4 units together (controlled by the app), which gives you the ability to set up some pretty complex lighting scenarios for a mobile device.
The LIT Flash has really only just launched through its Kickstarter campaign and is already well past 1/2 of its goal with nearly a month left to go. Even with the early-bird pledges qualifying you for a very large discount on the MSRP, the price point still seems a bit high for a device that you can technically only use with your mobile phone. Granted, I'm not much of a mobile shooter, so I'd love to hear from those of you who do a lot of work with your smart phones.
What do you think? Does this seem worth it? Does the price point seem fair given the features you get? Can you see yourself using this on your photowalks? Let us know in the comments!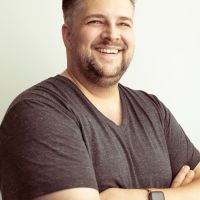 David J. Crewe
David J. Crewe is a full-time commercial photographer and Senior Editor with SLR Lounge. Based out of both Southern California & Las Vegas, Nevada. View his work and blog:
DavidJCrewe.com
Follow his Instagram:
@DavidJCrewe