Once you've begun to dabble in the Photoshop world, or learn how to incorporate its abilities into your work and workflow, a venerable cornucopia of options awaits. The changes can be major and appear subtle, or subtle and appear major, or any combination of the sort. One such area of manipulation is color alteration. Anything from clothes, to skies, to eyes, and any object in between can effectively have it's color completely changed and or adjusted. The team at Phlearn has once again broken this process down for us and Aaron Nace walks you through it in this free tutorial.
Rather than just giving the object a painted look, Photoshop is able to change the base, shadow, and highlight colors, and this video illustrates a method of doing so. The example used by Nace is a car, and he actually goes beyond just changing the color of its coat and adds some more punchy effects like a lens flare and shadow gradient, and the end result is significantly more intense than the original. That being said, the steps are broken down in such a way you're able to omit or adjust each of these steps at will.
Thoughts
I generally don't do this sort of manipulation in Photoshop because, well, I'm too damn boring and old school, and am much more subtle. The likelihood that I'll be adding lens flares all the time that Aaron is so fond of is unlikely, and I don't really shoot the subjects that would require this. I did try it on a car by the way and it works brilliantly. The premise however, is sound, and I used it as an alternate method to change eye color to great effect. You can find that example below.
In other news, Aaron shaved his beard. Whoa. I did a double take…or triple take…

Source: Phlearn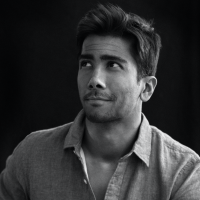 Kishore Sawh
A photographer and writer based in Miami, he can often be found at dog parks, and airports in London and Toronto. He is also a tremendous fan of flossing and the happiest guy around when the company's good.