Founded in 2012 and launched via a Kickstarter campaign that was funded almost three times over, Langly has made a name for itself in the higher-end camera bag market. Since the brand's inception, some of their bags have been upgraded multiple times, and we've got our hands on the newest iteration of the top-of-the-line 'Alpha', the Globetrotter, to test.
The new Alpha Globetrotter comes with some serious improvements over the previous model, and directly addresses the most common complaint about the prior Alpha backpacks (detailed below) while adding luxurious touches. Inspired by military durability and aesthetic, the Alpha Globetrotter, is an attractive and luxe camera backpack.
Design And Build Quality
As far as design goes, since the beginning of the Alpha bag line, Langly has basically borrowed and adapted for photographic purposes the literally battle-tested military ALICE pack. That translates to a bag with three external pouch pockets, a front-access (in this generation), padded camera compartment with configurable padded velcro dividers, and an upper compartment for sundries that zips shut and is further guarded by a flap that snaps in place.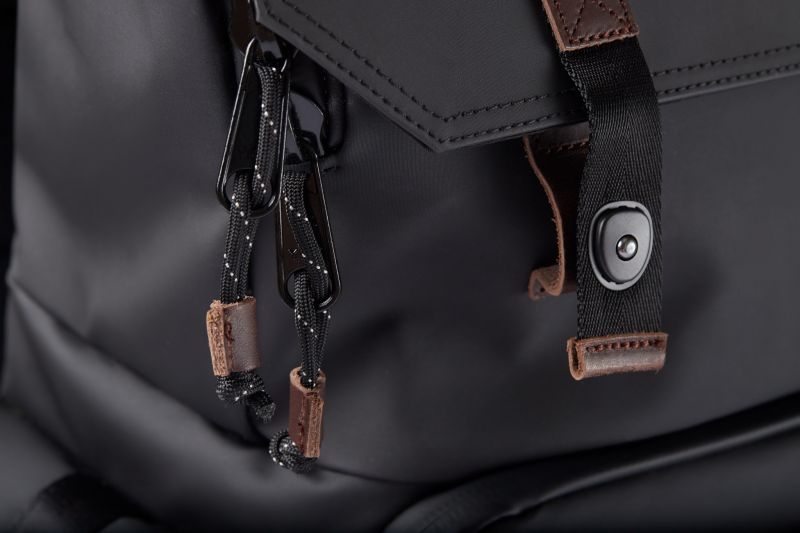 Inside the top compartment is a divider-less space to put less delicate things, a small zipper pocket beneath a label you can write your info on, and access to a zipper-accessible laptop slot that fits laptops up to fifteen inches. When inserted, a laptop rests along the back of the pack. On the outside of the pack's back is a small zipper compartment that is guarded by a velcro strap.
[Related: The Best Camera Bags In 2018 According To SLR Lounge]
The external pockets fasten with snaps, and the tops of the pockets fold over to help seal out the elements. The zippers to the camera compartment and top compartments are weather-sealed and look heavy-duty. 
The Langly Alpha Globetrotter is a solid beast. It's a bit hefty on its own before you pack anything into it, but that adds to the impression that it will last. A polyurethane coating gives the twill material from which the Alpha Globetrotter is constructed a leathery sheen that repels moisture.
The straps and the padded area where the pack rests against the wearer's back are upgraded from the previous generation and now resemble something found in a high-end outdoor brand daypack.
The straps are a ventilated soft and rubbery material and the back is padded with custom molded air channels. Adjustable load lifters, chest strap, and waist strap are included to help alleviate strain for longer treks with a full load. At the bottom there are straps with clips to hold a travel tripod.
A two-ply handle with one side nylon and the other leather sits atop the pack to make lifting from the ground easy.
This is a pack designed for photographers who want something that functions like top-level outdoor gear but looks more stylish and retains just a bit of rugged, military feel. All the materials feel high-quality and that they are built for both longevity and luxe.
Performance
When researching the Alpha Globetrotter's predecessor to compare, I came across a common complaint, that the Alpha Pro's camera compartment was only accessible by unzipping the pack around the middle and bending the top back. If you had a laptop stowed, you would have to remove it to get full access to the camera compartment – it wouldn't open all the way otherwise.
The newly designed front-access camera compartment tackles the issue head-on and successfully. The Alpha Globetrotter unzips from the front and the opens easily. When I first saw that there is a pocket attached to the portion that opens downward, I was concerned things could spill out, but my worries were unfounded. The aforementioned folding top that keeps precipitation out also keeps your stuff in.
The front pocket that sits over the camera compartment is the largest of the three and contains a built-in lobster-clap tether for keys, et al.
The two side pockets carried forward a small issue from prior generations that has yet to be addressed: they are snug at the top. I have small hands and can reach in with relative ease, but I could see someone with larger hands being frustrated.
It's also hard to look into them, so if you can't remember which pocket you've put something in, your only recourse is to stick your hand in and feel around. Because of this, I found myself using the front pocket for things I often used and the side pockets for; things I just needed on-hand but didn't need to access frequently.
I took the pack on a day trip to Portland on its own outdoor product shoot, on an outdoor portrait shoot that required a hike to the location, and to a wedding. Fully loaded, including a 15 inch MacBook, the pack weighed 25 pounds. Here's what was inside:
Camera Compartment
Canon 5D Mark II body
Canon 6D Mark II with 24-70mm f/2.8L II attached
Canon 100mm f/2.8L
2x Peak Design straps, removed to stow bodies
2x Canon 600 EX-RT Speedlights
Top Compartment
Laptop
ColorChecker Passport
Cable release
Tether cable
Filter case with filters
2x Pocket Wizards in Case
Lumu Power light meter attachment
RC2 Quick Release Plate
Outer Pockets
16 AA Eneloop batteries in Think Tank AA battery holder
2x Canon batteries in Think Tank DSLR battery holder
Rocket Blaster Dust-Removal Tool
SD card case with cards
CF card wallet with cards
RAVPower 12000mAh battery pack
As you can see, the Alpha Globetrotter handily accommodates a shoot's worth of equipment for those who travel light. I carried a light stand and Photek Softlighter in a separate carrying case, added a 5-in-1 reflector for good measure and called it good. The addition of a laptop does reduce carrying comfort, though. Since it sits against the back, it makes the pack stiff there.
The chest and waist straps do work to take pressure off of the shoulders. I was walking with the pack fully loaded and hadn't bothered to fasten the clips when I felt pain creeping in from the weight and decided to use them. The relief was immediate and allowed me to keep going.
Snaps and zippers all do what they should. The zipper to the top compartment has more angular corners than the front compartment and as such is a little harder to open and close with one hand if needed. It tends to catch a little on the corners and requires a bit more force to open.
On a cosmetic level, the polyurethane coating scuffs a bit with use. The scuffs rub out, but it's something to note.
Conclusion
This is a beautiful bag that gets the job done and seems like it should hold up to professional use and look good doing it. Langly is committed to making each generation of products better than the last, and it shows in this bag. It's not quite perfect, but gets the job done, and in the time I've had it, it's elicited a couple "hey, cool bag" comments, confirming the aesthetic value.
If you've been eying the Alpha line of Langly bags but have yet to purchase, the Alpha Globetrotter is the best one yet to introduce you to the brand. You can pick one up here for $269.
If highly functional military chic is your thing, Langly's current Kickstarter campaign is worth a look. Their newest offering, pending full funding, is a feature-rich piece of outerwear that's inspired by the classic M-65 military jacket and is made to weather the elements and keep you and all your gear dry. The Langly Field Jacket is set to ship in December if the $50,000 goal is met. As of this writing, they're just under $5,000 away with a little under a month to go. 
Photographer-centric apparel isn't usually made with style in mind, but as with Langly's other products, the Langly Field Jacket is made to look good. The jacket is unisex, and rivals established outdoor apparel brands in specs, with a bonus.
The Langly Field Jacket comes in two varieties – Travel and Photographer. The two look the same, but the Photographer version offers some additional accouterments like a memory card wallet, film pouch, lens cloth, and more. It's worth noting that both versions contain pockets specially made to hold five different lenses, including a 70-200mm.
You can see all the specs and back the Kickstarter here.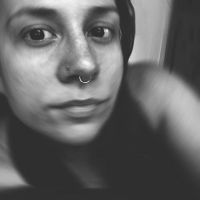 Holly Roa
Seattle based photographer with a side of videography, specializing in work involving animals, but basically a Jill of all trades. Instagram:
@HJRphotos