Our "SLR Lounge & Fundy Designer Artist Feature" collaboration articles highlight some of the very best photographers in the world. This article features Kristi Odom of Kristi Odom Photography (Washington, D.C., USA). Kristi is an internationally recognized wedding and nature photographer, conservationist, and public speaker. In addition to being a Fundy Storyteller, Kristi is a Nikon Ambassador. Kristi travels on a monthly basis and took the time to talk with us about her photography. And she also shared a few of her best photography travel tips with us.
Thanks so much for taking the time to talk with us, Kristi. We'd love for you to tell us about your photography business, especially how you got into photographing both weddings and nature.
I grew up close to my grandfather. When he passed away, he left me his camera gear. That was right before I went to Georgia Tech to study electrical engineering. I started photographing to feel close to him again, and the strangest thing happened. In my shyness, through photography, I started to realize that I had a voice. Soon, I started calling promoters for bands, to photograph concerts for our student publications. And this led to a job with Rolling Stone. After three years, I left engineering and moved to Australia to get a Fine Arts degree, with a concentration in photo/media. While in Australia, I fell in love with the natural world and really started using my camera to show my passion for all things nature.

When I finished my studies, I hit the road for a year with my camera. I ended up back in Atlanta, massively broke and moving in with my parents. Georgia Tech asked me to do an exhibit, and I had a show called "6 Continents, a Girl, and a Camera." At the show, a woman asked me to photograph her wedding. I was using film back then. The first photograph she picked up made her cry. She thanked me for making her feel the emotions of her wedding day again. I was hooked, because I loved that I could use photography to give these emotions back to people.

That was over fourteen years ago, and I still feel honored every time someone chooses me to be a part of such a big day in their lives. For me, weddings are when I get to tell someone else's story. I photograph wildlife to tell my story. Photographing weddings, and focusing on emotions, has taught me a different way to photograph animals. I find that I am always looking for expression in body language, in gesture, and in touch. Photographing both nature and weddings has helped to give me my voice in my work and to connect people to my photographs.
What do you love the most about photography?

I love being able to grab split seconds of life, and keep them forever. This world is so beyond beautiful, and being a photographer means I get to keep pieces of it. I love the moments of connection that we have with one another and with nature. I love connecting people emotionally to wildlife with hopes to get people to love the natural world and want to help preserve it. Time goes by so fast, and a photograph grabs the moments I love and gives them to me, and to us, forever.
What does being a Nikon Ambassador mean to you?
It is the biggest honor of my life. For me, the most amazing part of being a Nikon Ambassador is growing close to the other ambassadors, who are the most kind hearted, giving people I have ever met. This group believes in inspiring and believes in changing the world through photography. I am on a list of photographers that have raised millions for wildlife, that have demonstrated climate change by documenting glaciers over decades, that have won the Pulitzer Prize, that have started non-profits, that have empowered women, and the list goes on and on. These are the leaders of our industry, and now my family. If you want to see the power of photographer make sure to follow some of Nikon's ambassadors!
You have a pretty heavy travel schedule. What are some of your best photography travel tips?
I travel pretty much every month. When you add it up, I am actually on the road more than I am at home!

The first, and most important, tip is to create a workflow that works for you on the road. You want a fast computer, which has a big enough screen, a fast enough processor, and a way to transfer photographs quickly. For my next trip to Kenya/Tanzania, I have a Dell XPS 15 (Intel i9 processor, SSD, and Thunderbolt 3 cables, which means I don't have to sit up for hours at night waiting for files to backup). Everything is optimized with this set up so that I can spend more time enjoying all the beautiful corners of this amazing planet!

Second, carry a camera that you want to take out with you to catch the simple moments. I personally carry my Nikon Z7 with 24-70mm lens. Suddenly, I am taking photographs daily on the road!

Next, put yourself out there on your social media channels as a traveler. The more you share on the road, the more travel opportunities will present themselves.

Finally, workshops are a great way to better yourself, and education is great way to start traveling more. For example, my first workshop was with a National Geographic photographer, David Doubilet, in the Cayman Islands in 1999. I am currently doing a workshop with VII in Poland, and I have seen a lot of the world, and grown as a photographer and as a person, in this way.
Thanks so much, Kristi. One last question before you go! What are you stoked about in 2019?
I'm most looking forward to working with our adventure company and workshop brand. We are really excited to show people this amazing world and give them the tools to capture and share it with others. Through education and adventure, our goal is to truly change lives!
You can see more of Kristi's work on her website. And be sure to check out her work on Facebook and Instagram!
Also, check out the updated list of partner discounts available for SLR Lounge Premium Members. You can, for example, save $50 on Fundy Designer's "Pro Suite" or "Album Suite." You can see those discounts by clicking here! And, finally, don't forget that you have until the January 31 deadline to be considered for SLR Lounge's January 2019 awards competition!
All photographs are copyrighted by Kristi Odom of kristiodom.com and have been used with permission for SLR Lounge. Do not copy, modify, or re-post this article, or the included photographs, without express permission from SLR Lounge and the artist.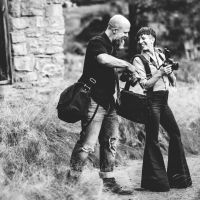 Amii & Andy Kauth
Amii & Andy are a wife and husband team of rad portrait and wedding photographers (Sunshine & Reign Photography) who absolutely love life and are generally just stoked! Yeah! When they aren't photographing or writing and teaching about photography, you'll find them off on a seriously legit adventure with their little ones, lifting weights in their garage, training jiu-jitsu, refining their archery skills, or surfing every chance they get. And on the rare chance they escape off on a "date night"? Yep! They'll find a wedding to crash (true fact). Website:
Sunshine & Reign Photography
Instagram:
@sunshineandreign