Around the world today you'd be hard pressed to find more widely spread news than that of the release of the new iPhone 7 and 7 Plus. It's arguably the most anticipated tech announcement on the calendar and there was a lot riding on this one. Apple's had an interesting few years, with fluctuating stock values attributed largely due to lack of innovation, the tax bill to end all tax bills, and for the first time, declining iPhone sales; so the iPhone 7 series had to be bold.
You can go watch the keynote or the ad spots, but in case you couldn't be bothered to sit through 2 hours of it, the highlight reel goes something like this:
Water resistance
Extended battery life
Removal of analog headphone jack
Haptic feedback
Stereo speakers
A10 processor
New colours
Larger hard drives
And then the highlight reel for photographers:
True Tone LED Quad Flash
Wide gamut Color Space
12MP f/1.8 camera on iPhone 7
2 12MP cameras on iPhone 7 Plus (Wide f/1.8, telephoto 56mm f/2.8)
Raw editing capability within iOS 10 (see here)
Optical Image Stabilization
Backside illumination
Improved tone mapping
Body and Face detection
6 element lens
4K video 30fps (Canon users get a decent video cam now ;-)
1080p at 30 or 60fps
Slow Mo 1080 at 120fps or 720p at 240 fps
Time Lapse Video with stabilization
Continuous AF for Video
Lightroom raw processing at 90% desktop capability*
If you've been keeping up to-date with the arena of point and shoots over the last 4 years, what you'll recognize from this list of features is that the 7 Plus has pretty much every feature you'd expect from a dedicated, albeit average, point and shoot. It's only amongst the more expensive range of around $400 and up can you expect any feature set to best this. The problem here is that they won't best it by much, and for any image capturing of frivolity, this phone will likely do. You'd have to go the range of the Sony RX100 M4 to truly outclass this as an everyday, and that costs near-as-makes-no-difference a thousand dollars. As such, it would seem that this is the nail in the coffin for the point and shoot.
There was no direct mention of raw processing, but from the developer's conference in June we can assume that iDevices from now on will come with raw shooting ability, and we know iOS 9 already supports raw files to be viewed and edited in select applications, and iOS 10 should see the full 400 cameras from 16 companies being supported for their raw formats. The fact that Phil directly mentioned Lightroom's ability to process raw lends to this as well. Beyond that, there's much mention of the noise handling capability and tuning ability in-camera, which likely means shooting in raw, and the fact Apple has made it a point to address the wide color space suggests this further.
iPhone 7 Plus – The One You Will Likely Want
The video features for sure will also be appreciated, and the optical image stabilization will be a boon to any serious or casual video shooter. That you should also be able to shoot in 4K and pull 8MP stills from that video is impressive. Everything about video recoding on the iPhone has been improved, and yet as impressive as that is, it's not the elephant in the room. That distinction belongs to the iPhone 7 Plus, and its dual cameras.
The iPhone 7 Plus has the primary differentiating feature that will get photographers and everyday shooters interested, as it's the only model to get the dual cameras. On the rear of this behemoth you'll find 2 12MP cameras, one of which is wide with an f/1.8 aperture, and the other which is a 56mm f/2.8 marketed as a telephoto. Essentially that telephoto allows for twice the focal reach/zoom of the regular lens, and according to the reports and sample imagery, decent portraits with defocused backgrounds. It is, simply, what many of us have always wanted. Sort of…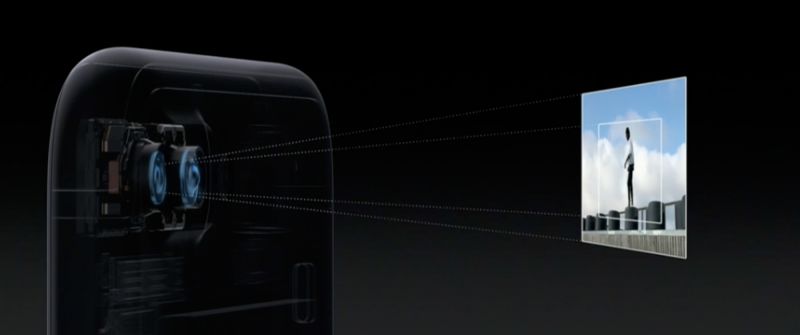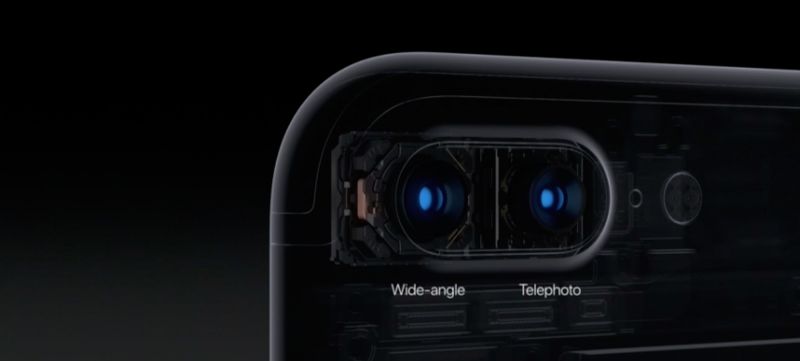 Because there's a problem. From what we've seen so far, it's not exactly natural defocus, even though the bokeh looks pretty damn good from Apple's meticulously curated samples. The iPhone 7 Plus will essentially create a depth map of the scene, allow you to preview that live, do some internal wizzardry, and then render your defocus. How effective this is in practice we'll have to wait to see, though it's hard to argue that software processed defocus is a bit concerning. But, I can't imagine this will bother 95% of those who use it. So all in all, it looks like a hit.
So, ready to fork over the $869 for the 128GB iPhone 7 Plus?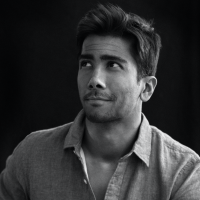 Kishore Sawh
A photographer and writer based in Miami, he can often be found at dog parks, and airports in London and Toronto. He is also a tremendous fan of flossing and the happiest guy around when the company's good.