If you were asked what the most pivotal moment was in photography in the last 50 years, what would it be? The release of the first DSLR? The Sony A7? The introduction of Photoshop? The case could be made for any of those, but the same could be said for the introduction of the iPhone (maybe the iPhone 4 specifically), but what the iPhone did was two-fold; it put a camera in everyone's pocket all the time, and promoted its sharing. When you hear stats like the fact more photographs are taken every two minutes today than in the entire of the 20th century, we largely have mobile phones to thank for that, and iPhones mostly.
It's been 10 years since the first iPhone's introduction in June 2007, and my, how times have changed. The cameras in the current generation of iPhones are no longer for the selfie-inclined, but for serious photographers and cinematographers – no need to argue here, because it's fact, even if not for you and me.
The iPhone 7+ has now been used to shoot the cover of Billboard magazine, as well as a recent issue of ELLE magazine (Australia), in which it actually shot the feature spread. Are these anomalies? Sure, at the moment, but it isn't hard to think they're the beginning of a snowball. After all, my Sony RX100 used to come with me everywhere, and now it mostly gathers dust because I just can do most casual things with the iPhone 7+ (or HuaWei Mate 9, because it's monochrome sensor is ridiculous).
To mark the 10th anniversary of the iPhone, Shutterstock has created an infographic to show how the iPhone has evolved, and what's interesting about it is really how it highlights how our world in photography and computing has changed in tandem with and in some fashion, because of it. Check it out:
iPhone 10th Anniversary: How the iPhone Changed Visual Communication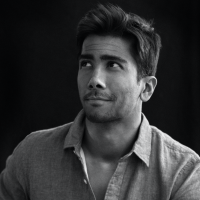 Kishore Sawh
A photographer and writer based in Miami, he can often be found at dog parks, and airports in London and Toronto. He is also a tremendous fan of flossing and the happiest guy around when the company's good.