Our "SLR Lounge Artist Feature" articles highlight the top photographers in the world. This article features Dr. Sangeeta Dey of Sangeeta Dey Photography (California, USA). In addition to being a practicing pediatric neuropyschologist, Dr. Sangeeta is a well-accomplished, award-winning landscape photographer. Dr. Sangeeta has earned features with National Geographic and USA Today. As well, she has collected awards and recognitions from Nikon and The International Landscape Photographer of the Year, to name a few. Dr. Sangeeta is truly passionate about her work and focuses much of her attention on non-verbal communication. For Dr. Sangeeta, "communication via non-verbal/visual mediums is one of the most powerful and honest forms."
Thank you for taking the time to speak with us Dr. Sangeeta! We'd love to know a bit of your story. How did you get into photography?
Traveling and exploring local landscapes has always been a big part of my life. I started off by using the camera as a tool to document these experiences. Gradually, I also discovered the power of photography as a tool for creative expression.

Of course, the transition was not overnight. As my outlook on my outdoor experiences, and how I interacted with my environment, changed, I also became more thoughtful and introspective about these experiences. Additionally, this process also helped the photographer in me evolve into an artist. Overall, I love being out in nature. Therefore, landscape photography is a natural extension to my allure for wilderness.
We noted on your website that you quote Rollo May. Could you talk about how your work is influenced by your studies in neuropsychology?
There is something about the romantic subjectivity of art that is so sacred. In fact, I am almost afraid to taint it by talking about the objectivity of neuroscience. However, to answer the question, most of my limited understanding about art came through my neuroscience classes. We often used the work of painters as case studies. I found it interesting that scientists attempted to understand the brain using the works of painters. More specifically, I found the kinds of tricks these master painters used to fool the brain into perceiving depth to be fascinating. Certainly, I don't think about brain functions when I am in the field. However, I do try to think of the work of painters during post-processing.

In my clinical work, the children I work with have been one of my biggest educators. While they may not always be capable of expressing themselves verbally, they are masters in using their drawings to communicate their life experiences. This tells me that we are all born with the capability of expressing ourselves through visual medium. Unfortunately, due to societal pressure for conformism, we lose our ability to use visual art as a way of self-expression.
 We'd love for you to tell us the story behind one of your favorite photographs.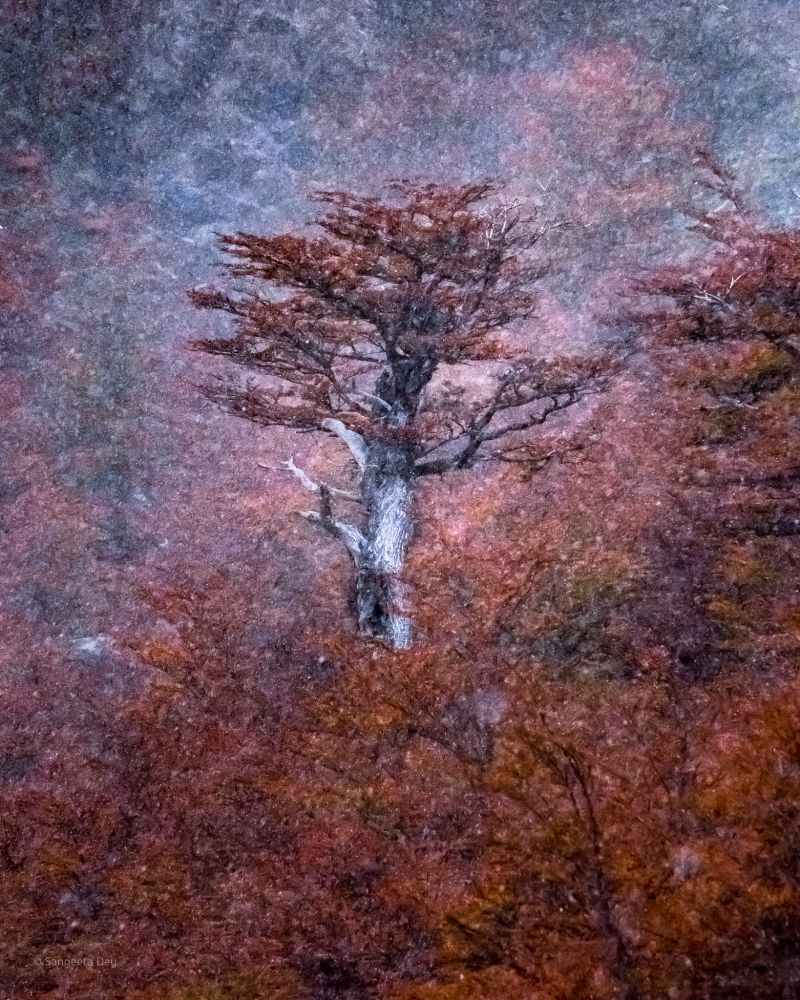 Some my favorite photographs are also my favorite moments from my travels. In particular, I love going out and photographing during dramatic weather conditions. 'Haiku' [see above photograph] is likely one of my all-time favorites. I photographed this in Patagonia, during the exact moment when the somber winter takes over autumn's brilliance. I wanted this photograph to look like an acrylic paint on a canvas and to reflect the powerful forces of nature. My goal was to capture the blizzard and howling winds that made the scene so spectacular.

The weather conditions were really bad. We were under pressure to get down to safety, because we ran the risk of getting stuck in the snow. There was really no time to set up a tripod. I pulled out my Nikon D810, which had a 14-24mm lens attached to it. The tree I wanted to photograph was really far away so my 70-200mm lens was more appropriate. I was petrified of changing the lens in that weather and ruining the sensor. So, in the midst of the blizzard, I took off my jacket to cover the camera while changing the lens. And I hoped for the best.

For this scene, increasing the ISO was necessary. It helped compensate for the low light. It was freezing cold. I didn't have my jacket on. My hands were shivering. There was no other way to stabilize the camera with that kind of shaking. So, I pushed the ISO. In the end, it added the noise that enhanced the photograph. It gave it that layer of additional texture that I was looking for. Likely, this is the only photograph I ever took where the ISO was pushed to 6400 to get the desired effect.
What advice would you offer to someone who is looking to improve their landscape photography?
My best advice is this: don't photograph for social media. Photograph what interests you, without feeling the pressure of "sharing." Also, people wanting to get into landscape photography should have a genuine love and respect for the outdoors. These outdoor explorations should be driven by curiosity, and not anxiety to create something for others.

It's important to understand that creativity does not happen in isolation. Find photographers whose work you like and try learning from them. Photography is a form of  expressive art. It requires you to create what feels authentic to you. So, find your voice. Communicate who you are through your work. Every photograph tells a story. Make yours a memorable one!
Again, thank you so much for sharing your expertise and knowledge with us, Dr. Sangeeta. Please, tell us about some of your upcoming projects.
My first international exhibition is later this year in Italy. Also, I have a few speaking engagements in Europe. However, there is one personal project that I have been working on that I really care about. It combines both my clinical and creative skills. I am working on developing a module to teach children about visual literacy. I want to teach children how to think about and interpret imagery. Then, I want them to use that knowledge to communicate their emotions via photography. Equipped with a solid understanding of visual literacy, I am hoping to teach children to explore and express their own life in a medium that would make them feel confident.

It is scientifically proven that infants learn to read images long before they say their first words. This happens years before they become fluent in communicating via written language. However, the current educational system is designed in a way that it emphasizes learning how to read words and understanding their meanings. While there is nothing wrong with this, not all children are capable of expressing themselves in that manner. These children include children with learning disabilities or children who have recently immigrated to this country. The goal is that they will learn to communicate effectively.
You can see more of Dr. Sangeeta's work on her website. And check her work on Facebook and Instagram too. You can get all of her latest workshop information here.
Be sure to check out the latest SLR Lounge Awards in the landscape/cityscape category here! Don't forget to submit by the January 31 deadline to be considered for SLR Lounge's January 2019 awards competition. Finally, remember that anyone can sign up for an SLR Lounge account for free and submit. Premium Members are able to submit up to three photographs each month!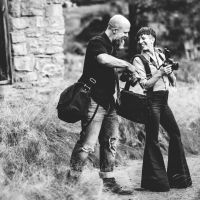 Amii & Andy Kauth
Amii & Andy are a wife and husband team of rad portrait and wedding photographers (Sunshine & Reign Photography) who absolutely love life and are generally just stoked! Yeah! When they aren't photographing or writing and teaching about photography, you'll find them off on a seriously legit adventure with their little ones, lifting weights in their garage, training jiu-jitsu, refining their archery skills, or surfing every chance they get. And on the rare chance they escape off on a "date night"? Yep! They'll find a wedding to crash (true fact). Website:
Sunshine & Reign Photography
Instagram:
@sunshineandreign