Ancient mythology has been at the forefront of storytelling for ages and continues to be in the narrative of today's blockbuster hits. While Zeus and the other Greek Gods tend to be the focus of Marvel's Universe, his Roman counterpart is equally as notable.
Jupiter is known as the ruler of the vast sky and thunder in ancient Roman mythology, often veiling himself in clouds to hide his mischievous side and using lightning bolts as weapons to rule. Like the planet, Jupiter is the most powerful of them all and it is the unknown that creates a sense of intrigue, both in awe and in and in fear.
Juno was launched into orbit in August of 2011 in an effort to look past Jupiter's blanket of cloud cover and gain a better understanding of the giant planet's origin and evolution. Nasa's hope is to placate the looming and unanswered questions that have piqued curiosities for centuries. Knowledge is the antithesis of fear and understanding how Jupiter functions can shed light on its place in the universe as well as its impact on the rest of the solar system.
Since its arrival in July of 2016, Jupiter has been orbiting the planet, collecting data and capturing mesmerizing photographs of colossal proportions. Juno is funded to continue its epic mission until July of 2018 and we can continue reaping its benefits by getting lost in the sea of spectacular photographs.
Below is a trailer highlighting Nasa's mission to Jupiter with Juno. You can also view more of the behemoth planet's image gallery and read more about the mission on Nasa's website as well as Instagram.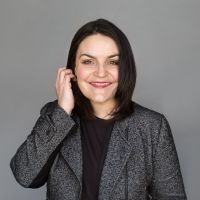 Brittany Smith
Brittany is a fashion and beauty photographer who works between NYC, Montana and LA. She photographs the way she has always wanted to feel and believes in the power of raw simplicity. When not behind a camera she can usually be found at a local coffeeshop, teaching fitness classes at the YMCA, or baking something fabulous in the kitchen. Instagram: @brittanysmithphoto