Model tests are an integral part of developing both models and photographers in fashion, beauty and advertising. The beginning stages can be overwhelming and seemingly daunting at times, almost as if staring up at Mount Everest for the first time from down at the base camp. Dublin based fashion photographer Anita Sadowska shares some of her advice on getting your foot in the industry as a photographer.
Begin emailing some of the smaller boutique agencies and keep it simple; introduce yourself, ask to test with new faces or models in need of an update and include 3-4 images that are up to industry standards as examples of recent work. The best time to get in contact with modeling agencies are several months prior to fashion week as this is when many of the models are arriving and in need of an updated book for future castings.
It may take emailing a handful of agencies before getting that first green light. That first "yes" will be followed by a package of available models. Be sure to pick the best one for the particular shoot and clearly communicate to the agency whether or not hair and makeup will be provided, and what exactly is needed if not. Keep styling minimalistic as it is about portraying the model as a blank canvas for future clients.
Be prepared to work with fresh faces who have never modeled before, especially in the beginning. Teaching a model how to move and combine those movements with appropriate emoting is tasking and has its future rewards. After the test, aim for a turnaround time of 1-2 days which is sufficient with the minimal amount of editing they prefer. If the agency is unhappy with the first test shoot, ask for pointers on what can be improved for next time. Don't get discouraged if there isn't a next time and keep approaching different agencies.
Once you have successfully developed a good working relationship with a modeling agency is when you will reap the rewards. This usually entails having access to working models that are in need of an update or available for a personal project such as an editorial. Developing a good working relationship with a modeling agency is a win-win and opens the gate for future opportunities.
You may watch this a few times as it is a lot of information in a very short amount of time. Click here to subscribe to Anita's YouTube Channel.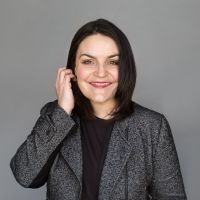 Brittany Smith
Brittany is a fashion and beauty photographer who works between NYC, Montana and LA. She photographs the way she has always wanted to feel and believes in the power of raw simplicity. When not behind a camera she can usually be found at a local coffeeshop, teaching fitness classes at the YMCA, or baking something fabulous in the kitchen. Instagram: @brittanysmithphoto