Hasselblad has been a leader in photography since its inception and shows no sign of slowing down as it embarks on its 70th anniversary. Today the camera company unveiled their newest offering, the H6D-400c, which is built upon the same foundation of the flagship 100MP H6D-100c that made headlines a short while ago.
The Hasselblad H6D-400c MS is designed to meet the most demanding shooting requirements and produces the highest resolution and color accuracy that money can buy.
Multi-Shot Technology
The multi-shot technology adds a new dimension of color possibilities and captures either 4 or 6 images, depending on the designated mode, while shifting the sensor by 1/2-1 pixel at a time with a precision piezo actuator. In 4-shot multi-shot mode, 4 captures are made by shifting the sensor in a 1 pixel increment cycle; 1 pixel horizontally, 1 pixel vertically, 1 pixel horizontally and then 1 pixel vertically which returns the sensor to its starting point.
The 6-shot multi-shot mode utilizes the same cycle as above with an additional 2 captures by moving the sensor in 1/2 pixel increments both horizontally and vertically. The 6 captures are then merged together in Phocus to produce a behemoth 400MP capture, or a 16-bit Tiff file the size of 2.4GB per frame (23,200 x 17,400 pixels).
When the camera is not being used in multi-shot mode it behaves exactly as the H6D-100c and can be used as such.
**Multi-shot capture requires a static subject and controlled studio environment while tethering to a host computer.
Product Highlights
100MP 53.4 x 40.0mm CMOS Sensor
Multi-Shot Capture; 4- or 6-Shot Modes
ISO 64-12800, 15-Stop Dynamic Range
16-Bit Color Depth, 3FR Raw File Format
Hasselblad Natural Color Solution
UHD 4K and Full HD RAW Video at 30 fps
Shutter Speeds: 60 min to 1/2000 sec
3.0″ 920k-Dot Touchscreen LCD Monitor
Dual CFast and SD Memory Card Slots
Built-In Wi-Fi, USB 3.0 Type-C
The H6D-400c MS is priced at $47,995.00 and available for pre-order now with shipments beginning in March. According to Hasslelblad's press release, it will be possible to rent the camera through an authorized dealer.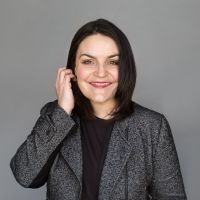 Brittany Smith
Brittany is a fashion and beauty photographer who works between NYC, Montana and LA. She photographs the way she has always wanted to feel and believes in the power of raw simplicity. When not behind a camera she can usually be found at a local coffeeshop, teaching fitness classes at the YMCA, or baking something fabulous in the kitchen. Instagram: @brittanysmithphoto