I know I'm not alone out there with my disdain for the average camera-bag, or in fact, most camera bags. The evolution of the camera bag has only now reached the intersection of utility and design, whereas before it remained strictly at the dead-end of utility. Those who thought otherwise are to be found at the intersection of Ego & Denial.
Still, most camera bags still sort of shout that they are camera bags, in turn, pegging you as a photographer. Of course, there are a few companies changing this, ONA, being one and UNDFIND another, but if you manage to break free from the restrictive 'camera bag' shelf, there is a world of options that look better, and now with the common availability of inserts of all kinds, you can turn any bag into a camera bag. In the video herein, Caleb Pike from DSLR Video Shooter shares how he converts messenger bags and backpacks into unique camera carrying solutions, as stylish and functional as he would like. The key to doing this successfully, according to Pike, is to "…keep your in-bag gear packed the same way."
He uses 3 different packing solutions that are easy enough to procure:

Constructed of padded knit nylon with a non-scratch nylon backing, these squares can be wrapped around small cameras, lenses, electronic flashes, tools, or anything else that will fit inside a bag or case. Touch fastener tabs on all four corners allow them to be wrapped in any shape. They seem easy enough to use, and surprisingly strong hold. They come in a series of sizes and colors and are also inexpensive with prices starting around $11.

These are single lens protectors designed to carry and protect a Canon, Nikon or many other lens brands. They are lightweight, and the cup is padded with soft polyfill with nylon interior lining. The exterior is lined with soft Veltex and can be easily connected to the lining of Porta Brace divider kit interiors for added padding and stabilization of the camera. Also available in various sizes and even for Cine lenses, and start around $20.

These are simply padded nylon pouches with a zippered top that you can use to store all kinds of random peripherals we all carry with us. They come in various sizes, and you can get a pack of 3 for $30.
Personal Choice
I often get asked which bag I use so I'll share here. Typically, I use Belstaff bags because I like things that look good, rugged, can take a beating, and still manage to be timeless. Granted they're quite pricey, even more so than ONA bags, but there's little better than old British military design, flared in Italy. The problem I had originally, is that it offers little protection should the bag drop, as I found out after taking a fall climbing a Tor near home in Devon. One broken lens later, I had to find inserts. I've used everything from Domke inserts to the inserts from a Kelly Moore bag, and they work like a charm. My advice, if you're looking for a bag you can use while traveling or small assignments, skip the usual, and just modify the one you want.
You can find more from DSLR Video Shooter on this topic in their blog post, on their site.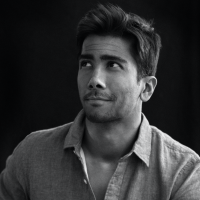 Kishore Sawh
A photographer and writer based in Miami, he can often be found at dog parks, and airports in London and Toronto. He is also a tremendous fan of flossing and the happiest guy around when the company's good.