Datacolor has announced the launch of ColorReader EZ, the latest addition to the company's ColorReader family of products that includes ColorReader and ColorReader Pro. The affordable new device incorporates the company's advanced color technology in an easy-to-use tool that simplifies the often challenging and time-consuming process of color matching and color coordination both in the paint color selection and digital workflow processes used by photographers and digital designers.
[Related Reading: Why Calibrating Your Screen Is Important & How To Do It]
The portable, Bluetooth® connected ColorReader EZ device works in conjunction with the ColorReader mobile app (available for both iPhone and Android). Users can instantly and accurately identify the closest color match to any hue measured from a flat smooth surface. ColorReader EZ also provides coordinating colors and suggested color schemes for the matched color as well as precise color values such as CIELAB, Hex, and RGB.
[Related Reading: Color Balance On A Budget – Get The Right Colors Every Time]
Along with their matched colors, users can build and organize color palettes by project as well as create signature color palettes that they can quickly share with anyone. The greater level of color confidence afforded by ColorReader EZ saves users time and money on reworks due to color error. ColorReader EZ is a must-have tool for anyone whose work or lifestyle includes color decisions.
"The color selection process can be a challenge for all of us, since so many factors can affect how we view color. We wanted to bring a level of ease and color-confidence to consumers with an affordable product that they would use whenever they needed to make a decision about color. ColorReader EZ takes the guesswork out of selecting and coordinating colors. It lets you capture color inspiration where you find it, with an accuracy you can't get from a smartphone image. It's easy to then bring that color inspiration into your own work." said Susan Bunting, Director of Sales & Marketing, Consumer Solutions, for Datacolor.
To learn more about ColorReader EZ, visit ColorReader.Datacolor.com. Retail Price: $59 USD/$79 CAD.
Check Pricing & Availability of Datacolor Products Here: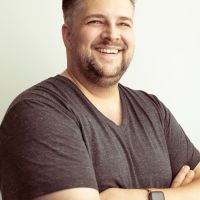 David J. Crewe
David J. Crewe is a full-time commercial photographer and Senior Editor with SLR Lounge. Based out of both Southern California & Las Vegas, Nevada. View his work and blog:
DavidJCrewe.com
Follow his Instagram:
@DavidJCrewe