As an auto enthusiast, photographing cars had always been a dream of mine. I have always looked up to some of the industry greats such as Easton Chang and Frederic Schlosser. I admired their work constantly as many of their images ended up my desktop wallpapers. The more I would stare at their photos, the more curious I became at how they captured the cars. So when a buddy of mine called raving about shooting a Ferrari for Dupont Registry, my ears perked and the first thought that came into my mind was where and how?
There are countless ways to shoot a car. Outdoor shots are a bit simpler since there's usually ample light and the setting is done on a stunning location. For high end studio work, things get a bit more complex as everything requires more staging. Often times, the big tool you always see in a high end auto shoot is a ginormous 30′ Chimera Light Bank. My friend, Chris Garrison, AKA "Flash Garrison" is a man of many tools. However, like 99% of the studio shooters in the world, he didn't have studio sized light banks to aid him on this endeavor. However, he accomplished quite a bit with very little in creating this surreal photo:
So what did he do? Chris teamed up with a specialist at motion graphics and creative design studio, Barton Damer at AlreadyBeenChewed.tv. Their goal was to create a final shot from multiple images that would be layered into a single dynamic image. Chris shot all the images with a Nikon D800 and Nikkor 35mm f/1.4G mounted to a sand bag weighted Induro tripod. For this job, stabilization is of the utmost importance as there will be multiple images shot that will be layered on top of each other. Once the camera was in place with his composition dialed in, he rigged up his camera with a CamRanger wireless control transmitter, which allowed him to tether his iPad to his camera wirelessly.
Click play on the video below to view the behind the scenes.

Once everything was set up, Chris started firing away using all kelvin matched lights. He used a Westcott Ice Light, Westcott Skylux LED Light, and a Westcott Strip Softbox hooked up to Elinchrom flashes to highlight key areas of the car section by section.
[REWIND: Photographer Lee Morris Surprises Dad With Dream Car!]
Below are some images and text borrowed from Chris's Blog with his permission to accomplish the results he was looking for.
Chris using the Icelight to get the main spectral highlight from the rear of the car to the headlight.
Example shot of the Westcott Skylux to get a softer reflection on the ADV1 wheels.
Using the same Westcott Skylux from the shot before to give the car a flat even light. 
As an option, Chris added a driver in the car and used his Icelights and the Skylux with a soft box for the main overhead fill light.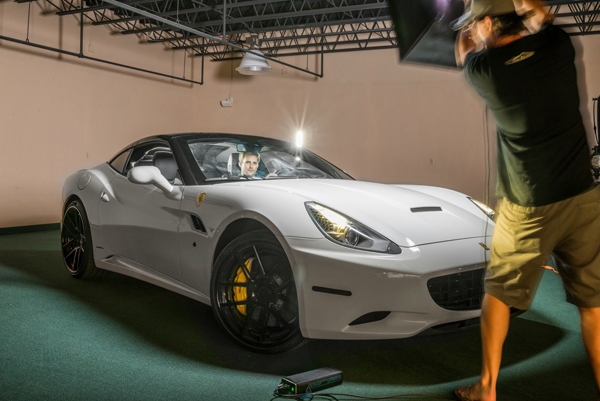 Once the shoot was over, the hard part begins with combining all of the shots. Chris ended up using 31 images for different highlights, shadows, and parts of the car to create this image below. 
Combined image with the background clipped. 
Post shoot, Chris took a walk around downtown Tampa in search of a backdrop for final image. The image below is  the clipped car dropped in a Westin garage that was shot and used for the image background. 
At this point, the job was handed over to Barton of AlreadyBeenChewed.tv to finish. He added some tea light, some of the city skyline Chris shot, and adjusted the position of the car. 
The first step of C4D working on the cracking "earthquake" like effect on the garage. 
Taking things a step further with added overhead effects.
Now the ground breaking apart.
Ta-Dah! The final image. 
I want to thank Chris for sharing his process and images. For more on Chris Garrison, visit him at chrisgarrisonphotography.blogspot.com.
Sinh Truong
A graduate of industrial design, I am currently working full time in both marketing and design for f-stop gear. I have been shooting photos since the days of 35mm film and have a deep passion for everything photography. Most of my inspiration comes from a global team of over 200 professional photographers and videographers which I manage.