Welcome to Time Out with Tanya, where I've put my fast paced graphic design career on hold in favor of adventures in motherhood. I'm capturing every moment on camera and you can come along, if you'd like. Sign up for my weekly email here so you'll never miss a Time Out.
Have you been enjoying my Time Out with Tanya series? I like to think of it as a little mini talk show here on SLR Lounge, which includes interviews with artists of interest. Today, I'm sharing with you a fun glimpse into the creative process of Photographer Irene Liebler, from Guilford, Connecticut. Her husband and two kids are heavily involved in her projects, as you'll see in her behind-the-scenes video below…
Hi Irene! Tell me about yourself and your career.
I graduated from the University of Connecticut School of Fine Art with a degree in Graphic Design. I loved the painting, drawing, and children's book illustration classes the most, but my practical side kept me moving toward graphic design. I also took a basic photography course there and learned about traditional film and darkroom skills, but I was turned off by the teacher, so I didn't pursue it.
It was at UConn where I first learned to use a Mac, and when I graduated in 1990, I got a job at a company that rented Macs by the hour and offered one-on-one training. I was fortunate enough to learn Adobe software on the job as I was teaching it to others. Photoshop had just come out then. After a year, I went off on my own. I sold my car, a vintage 1969 Firebird convertible, so that I could buy a Mac IIci, a scanner, and a printer, and I started freelancing in New Haven.
I'm new to this world of photography and art. I've spent the last 23 years sitting in front of a computer, freelancing for other people. This is the first time in my life that I'm doing something for myself. Learning about photography, creating art and having fun!
I've had a camera since grade school, a Polaroid in high school, then my Dad's old Canon. My first digital was the Canon Powershot G2, then the Rebel. My current camera is a Canon 5D Mark II – which I love. Even though I always took pictures, I wasn't a photographer; and as a graphic designer, I didn't consider myself an artist.
But a hurricane changed my path – literally.
In 2011, Hurricane Irene hit the East Coast and knocked the power out for a week, so I stayed with my friend, Sandy, and we geeked out with our cameras the whole time. By the end of the week, we had decided to launch a photography business together called Super 9 Studios. That's when the learning began… because I didn't even know what a speedlite was.
That year, we poured over books, magazines and websites. I watched TWIT Photo video podcasts and CreativeLive workshops religiously—absorbing tips and tricks from Joel Grimes, Rick Sammon, Miss Aniela, Elevendy, Robby Cavanaugh, Jingna Zhang, Sue Bryce, Penny De Los Santos, and so many others. I watched them over and over for a year. Then I stumbled upon Project52.org lead by Don Giannatti.
Oh, wow! Minus the ironically named hurricane, I could have written your bio about myself, including the horrid photography 101 teacher and years of creating uninspiring commercial art as a freelancer. I had never heard of Project 52, though. What is that all about?
Project 52 was a free course offered by Don Giannatti and hosted on Flickr/Lighting Essentials. It was a community of new photographers eager to learn about lighting and the commercial photography business. There was no sign up form, no grade, no obligation. You just had to do the assignments and submit your photos before the deadline for the live critique each week. Don was just starting a fresh year of assignments when I found him, so I jumped in.

Each week we were given a prompt, a challenge, or a visual problem to solve that could be applied to a magazine article or ad campaign. Everyone was encouraged to post their behind-the-scenes shots too, so we learned from each other. In the first year, 2012, I did fifty out of fifty-two assignments. After week four, I bought one speedlite and a pocket wizard, and concentrated on lighting. In doing an assignment each week, I realized quickly that I had to use resources that were readily available to me. My props were things I had around the house, or that I could borrow. The Man in the Red Jacket is my husband (and readily available) so he became a common thread, and the "The Man in the Red Jacket" series evolved (sort of by accident) throughout 2013.
I met Don in June of 2012 while he was teaching a workshop called Table Top Photography on creativeLive. I applied to be a student in the live audience, was accepted and flew to Seattle. It was an amazing experience – I met so many people, and somehow felt more committed to photography after that workshop. I can't say enough about creativeLive – it's a great place to learn.
Don's current site is project52pros.com if anyone is interested in more info.
Where do you draw inspiration for your very conceptual and surreal imagery?
I am definitely inspired by other photographers and artists. I love the humor of Norman Rockwell and the absurdity of the surrealists. But most recently, Eric Almas, Joel Grimes and Brooke Shaden have been inspirations. One of my images called "Air" was created after I found Brooke Shaden's flying hair technique on Flickr, and since then I've done several "flying hair" images.
If I had to define my speciality, I guess I would say conceptual photo illustrations and fine art portraiture. I like to have a reason for making an image. My favorites are the ones that start with a concept, like "Rachel Leaving the Nest" which I did of my best friend's daughter who was going away to college.
Tell me about your creative process.
To start the creative process for an image, I usually do a Google search using keywords from the assignment. A good example is "One Man's Trash is Another Man's Treasure". Sometimes I look at hundreds of images online and make quick sketches of ideas as they pop into my head. In this case, I probably saw an old meat grinder and remembered that I had my grandmother's in the attic. Sometimes, the final image is different from the first idea. The "trash" was originally going to be a pile of old dolls (which I also had in the attic), but they didn't look right after I photographed them, so I thought of using computer parts instead, which I borrowed from a friend's collection. I have a big collection of clouds, skies and backgrounds too, and often try different ones to see what looks right… and the final image kind of reveals itself.
What's on your absolute, "must-have" photography gear, software and creative tools list?
If I had to pick the bare minimum equipment, it would be:
• Canon 5D Mark II (would love to get a Canon 5D Mark III for the slow-mo video capture… as I'm also interested in video)
• Canon 24-105mm f/4L Lens
• Adobe Photoshop CS6
[Rewind: HOW I ORGANIZED MY PHOTOGRAPHY ACCESSORIES (ONCE AND FOR ALL)]
I also have in my kit…
• Canon Macro 100mm f/2.8L Lens
• Canon 35mm f/1.4 L Lens
• Canon 16-35mm f/2.8L Mark II
• Two Canon 580EX Speedlites with a Westcott 28" Apollo Softbox with grid
• Two Einsteins with 30 x 60" softboxes
• One beauty dish with sock
• Pocketwizard Flex TT5 system
• Thunder gray seamless paper backdrop
• Adobe Photoshop Lightroom
• Nik Collection Filters
Where do you see yourself and your career 5 years from now?
In five years I hope to be on a beach in Costa Rica… sorry, just kidding!!
In an ideal world, I would love to be successful in the world of fine art photography. But I would also love to get commercial assignments like Project 52… doing book covers, CD covers, movie posters, and photo illustrations for magazines, where I solve visual problems creatively, and watch ideas from my head come to life on my screen… it's like opening up a new box of Cracker Jacks every time.
For now, I'm still doing Project 52… and still learning tons. We're currently on Assignment 48 called "Food for Thought", an article about how bananas are the new brain food.
Anything else you'd like to share with the photographic community?
I recently put together a Blurb book of behind-the-scenes descriptions for the Man in Red Jacket series. Check it out on my website.
I'll definitely be following Irene throughout her journey on her Facebook page. You can see more from her Project 52 work on her website.
P.S. If you want to learn how to add texture to your photographs, I highly recommend checking out SLR Lounge's Photoshop Paper Texture Collection and Tutorial. For the price of one stock photo you get over 230 custom made texture files plus two hours of instruction for using overlays in Photoshop. Score!
CREDITS: All photographs by Irene Liebler are copyrighted and have been used with permission for SLR Lounge. Do not copy, modify or re-post this article or images without express permission from SLR Lounge and the artist.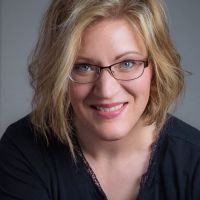 Tanya Goodall Smith
Tanya is the owner of WorkStory Branding Photography in Spokane, WA. Businesses hire her to create story-telling content that sells their high end products and services. She also teachings photographers her unique business model for making serious money as a corporate and personal branding photographer. Find her at
workstoryphotography.com
and
workstoryeducation.com