This is one of the coolest little lenses that I have been fortunate enough to take out and capture photos with! It's not perfect, but for the price, you absolutely should check it out. In this Canon RF 16mm f/2.8 review, I'll tell you why I like it, what I don't like about it, and why almost every type of photographer ought to consider owning it.
The short version is this: it's a rare, unique lens! In fact, currently, nobody else makes a 16mm f/2.8 prime, let alone one this compact and affordable. This is odd because 16-35mm f/2.8 zooms are very popular high-end pro lenses. So, why is 16-35mm so popular, especially when it overlaps so much with 24-70mm, (even more popular!) …and yet we haven't seen a 16mm f/2.8 prime yet?
Indeed, for those photographers who usually use a 24-70mm, 24-105mm, or 24-200mm zoom, and only need to go wider than that every once in a while, having a compact ultra-wide prime would make a lot of sense. Also, what about the landscape or nightscape photographers who use a 16-35mm lens a lot, but almost always set it to 16mm?
Either way, this compact, lightweight Canon full-frame mirrorless ultra-wide prime lens could be perfect for you. Well, almost. It's not an L-series lens, and I'll tell you all about that in a bit. With that said, let's dive in!
Canon RF 16mm f/2.8 STM Specifications
FOCAL LENGHT & ANGLE OF VIEW:

16mm, 108°

LENS MOUNT(S):

Canon RF (full-frame mirrorless)

APERTURE & RANGE:

f/2.8-22, 7 rounded-blade aperture

STABILIZATION:

No

AUTOFOCUS:

Stepper motor, silent

MANUAL FOCUS:

Electronically controlled, multi-function focus ring

OPTICAL CONSTRUCTION:

9 elements in 7 groups, 1 aspherical element, Super Spectra coating

MECHANICAL CONSTRUCTION:

Metal mount, plastic barrel, no weather sealing

MAGNIFICATION & FOCUS DISTANCE:

0.26x, 5.1″ (13 cm)

FILTER THREADS & HOOD:

43mm filter threads, no hood included

SIZE:

1.6 x 2.7″ (40.1 x 69.2 mm)

WEIGHT: (

5.8 oz / 165 g)

PRICE: $249 (B&H)

 
Canon RF 16mm f/2.8 STM Review | Who Should Buy It?
As a 16mm prime, this lens is definitely unique. Virtually every other lens on the market that reaches or includes 16mm is a zoom lens! Most "ultra-wide zooms" are also very large, heavy, and expensive. There are only a few ultra-wide primes and zooms that are lightweight, compact, and affordable, and most of those primes/zooms don't get to 16mm, they're at 17mm or 18mm. The ultra-wide zooms that do include 16mm are mostly f/4, as far as I know.
Now that I have set the stage and you understand how rare this lens is, who is it for? Well, it's for any photographer who ever thought to themselves, "I really don't want to spend upwards of $2,000 on a 16-35mm f/2.8 pro zoom, especially if I'm only ever going to use it from time to time, and likely always at 16mm anyways!"
So many different kinds of photographers, from wedding & portrait photographers to exotic travel photographers, to everyday casual photographers, may all fit this description. Especially if you've already invested a lot of money in a 24-70mm f/2.8 zoom, and you really like using it for most of the work you do. Grab this tiny little $250 lens and toss it in your camera bag for those few moments when you want a wider perspective than 24mm!
Alternatively, this lens is also a decent choice for serious landscape and astro-landscape photographers who do a lot of travel or other types of adventure such as backpacking. If you're about to carry all your gear on your back for a week or two in the mountain wilderness, then every ounce or gram counts, and this ultralight 5.8 oz / 165 g lens could be a perfect complement to your 24-105 or 24-200mm adventure landscape photography kit. Having said that, the image quality needs to be discussed before you commit to leaving your 14-24mm or 16-35mm at home.
View this post on Instagram
Last but not least, as it is such a portable, affordable lens, I should mention that it's within reach of photographers who are starting off with one of Canon's APSC mirrorless cameras, but who want the option to upgrade to full-frame without having to sell off all their crop-sensor lenses.
On APSC, though, this 16mm becomes roughly equivalent to 24mm and has pretty impressive image quality throughout the image frame. Therefore, you might be in for a shock if you upgrade from a Canon EOS R7 to an R8, because not only will the change in focal length give you a completely different lens, but also, the edges and corners of the full-frame under-perform a bit. More on that later.
Canon RF 16mm f/2.8 STM Review | Pros & Cons
The advantages of this lens are obvious: It's tiny, and it's very affordable. It's basically a "nifty fifty", a 50mm f/1.8, in terms of both portability and price. The disadvantage is, as such a compact lens, Canon had to make a bit of an optical compromise in order to "fit it all in".
It is therefore hard for me to recommend this lens to serious professionals who actually need the extreme sharpness found at the edges and corners of high-end pro zooms such as a 14-24mm or 16-35mm. However, I know there is a whole world of photographers who are either never going to even glance at their images' extreme corners. Plus, of course, some photographers are just willing to make a compromise in order to save a ton of money (and weight) for a focal length they're not going to use very often.

Pros:
Lightweight – By far the lightest 16mm option on the market
Compact – Won't take up too much space in the camera bag
Good/Decent Image Quality – Especially when stopped down, Most of the image offers L-
Very Affordable
Cons:
Image Quality falls a bit short around the edges, both wide-open and stopped-down.
No weather sealing
No included hood (not really needed for flare protection, mostly for protecting the front element from scratches)
AF/MF switch is actually a custom function switch
Image Quality
Okay, first, the good news: In the center, this lens is incredibly sharp. Maybe you're doing casual everyday photography and you want that really cool up-close-and-personal viewpoint. Maybe you're a professional wedding or portrait photographer, and you want an environmental portrait or a candid moment, and you know better than to put your subjects' faces anywhere near the edges of a 16mm frame!
Either way, a lot of photographers could be perfectly happy with this lens' image quality in general. Even on the 45-megapixel Canon EOS R5, the central image area is beautiful. It's off-center that we need to nitpick.
Sharpness
Sharpness is excellent in the center at f/2.8, whether you're focusing on stars in the night sky or a close-up macro subject.
Off-center, however, things start to fall apart by the time you get to the horizontal edges, especially the extreme corners. Sharpness is not very good at f/2.8, and it doesn't exactly get excellent even when stopping down to f/8 or f/11.
This is probably fine for a traveling landscape photographer or nightscape photographer who is looking for something ultra-portable, but it's not a "flagship" performance by any means.
Bokeh
As will be a common theme with this Canon RF 16mm f/2.8 Review, background blur is beautiful around most of the image, but at the edges/corners it gets a bit "busy". This won't be a problem unless you're frequently photographing close-up subjects and your background is a lot of cluttered subjects with harsh contrast and texture.
Colors & Contrast
As with all Canon RF lenses, the vibrant color and contrast from this lens are beautiful. If you set the raw editing color profile to either "Adobe Landscape" or "Camera Landscape", (or whatever suits your subject) …you'll barely have to edit your photos!
Vignetting & Distortion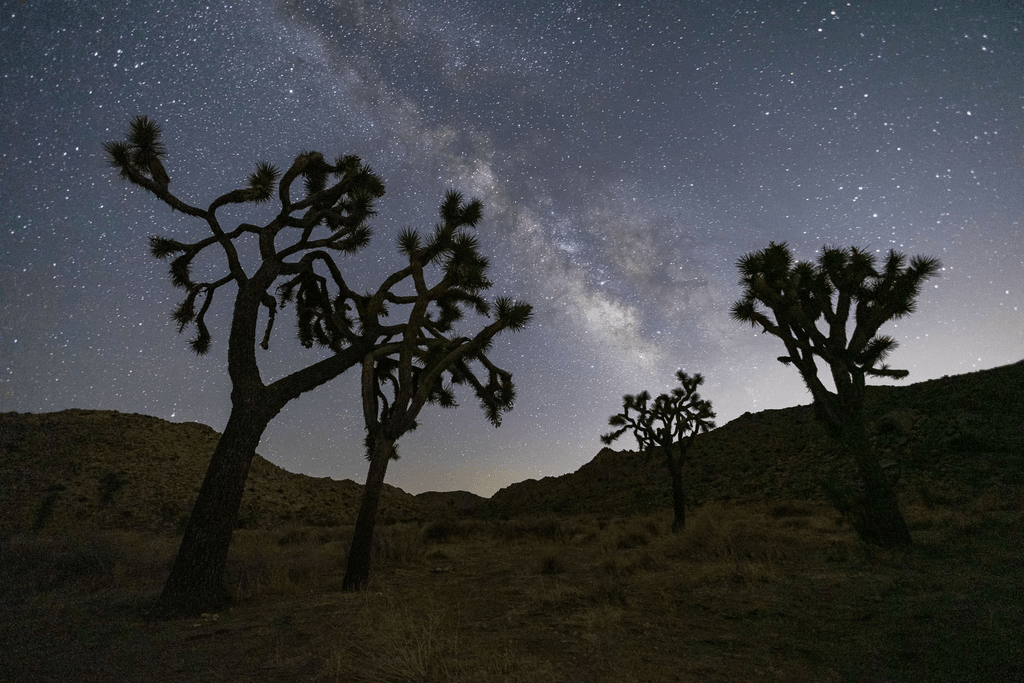 This is where things get really bad. Without this lens' built-in correction profile turned on, this effectively becomes a ~16mm fisheye lens, with nearly black corners. Especially at f/2.8, vignetting is unbearable without the correction profile. Also, even without obvious straight lines anywhere in the frame, the distortion is bad enough that if you turn off the correction you'll notice a fisheye "bulge" appear in the center of the image.
I usually leave lens correction profiles turned on, of course, but this is still a very telling metric for the true optical performance of this lens. Indeed, it's a serious optical compromise, only made "presentable" by software.
I'm not painting a pretty picture right now, but quite honestly, in most situations, I wouldn't care about this! I'd just leave the distortion and vignetting correction profile turned on. Again, this lens is aimed at photographers who are just looking to "goof around" with 16mm as a creative tool.
Sunstars & Flare
Flare is non-existent, thanks to Canon's excellent optical coatings, and maybe thanks to the fact that this is just a very simple optical formula! Sunstars are also beautiful, again another Canon tradition; I don't have a good example but I remember noticing that they looked about as good as other Canon wide-angle lenses, which is better than most.
Color Fringing, Aberration, Coma & Astigmatism
This is where things get…ugly. Again, in-camera corrections for chromatic aberration and color fringing are a useful feature to leave "on" at all times. However, even with both in-camera corrections and Adobe's default raw conversion corrections, …aberrations are still a problem. If you're trying to photograph a lot of high-contrast, harshly lit subjects, you might notice some faint color fringing in your corners, even when stopped down.
Also, when you're trying to focus on stars in the night sky, you may get tack-sharp stars without aberration in most of the image area, but the corners have a prominent criss-cross (sagittal astigmatism) pattern, as well as chromatic aberration.
It's a compromise I'd be willing to make on a long-distance backpacking trip in the mountains, but most of the time I'd rather have a professional ultra-wide zoom.
Before we move on, I want to mention that one application in which this ultralight 16mm f/2.8 lens will prove useful is in nightscape photography using a tracker such as the iOptron SkyTracker iPolar ($399). The 16mm lens will balance a lot easier on a tracking mount than any other ~16mm lens, which could make a huge difference in both portability and ease of use. (No counterbalance needed) With a tracker, of course, you can easily capture images of the night sky at f/4 or f/5.6, thus achieving much better image quality.
Macro & Close-Up Photography
 This is where things get fun and exciting again. Like all of the Canon RF non-L prime lenses, this lens focuses very close! It's a delightful perspective on the world of miniature, and again, a perfect way to put this lens to good creative use.
Design & Durability
Physically, I can't complain about the durability or overall design of this lens. Like other Canon RF non-L prime lenses, its strength is its compactness; the metal mount and plastic barrel are going to stand the test of time just fine. There is no weather sealing on this lens, aside from the gasket at the lens mount, but that's probably okay as long as you're not working in a torrential downpour or a dust storm.
Ergonomics & Portability
At 5.8 oz / 165 g,  this lens's greatest strength or selling point is its portability. I've already mentioned how this lens is made for those who are mostly using a 24-70mm, and only want to reach for 16mm once in a while. Slip this tiny little lens in your camera bag, and you'll almost forget it's even there until you need it.
Alternatively, this 16mm f/2.8 prime pairs beautifully with any of the other Canon STM compact primes. For a creative, versatile, fun photography experience, take your pick of 2-3 of any of these other compact primes, and just go take pictures!
Canon RF 24mm f/1.8 STM
Canon RF 35mm f/1.8 STM
Canon RF 50mm f/1.8 STM
Canon RF 85mm f/2 STM
Autofocus Performance
As a compact, non-L Canon lens, I was impressed by how smooth and silent this lens' STM autofocus motor was. Having said that, it did suffer a little bit from a classic problem that highly affordable wide-angle lenses can face: It's just slightly less consistent at nailing focus compared to a professional 24-70mm f/2.8. It has a tendency to focus just fine on a subject in the center of the frame. However, with the way depth of field behaves with this lens, that usually results in slightly blurry foregrounds and/or edges, even if they ought to be within the DOF of a 16mm lens.
Manual Focus Performance
Focusing manually is done electronically via the multi-function focus ring, which is a bit confusing. The switch on the side of the lens that you would think is an AF/MF switch is, in fact, a custom function switch.
In other words, that "AF/MF" switch actually changes the lens' focus ring function; in one position it allows the ring to perform manual focus, and in the other position it allows the focus ring to behave like Canon's on-lens "control ring".
This is confusing and frustrating at times, because you may fumble to set AF/MF on the camera itself, and then wonder why the focus ring isn't doing what you want it to do. It's something you can get used to, but it's definitely not optimal.
Features & Customizations
The aforementioned lack of a dedicated AF/MF switch is my biggest subject when it comes to the features of this lens. I wish Canon had simply done a better job of implementing their focus ring and "custom function" ring interface.
This is a common problem with Sony cameras& lenses too, by the way; some of their lenses just don't have AF/MF switches at all, so you have to get used to setting that on the camera body. Then, right when you train your brain to switch AF/MF on the camera body, you might buy a lens with an AF/MF switch, and decide to re-wire your brain all over again.
Either way, it's a compromise that I wish Canon hadn't made, even if it had made the lens a bit more expensive. Then again, maybe they could simply re-organize the entire AF/MF interface differently via firmware alone, and that might make things a little more intuitive.
Value
The simple fact that this 16mm f/2.8 prime costs $250, and most 16-36mm f/2.8 zooms usually cost over $1,000 or even $2,000+, I think it's an excellent value. Your personal needs and standards will dictate whether or not the level of compromise found in its optical formula will make it "of value" to you.
Personally, because it is so affordable, I wouldn't mind owning it for all of the reasons I've listed above:
As a casual photographer who mostly uses a mid-range zoom, and just wants to "play" with 16mm from time to time, this is an excellent value. Or, as a serious pro who only needs 16mm for certain subjects, such as wide-angle environmental portraits or wedding photojournalism.
Also, even as a serious astro-landscape photographer, let's say for example I already own the Canon RF 15-35mm f/2.8 L and I use it quite a lot. I might still add this lens to my arsenal for those times when I want to travel light. I also might want to own a 2nd ultra-wide lens for time-lapse purposes, when using two cameras. (This 16mm prime lens would pair perfectly on the ultralight Canon R8 as a 6K time-lapse camera for wilderness adventure!)
Canon RF 16mm f/2.8 STM Review | Compared To The Competition
Direct competition, strictly speaking, doesn't exist. The Canon RF 16mm f/2.8 STM is alone, no other full-frame mirrorless system offers such a prime. Having said that, there are a few options that come close, depending on what you're looking for.
If you want a lightweight, compact, affordable ultra-wide lens, the next-closest thing is the Canon RF 15-30mm f/4.5-6.3. It's only $499 (with instant savings) and weighs less than 1 lb (under 400g) so you should definitely consider this lens instead of the 16mm f/2.8 if you'd rather have a zoom range instead of f/2.8. (That is, landscape photographers who are going to spend most of their time at f/11 anyways.)
If you want the absolute best landscape photography lens on Canon RF mount, of course, you'll have to step all the way up to the Canon RF 14-35mm f/4. It's over $1,000, but still incredibly lightweight and the image quality is superb.
If you really want f/2.8, then there just aren't many native alternatives for Canon RF, yet. Samyang/Rokinon tried to make a 14mm f/2.8 for RF, but it is currently unavailable due to (apparently) a legal dispute over autofocus protocol. (You should be able to find a manual focus 14mm f/2.8, though, especially if you're willing to adapt DSLR lenses)
Other than that, what else is on the horizon? Well, I just recently reviewed the Sigma 16-28mm f/2.8, and as a portable, affordable ultra-wide zoom that reaches 16mm and f/2.8, I have to say that it utterly "destroys" this Canon in terms of image quality. If you're patient and can wait a year, or maybe two or three years, then that would be a lens to watch out for as third parties inevitably gain access to the RF mount.
Canon RF 16mm f/2.8 STM Review | Conclusion
Honestly, I didn't paint a very pretty picture of this lens but I still really love it. It isn't perfect, but it's a lot of fun! The size and weight just make it a delight to use, and I could imagine being very creatively inspired by this lens on a Canon EOS R8.
This lens is not for you if you're expecting an alternative to a 16-35mm f/2.8 that gives the same results for a fraction of the cost. If you want perfection, you'll have to save up the ~$2,300 for the Canon RF 15-35mm f/2.8 L IS, or ~$1,500 for the Canon RF 14-35mm f/4 L IS.
If you're looking for a portable, fun, affordable way to get to 16mm, then be glad you are a Canon shooter, because this is the only place you'll find such a prime as this! With that being said, I do highly recommend considering the Canon RF 16mm f/2.8 STM.
Check Pricing & Availability
The Canon RF 16mm f/2.8 STM is currently available for $249, although that is with a $50 instant savings so you might find it for $299 depending on what time of year you're reading this review.