Canon shooters, photography enthusiasts, aspiring pros, …are you on a quest for the ultimate DSLR? You've probably already upgraded once or twice. You traded in your Rebel for a 40D, or a 7D. You traded that in for a 5D, or a 5D mk2… And yet you still wonder if there is a better camera for you. Should you spend $3,300 on a 5D mk3, or even $6,000 on the  Canon 1DX?  You're not photographing the Winter Olympics or celebrity weddings in Tahiti just yet, but you still want the best image quality possible. Of course you'd rather not sacrifice any performance either!
The Canon EOS 6D has recently taken the DSLR world by storm.  At an MSRP of only $2099, it joins the Nikon D600 with the title of "most affordable new full-frame DSLR ever!"   It has a brand-new 20 megapixel full-frame sensor, with high expectations from Canon fans to meet.  It boasts a couple DSLR-firsts, including built-in wifi and built-in GPS!
At first glance, it sounds like the ultimate camera for many different types of photographers.  Under the hood, however, a few of the less exciting features might be cause for concern.  So, is the Canon 6D a winner?  Or is it just another update?  Let's find out!
Canon 6D, Canon 16-35 f/2.8 L mk2,
Radio wireless flash
Review Disclaimer:
This review is NOT done in a laboratory. It is a field test, a personal experience. There are plenty of "labs" out there for you, if you simply want to read numbers on a chart and draw your own "on-paper" conclusions. However if you want to read the personal, professional opinion of a full-time photographer then you have come to the right place.
This review is based on field testing in various types of shooting conditions, from professional wedding photography to landscapes and star time lapses.
Purchase the Canon 6D from B&H for $2099 (currently with a 2% reward and $59 in accessories!)
Purchase the Canon 6D from B&H for $2699 (currently with a $200 rebate and a 2% reward!)
Overall Canon 6D Decision: The 6D is my new #1 favorite "Adventure Photography" DSLR!
The bottom line is that the 6D is incredible, but it pushes in a very new direction so it is hard to judge.  It is one of the best values on the market today, and it is a smart choice for many different types of photographers from enthusiasts to full-time pros.  If you're looking for a DSLR with the absolute best image quality, and almost no compromises with respect to general performance and features, then you should strongly consider the 6D.
However to be honest, many of the reasons why I love the 6D aren't the most mainstream items.  Some photographers may not value these things, and may be fine if they stick with their current camera, or may be better off buying a different camera.  So with that said, here are my tmost favorite points, in no particular order:
Quick-Zoom playback button on an affordable DSLR
Yay!  This was one huge disappointment for me on the Nikon D600:  the lack of a one-click zooming feature during playback, like all my other Nikon cameras have, and like the new Cano 5D mk3 has.  On the Canon 6D, there is now a dedicated magnifying glass button right within perfect reach of your thumb. Unlike all previous Canon DSLRs throughout history, you can now zoom in right away, without having to first press the playback button!  That always annoyed me to death, to have Canon cameras that would do instant playback and show me the image, but would still require me to hit the "playback" button with my left hand before I could zoom in and check focus.  It sounds like a very minor issue, but it makes a huge difference if you're on the clock.  One tip I can give:  Set your 6D zoom to "Actual Size", so that with a single tap of the button you can go straight to 100% zoom.  Even if you used an off-center focus point, the camera still goes to that point!
The Canon 6D high ISO performance
I know that many traditional landscape photographers spend 99% of their time at ISO 100 and couldn't possibly care about how "usable" ISO 12800 is, but I'm not a traditional landscape photographer.  In addition to the regular types of landscapes and architecture, I also really love shooting "nightscapes" of stars and things. I'm really into both star trails and time lapse videos, both of which can greatly benefit from clean high ISO performance.   Plus of course I also shoot weddings and other low-light events, where ISO performance is frequently the #1 concern. Either way, this camera delivers on an unprecedented level.
The Canon 6D Built-in GPS for adventure photography
Instead of an expensive name-brand accessory, or a potentially buggy or cheap-o 3rd party accessory, the 6D's built-in GPS is very helpful when it comes to travels and adventures.  You don't have to worry about accidentally bumping your camera while a GPS adapter is attached, which could totally break the adapter and/or damage the camera connections.  With GPS built-in, I can simply turn it on or off and track wherever I go, even if it is a remote location.
The Canon 6D Lightweight, compact, simple controls
I'm glad that Canon did what they could to minimize weight and overall control clutter, without sacrificing functionality.  The 6D feels like the perfect combination of these things.  Unlike on a Nikon, I can change my ISO with my right hand alone. And unlike on the Nikon D600, I can zoom in instantly with just my right hand as well.  These types of things just make the 6D a pleasure to handle.  Even as a working professional, I would definitely want to own a 6D as a lightweight compliment to a 5D mk3, a 7D, or even a 1-series.  I'll grab those big hefty flagship / pro cameras when I really need their extra performance, but while I was testing the 6D I found myself using it as often as I possibly could simply because it was easier on my hands / shoulders / neck / back etc.   As both a casual camera and a professional tool, I'd love to reach for a 6D and a 35mm f/2.0 IS, or 85mm f/1.8, instead of a 5D mk3 and a 24-70…
The Canon 6D Autofocus is Impressive
No, it's not a flagship level of AF performance.  However unlike Canon's previous 9-point AF systems, I had a much harder time getting the 6D's amazing center AF point to "choke", and the off-center AF points were quite useful as well even sometimes in very poor conditions.  In other words: Canon has clearly NOT just added two AF points to the  5D mk2, there is more under the hood than meets the eye.  Canon actually claims that the 6D can autofocus in light as dim as -3 EV, which is a first for any DSLR as far as I know; even the 1DX and D4 are only rated to -2 EV.
The Canon 6D Great mRAW performance
This may not sound like much, so allow me to explain:  For wedding and event photojournalism, or just for casual photography, I usually just use Canon's mRAW or sRAW1 modes and am extremely happy with the ~10 megapixel resolution.  It saves me not only memory card space and hard drive space, but also editing time.  In the past however, both the Canon 5D mk2 and the 5D mk3 have had slight issues with their down-scaled RAW image quality.  Mainly, the 5D mk3 has serious problems with green banding and noise in shadows, almost to the point that images are un-usable if you need to push the dynamic range past a minimal amount.  Well, in all my testing so far the 6D's mRAW mode looks exactly the same as full RAW size!  I'm very happy about this; again for both casual and high-volume shooting, this is very useful.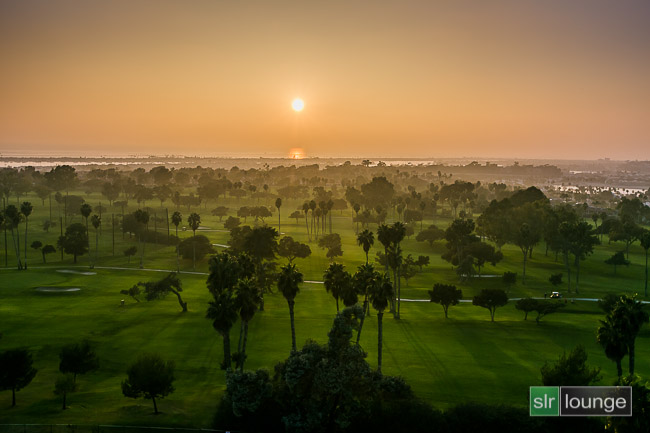 ISO 100, f/11, 1/180 sec
Canon 6D, Canon 16-35mm f/2.8 L mk2, mRAW mode
100% crop, un-edited 
Canon 6D,
Canon 16-35mm f/2.8 L mk2
, mRAW mode
100% crop, edited (Minimal signs of the classic Canon vertical shadow banding)
Canon 6D, Tokina 16-28mm f/2.8
F/16, ISO 100, 1/125 sec.
Canon 6D, Tokina 16-28mm f/2.8
F/16, ISO 100, 1/125 sec.  (100% crop)
What didn't I like about the 6D?
I did slightly miss the usual "joystick" button found on the likes of the 5-series and 1-series cameras, but I could tell that it wouldn't be too hard to grow accustomed to using the larger "joypad" that is built into the rear scroll wheel.  If you have smaller hands you'll probably actually LOVE this change, and if you have larger hands it may simply take some getting used to.
I found the menus to be a little tougher to navigate compared to other Canons, because they have shrunken the "tabs" down to just little dots.  Again, something simply to get used to, not a deal-breaker.
Of course as a wedding photographer I did miss having a PC sync port, however that's mostly because I simply didn't plan ahead and bring the right equipment to work around this issue.  More on that in a minute!
I was slightly bummed by the lack of dual card slots. I actually don't mind SD cards themselves, I just wish that the 6D was like the D600 and had dual SD card slots.
White balance is no longer on the right-hand top panel. :-(  Some Canon shooters will really hurt from this, however, since I'm a Kelvin shooter I've already just gotten used to going into the menu on Canon DSLRs since that's the only way to dial Kelvin on most Canons.  Still, it's one important change to be aware of.
Like all full-frame cameras, (excluding the 5D mk3 and 1DX) the AF points are clumped in the center.  A 7D by comparison will have focus points almost everywhere in the viewfinder, and they're cross-type too.  Not a deal breaker for casual photography or any type of landscape / architecture, however for action and photojournalism it can be a noticeable drawback.
So, there you have it.  A mixed bag of factors indeed, and thankfully I fall into one of the groups for which the 6D is perfectly designed.  With significant improvements in image quality and functionality over pretty much every other Canon DSLR on the market, I bet all photographers could find a place for this camera in their bag…
The question is still, should you buy it?  Cameras these days are already pretty awesome!  In other words: Even if the 6D is stunning, what if you already have a Canon 7D, or a Canon 5D mk2, etc? Do you NEED to upgrade to the 6D?  Or, should you upgrade to something else?  Let's approach this camera-by-camera, and then from the standpoint of shooting subjects.
Compared to the Canon 7D:
As far as original MSRP price goes, the Canon 7D is the closest neighbor to the 6D.  Even though you can get it for less today, in 2009 the 7D first sold for $1700.  That's just $400 less than the MSRP of the 6D.  Actually, the 6D price already dropped once to $1999 back around Christmas, thanks to a rebate!  (BEWARE! I looked around online and there are a few sites currently offering the 6D for less than $2099, however they are most likely scams!  Click HERE to read my article on careful online camera purchasing.)
Anyways, versus the Canon 7D, the 6D is a bit of a conundrum.  The 6D is NOT just a full-frame version of the 7D.  For starters, the 7D has a noticeably higher frame rate, (shooting speed) with 8 FPS compared to 4.5 FPS, and a slightly more powerful autofocus system overall, with 19 cross-type AF points instead of 11 points and a single cross-type.  Additionally, the rest of the camera is a little more powerful overall. (Bottom line:  The 6D is more like a 60D on full-frame steroids.)
However, many of the 7D's advantages are really only mandatory if you are a serious sports action shooter.  If you're a general photographer who just happened to buy a 7D because it was the best camera at the time, and you simply want a "prosumer" body with the best possible image quality, you can safely upgrade to the 6D and be blown away.  Unfortunately, if you did in fact  buy a 7D specifically for it's speed and accuracy, you may want to keep it around, or consider a 5D mk3 instead as a full-frame upgrade if you're in the market.
Compared to the Canon 5D mk2:
For many photographers who have been dying to upgrade to full-frame as affordably as possible, the 5D mk2 is a great option.   So, why would you by a 6D instead of a 5D mk2?  For things like general landscape or portrait photography, the 5D mk2 might be all you need.  However as I mentioned earlier-  if you really push the envelope, either with respect to dynamic range or high ISO, you'll find that the 6D fairly trounces the 5D mk2. Also, personally, the few new features such as 1-click zooming, lighter weight, better autofocus, and built in GPS definitely help me prefer the 6D over the 5D mk2.  However, when it comes to the core specs such as resolution, FPS and autofocus points, for some the 5D mk2 could remain a better option.
Compared to the Canon 5D mk3:
The Canon 5D mk3 is the one Canon full-frame DSLR that comes "close" in price, and has a significant overall performance boost.  All the other cameras (as we just discussed) have plenty of trade-offs.
The bottom line is this:  If you only care about image quality, then the 6D is a serious contender. The 6D's dynamic range might be slightly better than the 5D mk3 in certain lab tests, however in real-world testing it's not noticeable until you push way past the "envelope". The ISO performance is another story altogether- The 6D definitely comes out on top, and has more usable ISO 6400 and 12800 for things like star time lapses and general low-light shooting.
The main reason to buy the 5D mk3 instead is if you're getting heavily into any type of action shooting, from gymnastics to wedding photojournalism.  From the superior autofocus system, frame rate, flash capabilities, and overall robust pro-grade quality, the 5D mk3 is a better long-term choice for a working pro.
However like I said, if I were a full-time wedding photographer who shot Canon, I'd still invest in a 6D as a backup / secondary camera, and I would probably use it as often as possible for general shooting because I just love how small and compact and lightweight it is.
Compared to the Nikon D600:
The Nikon D600 is currently the most direct competitor to the Canon 6D.  Of course its an entirely different system, however many photographers who aren't significantly invested in a system yet (and a few who already are) are probably considering "the switch".  Is the D600 any better or worse than the 6D?  Having also recently shot with and reviewed the D600, (click HERE) …my opinion is that the cameras are very equal. We are going to have to dig deep to find reasons why one camera is better than the other, let alone a reason to switch!
One thing is, I feel like the D600 let me down just a little more often when it comes to autofocus.  My gold standard for focus reliability is the Nikon D700, which is not the best but certainly no slouch.  With the D600 I felt like I couldn't rely on it in certain professional situations, but with the 6D I felt like it came closer to that standard of trust. Mind you, both cameras are no slouch, and focus just fine in most conditions.
The D600 does indeed have better dynamic range, which you may prefer if you are mainly a landscape photographer whose top priorities are memgapixels and DR.  However the 6D does have better ISO performance, and the difference here is much larger than the difference in DR in my opinion.  To me this gives it a noticeable advantage over the D600 (and EVERY other camera on the market) when it comes to more specialized aspects of landscape photography, such as star trails and time lapses.  The only reasons why I'd go for a D600 instead might be it's AIS manual focus lens compatibility, it's built-in intervalometer, and the built-in time lapse feature.  I understand that these are pretty obscure features, so for all intents and purposes the 6D is a better camera.  I bet that many people will find more value in things like the GPS and the quick-zoom.
Canon 6D, Canon 15mm f/2.8 Fisheye, Tripod
ISO  12800, 30 sec. @ f/2.8
Canon 6D, Canon 15mm f/2.8 Fisheye, Tripod
ISO 12800, 30 sec. @ f/2.8, 100% crop
Canon 6D, Cano 15mm f/2.8 Fisheye, Tripod
ISO 400,  10 minute exposure @ f/4
What type of photographer should buy a 6D?
Hobbyists, advanced amateurs and aspiring pros
According to DXOMark, the only Canon DSLR that beats the 6D is the $6,000 Canon 1DX.  Of course DXOMark isn't the bible, but it's a good general hint that the 6D is doing something right.  No matter which camera you currently own, you can count on seeing a pretty noticeable difference in your overall image quality.  The 6D has all the features that most advanced amateurs and experienced hobbyists will need, and new features that you may have been waiting for very eagerly.
Adventure, landscape, architectural photographers (amateur and pro alike)
If you're looking to push the envelope with adventures and landscapes, the 6D is quite possibly the ultimate DSLR.  I know I just said this about the Nikon D600, and if you value dynamic range far more than high ISO performance, the D600 is still the adventure photography champion.  However for those who are already happy with dynamic range and are looking for more ISO improvements, the 6D definitely takes the cake.  I'm very glad that both Canon and Nikon have finally decided to come out with a camera that has incredible image quality in a smaller, lighter full-frame body.
Studio / fashion photographers (amateur and pro alike)
Again, if image quality is everything, the 6D makes a great main camera or backup camera.  The limitations of shutter speeds and PC syncing are notable, but may not be deal breakers depending on how you shoot.
Hardcore pros (who are looking for a smaller system for both casual and on-the-job use)
If you are already used to lugging a 1Ds mk3 or a 1DX around for your day to day job, then you might not think twice about a 6D.  However, sometimes you want to travel, hang out with friends, or visit family etc. and you want to take pictures without sacrificing any image quality.  Pair the Canon 6D with a couple small f/1.8 or f/2 primes for your next event, and your shoulders / neck / back will really thank you!
Canon 6D, Rokinon 14mm f/2.8, ISO 12800 time lapse test
Canon 6D, Rokinon 14mm f/2.8, ISO 12800 time lapse test
100% crop of 1080p resolution frame
About The Nay-Sayers
The 6D received a very polarized initial response. (on the internet, at least)  Many folks fell instantly in love and started saving to afford it.  Others called it an utter failure by Canon, a lame "prosumer" camera that wasn't going to do anything very well because of various limitations.  Others, myself included, simply had a "huh?" type response.  Who is this camera designed for? Is it good enough to be the perfect prosumer camera?  Is it good enough for professional use?  Only hands-on experience can truly answer these questions.  So before you listen to any fanboys or nay-sayers who have never held the camera that they are praising or crucifying, let's sit down and be realistic about these things.  Again in no particular order:
Autofocus
With only 11 AF points and a single cross-type center point, it seemed to be almost no improvement over the much-complained-about Canon 5D mk2… As I already mentioned however, there is more to this camera than meets the eye.
Even though it isn't very impressive on paper, how does it perform in the real world? Is the camera crippled, as some say? Absolutely not. In my experience the 6D focuses amazingly well overall. Sure, the non-cross-type off-center focus points aren't going to be as reliable as the clusters of cross-type AF points on the Canon 5D mk3 and 1DX. However the center AF point does not disappoint, even in terrible light that the likes of the 5D mk2 would frequently choke. I found myself trusting the 6D to nail focus far more consistently. Even the off-center points can be trusted in moderately poor light, especially if you memorize which direction each AF point is sensitive to detail in.
Overall, I am happy to say that only the most demanding of sports / wildlife etc. photographers will truly need the autofocus advantages that the 5D mk3 provides. Everything else from general photography to moderate action will be no problem on the 6D.
Image Quality
We already covered this pretty much-  The 6D is  "only" 20 megapixels, which is below both the 5D mk2 and mk3, however the overall quality is incredible.  Recently, one of Canon's main issues has been dynamic range; especially when comparing the 5D mk3 against the "king of the hill", the Nikon D800.  Suffice it to say, the Canon 6D approaches the other champions and I feel like it is exactly what I wanted to see from Canon, plus more!
Limited Shutter Speed & Flash capabilities
The final main concern that was immediately voiced when the 6D was announced was it's subtle differences from Canon pro / flagship standards, in three respects: The maximum shutter speed is 1/4000 sec instead of 1/8000 sec, the maximum native flash sync speed is 1/180 sec instead of 1/200 or 1/250 sec, …and there is no PC sync port for studio / wireless flash connectivity.
Essentially, this is one of the cut-and-dry differences that separates the 6D from "the big boys". The 6D isn't a flagship pro camera, it is built for general photography and hobbyists who will never concern themselves with these minor limitations. If you need as much flash control versatility as possible, consider a 5D mk3 or 5D mk2 even.  However, I personally think these issues are easily worked around.  A polarizer filter can cut down your light by 1-2 stops and help you cope with the shutter speed limitations.  And a "piggyback" radio wireless trigger system, or the Canon wireless triggering systems, can help you easily shoot with both on-camera and off-camera wireless flash at the same time.  So, while some of the Strobist type photographers may be disappointed by the 6D, it's actually one of the best compromises Canon could choose to make, as opposed to cutting back in any other respect.  I don't think it would have killed their profits to  include these features, though, and I'm disappointed that Canon left them out.  I'm just willing to make do.
Canon 6D, Canon 16-35mm f/2.8 L mk2
Radio wireless off-camera flash
Canon 6D, Canon 100mm f/2.8 L Macro, mRAW
Canon 6D, Canon 100mm f/2.8 L Macro, mRAW
ISO 100, 1/500 sec. @ f/2.8, 100% crop
…But what about the Wi-Fi, GPS, and Video?
The GPS is awesome, it just works.  It doesn't seem to gobble up the battery, either.
The video performance is, like the overall image quality, downright incredible.  I was able to take 1080p video at ISO 25600, which is another first for any DSLR as far as I know. When severely under-exposed the video is not very usable at ISO 12800 and 25600, however if the overall image is bright enough then it looks good!  Video shot at ISO 3200 and 6400 is downright beautiful, by even professional standards it is totally usable when exposed and processed correctly.
The Wi-Fi feature, unfortunately, is kind of a dud.  We literally could not figure out the convoluted procedures and proprietary software necessary for making things work.  After hours of downloading various apps, drivers, and pouring over PDF user manuals, we gave up.  From what we could gather however, there are a handful of different things you can do if you take the time to set it up.  You can print directly to a wifi enabled printer, you can share screen-resolution images with compatible mobile devices and televisions, and you can use a proprietary Canon program to view images on a computer.  Overall, if this is a feature you are interested in, prepare yourself for a little bit of frustration and trouble-shooting before things can be figured out.  ;-)
Conclusion
Like the Nikon D600, at first the Canon 6D seems like just another new camera.  But again, the excitement lies under the hood.  An amazing sensor is what caries this camera above and beyond it's competition.  Canon has taken multiple leaps in improving image quality overall.  If your number one priority is a camera with incredible speed and versatile pro-level functions, this is not the right camera for you, or it may be a stepping stone and an eventual backup / spare time type camera.  However for every type of photography under the sun, and for that matter "under the stars", …the 6D is definitely ready to deliver incredible images to the casual shooter, the advanced amateur, part-time pro, or even full-time pro.  Make your purchasing decision based on your balance of priorities – image quality and portability, versus specialized functionality.
For me, the Canon 6D is so impressive that I would consider buying one and adding the Can0n system to my bag, even if only for certain kinds of work.  For the hiking, backpacking, and traveling that I like to do, this is one of the best cameras I've ever used.
=Matt=
Purchase the Canon 6D from B&H for $2099 (currently with a 2% reward and $59 in accessories!)
Purchase the Canon 6D from B&H for $2699 (currently with a $200 rebate and a 2% reward!)
Specifications:
20.2 megapixel full-frame CMOS sensor (5472×3648)
Digic 5+ image processor
ISO 100-25600 native, ISO 50, 51200, and 102400 in LO/HI
11-point autofocus, diamond pattern, 1 cross-type AF point
-3 EV autofocus capability for center AF point, extra sensitivity with f/2.8 or faster lenses. (Standard cross type for lenses f/5.6 and faster)
4.5 frames per second shooting speed
No pop-up flash, no built-in AF-assist
3″ 1.04 megapixel LCD display, non-articulating
97% viewfinder coverage, 71% magnification (0.71x)
1/4000 maximum shutter speed, 1/180 maximum native flash sync
+/- 3-stop bracketing
1080p video at 30, 25 & 24 FPS, 720p video at 60 & 50 FPS, H.264 format
Built-in GPS
Built in Wi-Fi