The Canon 70D is currently taking the crop-sensor scene by storm.  Well, a small storm.  Okay maybe not a storm, but it's at least making waves!
Most notably is the camera's full set of cross-type focus points and its surprisingly good face-tracking / continuous AF in live view. (Or the touch-screen, but so far we're not finding it that earth-shattering of a feature to be honest…)  Believe it or not, we have also been quite impressed with its high ISO performance!
All the "laboratory" websites seem to be reporting that the 70D's overall sensor / image quality is nothing more than a minor improvement over previous generations of crop-sensor DSLRs including Canon's 60D and 7D.  However those previous cameras were already such good performers, that the 70D is in a position to push past a new threshold of "acceptable ISO quality"…
Before we publish our full review next week, we wanted to share these quick samples made at ISO 400-12800.  These were captured in RAW, with real-world amounts of noise reduction and sharpening applied in Adobe Camera Raw.  All testing was performed using the new Sigma 18-35mm f/1.8 EX DC ART.  (Read our review of that amazing lens!)
(Some parts may be sharper than the ISO 400 sample due to less subject motion from longer shutter speeds)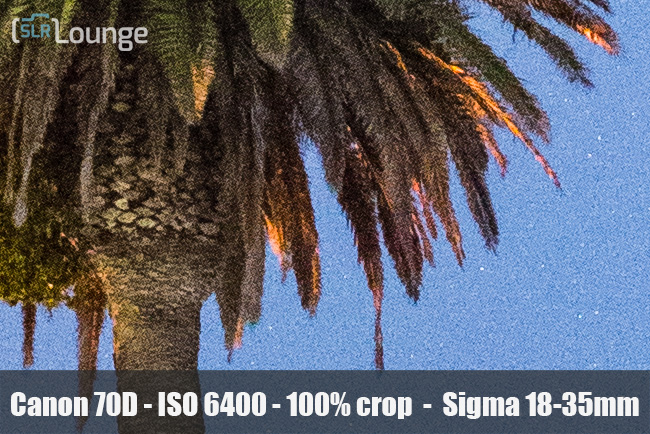 We kept this brief test to these ISO's because, here's the good news, ISO 100-400 all seem to be similarly noise-free.  (And an ISO 100 test in this situation would have required a two-minute exposure, in which time the tree would sway in the wind and blur completely.)  The bad news is, ISO 6400-12800 are about the last usable ISOs, and beyond that image quality is just a complete joke.  We'll post more samples later, but for now we believe this is a fair sample of what you can expect.
Still, the 70D does seem to put ISO 3200 / 6400 "on the map" for Canon crop sensors, with what we feel are the first professionally acceptable results for things like wedding photography and low-light photojournalism / sports.
Again, we're not doing these tests in a lab; when we test a camera or lens we go out in the real world and use it for the types of images we think it was best designed for.  Thus, we came up with this panorama of the milky way…
(Click here for a larger version!)
In the real world, we have found that ISO 3200 seems to be the threshold for many different types of photography, not just low-light photojournalism but also for things like nightscapes and astro photography
Just so that you can get an idea of the actual RAW image quality, here is an un-sharpened 100% crop from the above image, with and without Adobe's default of color noise reduction applied.
Lastly, here is a sample of 1080p video captured at ISO 6400 on the 70D.   Again, we'll publish many more samples in our full review, so stay tuned!  In the meantime if you have any questions about the Canon 70D (Or the Sigma 18-35mm f/1.8, which we reviewed HERE) …please leave a comment below!
Take care and happy clicking,
=Matthew Saville=