The rise in content creation has made music licensing for content creators more important than ever.  Music, after all, is often a key ingredient for creating engaging, interesting, or story-driven content.  Proper music licensing is the best way to ensure creators don't infringe on musician's intellectual properties, while still utilizing their artistry as a way to provide genuine connection with viewers.  While there is stiff competition in the music licensing space, a relatively new company, Audiio, is shaking things up and making a strong case for itself, with new and exciting features planned for 2023.  In this article, we'll explain some of Audiio's unique existing and upcoming features to help you determine if it's the right music licensing solution for your content.
What is Audiio?
Launched in 2020 by former Universal Music Group artist Clay Jones and industry friends , Audiio.com has had over 1.5+ million licensed tracks downloaded by subscribers and is serving customers in more than 100 countries.  Here's a quick introduction to Audiio and some of the upcoming 2023 features.
In 2022, the company quadrupled their "Audiio Pro" subscriber base, which allowed them to reinvest the earnings into catalog expansion.  They added thousands of additional songs and sound effects and signed "major sync artists that have previously only been available to major ad agencies and Hollywood entertainment studios," according to the company.  Here's what to expect in 2023 from the company.
SafeSync Launching in February
Nothing is more annoying than getting a copyright claim for music that has been legally licensed.  Audiio plans to solve that problem with SafeSync™, the company's music-tracking technology, which will launch in February.  SafeSync™ uses music-tracking technology covering distribution channels from social media to television to secure every license generated. This feature helps protect Creators and their clients from potential copyright issues and claims.
Mobile App Coming in Q1
More and more content creation is happening on the go with the use of smartphone apps and technology.  In the first quarter of 2023, Audiio will release a mobile app to enable content creators to search and download songs on the go.  Content creators know that inspiration can happen anywhere and at any time, whether it's in bed or on a morning jog, so having access easy access to the catalog of music on a mobile device can be a game changer for many users.
Referral Program
Audiio is also releasing a unique type of referral program.  According to the company, "by inviting friends and colleagues to join Audiio, users will be able to unlock a lifetime of access to the platform's extensive library of music and sound effects."
Sound Effects Catalog
Audiio currently offers thousands of options in their Audiio Sound Effects Catalog, and the platform is going to double the size of its sound effects catalogs by the end of the year.
The platform is expanding its offering with thousands of fresh sound effects, crafted by skilled professionals.
New Website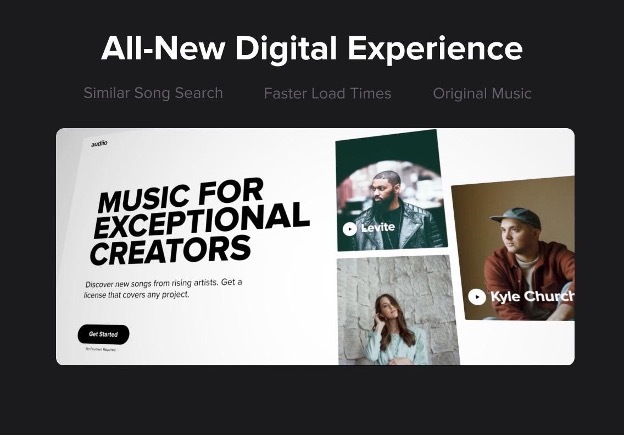 Lastly,  Audiio.com will be launching a new, feature-rich version of their website soon, with features that help users find the right music as quickly as possible including similar songs, lyrics, original music and more.
Audiio Pricing
For its anniversary and to celebrate the new announcements for 2023, Audiio.com is offering its Audiio Pro and Lifetime music subscriptions at discounted rates.  Particularly appealing is the $199 Lifetime Music offer, which could be a huge money saver down the road as the catalog continues to expand and you've already paid up front.