Yesterday we informed you of what's new in the world of Fujifilm, but their fresh announcement detailed one item that is surely deserving of a post of its own. That item is the new Instax Square SQ10, and it's an Instax camera like the world has never seen.
For starters, it's a hybrid digital/analog camera. It has internal memory and a microSD card slot for storing 1920×1920 JPEG files via 1/4" CMOS sensor, which can be tweaked in-camera with 10 creative filters before printing. This removes the need for specific films for an intended look – you won't need to purchase monochrome film, for instance, if you want to shoot black and white. Or, you can opt to be strictly analog, as far as the photos go, and set it to work like a traditional instant camera – just snap and print.
This will be the first instant camera that has a digital component to make actual analog film prints, not using ink or heat and reactive paper like the Polaroid Snap. That chemical process will take place on a new, square size of Instax film – 86 x 72mm in total with the actual square image covering 62 x 62mm of that area.
It's likely analog purists will be less enthusiastic about this camera, however – in some ways, the added abilities do detract from some of the analog charms, though as mentioned earlier, you can choose not to use the digital features, with the exception of the inability to escape the digital aspect in its 3-inch, 460k-dot LCD for framing your shot, as this camera has no viewfinder.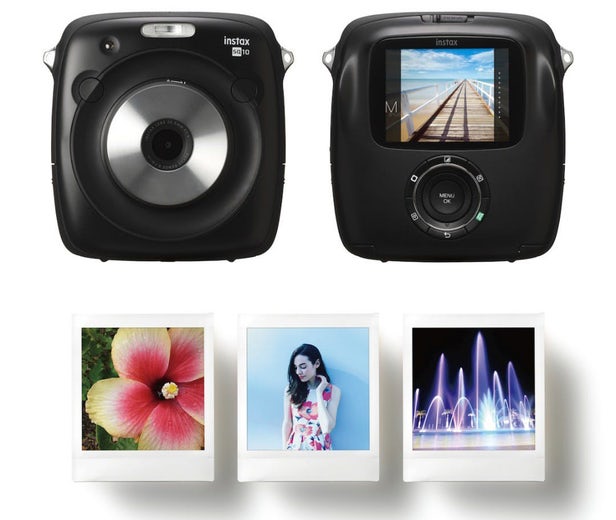 The SQ10 being digital will bring some improvements in the experience for those who aren't averse, possibly most importantly the ability not to waste film. The new square format will set you back $16.99 for a box of ten exposures, so it's surely an economical benefit to be able to preview before printing. In-camera double exposures can be made as well.
Another major change from previous Instax models is the 28mm equivalent lens. It's got a maximum aperture of f/2.4 which is much faster than any other Instax, with the majority of other models having an f/12.7 lens. This won't do much for the depth of field with this sensor size, but it will significantly expand what can be captured without using the camera's flash.
On top of the obvious uses for this camera, a very interesting prospect brought up by PC Mag is the thought that this camera can also double as an analog printer, with the ability to print images from other cameras via microSD card.
A minute but unique detail that will be appreciated by lefties is the Square SQ10's two shutter buttons, one on the left and another on the right.
In all, this looks to be a fun camera on the horizon with interesting potential. Check out the promo videos below to see it in action, and you can see Fuji's official word on the camera here.
The camera will retail for USD $279.95 and CAD $369.99 when it's released in May 2017.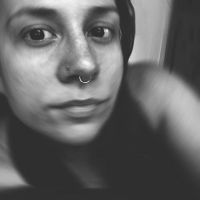 Holly Roa
Seattle based photographer with a side of videography, specializing in work involving animals, but basically a Jill of all trades. Instagram:
@HJRphotos