We have become a world fixated on the idea of instant gratification: how we get our news, how we catch up with friends, how we share our work; it all stems from the pressing need to want things now. We see this daily with photography, like for example, the glorious Supermoon this past weekend which inundated newsfeeds everywhere as soon as photographers had the chance to post-produce their images of the moonrise.
Instant cameras have had a major comeback due to this demand of instantaneous satisfaction, seen through the on-going popularity of FujiFilm Instax Cameras and the highly anticipated Leica Sofort making its way to consumers this year. The Cooperative of Photography (COOPH) teamed up with Lisa Kutzelnig, who had a chance to use the new Leica Sofort, to show us a couple of fun & creative tips & tricks to take your instant photography game up a notch.
1. Panorama
Just like the panorama function on your mobile device, start by taking a shot on your instant camera then panning left or right to reveal the entire scene.
2. Panorama sequence
Shoot a panorama and keep your model moving with the shot to show a sequence as you move through the scene.
3. Pantone Wall
Use colored gels to create a sequence of images and place them side by side to make a Pantone themed wall.
4. old-school hyperlapse
Take an image and then walk a couple of steps and take another. Repeat this process on a casual stroll and you'll have a make-shift hyperlapse out of prints!
5. double exposure
The Sofort has a double exposure function built-in to the camera making it easy to create double exposures at any time. Simply find a texture or object to use as the first exposure and then take a self portrait for the second exposure.
6. double-exposure ghosting
Using the same function, take an image of the same subject and overlap it with a tighter composition or a different angle to create a ghosting effect.
7. mirror kaleidoscope
Take three small rectangular mirrors and tape them together to make a pyramid kaleidoscope. Similar to how you use a prism in front of your DSLR lens, place the kaleidoscope in front of the lens to create interesting reflections and light flares.
8. polaroid collage
Make your way around a subject or scene essentially stitching together the entire picture with tiny fractions of image.
9. 3D cutout
Using a box cutter or exacto-knife, cut out your subject from the background just enough to make them pop out and give your print a 3D effect.
Preorder your Leica Sofort here.
Source: Cooperative of Photography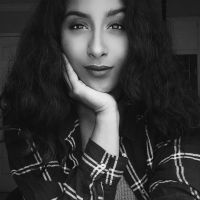 Shivani Reddy
Shivani wants to live in a world where laughter is the cure to pretty much everything. Since she can't claim "Serial Bingewatcher" as an occupation, she'll settle for wedding/portrait photographer at Lin and Jirsa & marketing coordinator here at SLR Lounge. For those rare moments when you won't find a camera in her hand, she will be dancing, eating a donut, or most likely watching Seinfeld. Follow her on Instagram:
@shivalry_inc