Summer is officially upon us in the Northern Hemisphere which means increased hours of glorious daylight and sweltering temperatures. This typically results in a rising demand of swimwear shoots for fashion and model test photographers.
Photographer Anita Sadowska is no stranger to the swimwear scene and if you peruse her portfolio you will see that it is arguably some of her best work. Below are some of her tips to take your swimwear photos to the next level.
Keep the model looking as authentic and raw as possible. Perfected styling with loads of makeup and jewelry aren't befitting to the surroundings. The model should match the scene which means wet hair, glossy skin and embracing the plethora of sand.
Use body oil. While body oil will absolutely suffice, Anita suggests using an olive oil nourishing spray for hair as it provides a nice sheen without the greasiness of traditional oil.
Use the water as a reflector. If the lighting is such that fill lighting is needed, water can reflect onto the model and fill in the shadows. If shooting on the beach, place the model in the water and wait for a wave to come in.
Keep the model's eyes closed when shooting in direct sun. Water and sand reflect a lot of light which can be difficult and painful for a model to keep her eyes open. Have the model close her eyes and then count her in to keep the model from looking strained.
Pick the best time of day to shoot in. Midday sun is the most challenging to work with as well as the most dangerous in the extreme heat. Early morning and late afternoon light is more forgiving and it provides cooler temperatures as well as a soft, beautiful glow.
Shooting on the beach can create some spectacular imagery with very little equipment, which is a plus as it can also be surprisingly taxing. For this reason, I would also suggest bringing plenty of water and snacks, plenty of sunscreen, and protective clothing to ensure the safety of both you and the model.
Be sure to check out Anita's YouTube Channel and Instagram for more swimwear inspiration.
Gear Used: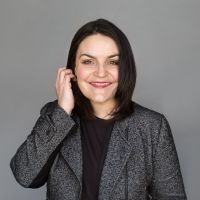 Brittany Smith
Brittany is a fashion and beauty photographer who works between NYC, Montana and LA. She photographs the way she has always wanted to feel and believes in the power of raw simplicity. When not behind a camera she can usually be found at a local coffeeshop, teaching fitness classes at the YMCA, or baking something fabulous in the kitchen. Instagram: @brittanysmithphoto