We are all trying to navigate this alternate reality the best way we can, but for those of us that thrive off creativity and artistry, it's a bleak time. Due to the global pandemic of COVID-19, photographers have been forced to call off sessions, weddings, and events to stay home and protect others from the spread of the disease. So what can we do to sharpen our skills and build our creativity all while practicing social distancing? Here are 5 things you can do at this very moment to keep you inspired, challenge your creativity and create something to remember this moment in time.
1. Document Daily Life: Beauty Is All Around You
Often times we search for wild inspiration in unknown places but you'll be surprised what you can find in your own backyard, quite literally. We recently featured a Facebook Group that was offering a safe space for documentary photographers to share an inside look into their lives at home. Look to your family members, objects in your house, friendly neighborhood animal visitors, or other atypical objects to keep you inspired during this time.
Jason Vinson has spent the past couple of weeks of social distancing with his son Zayden and wife Chasnie. He documents his life daily in hopes of having something substantial to look back on from this historic period of time. "Social distancing makes me feel more thankful for the strong photography community online. I am so thankful we have a yard we get to play in and a neighborhood we get to explore." All images edited with DVLOP. You can see more of Jason's documentary photos here.
"This is our first year dying eggs from our own hens. Every year I create a still and this was the end result. To make sure the eggs didn't roll off the table when she touched them, I just taped them on the bottom. I also like to first capture an image of just the still before bringing my children into the scene. This takes a lot of pressure off me and allows my children to play, explore and make a mess…. and sometimes the messes end up being my favorite shots." Meg used the Sigma art 24mm lens to capture this portrait of her daughter and edited using her Lightroom Dawn Presets.
2. Re-edit Old Images
Maybe picking up your camera isn't the first thing you want to do right now, and that's totally understandable. What can you do to still sharpen your skills without even picking up a camera? Search through your old hard drives to find images you've shot from a couple of years ago, grab them and create a new Lightroom Catalog and edit some old images. You could even post some befores/afters on your Instagram to share with your followers so they can visibly see your growth or in Facebook communities to inspire others to do the same.
"I photographed this image 5 years ago. If you've seen some of our education on SLR Lounge Premium, you may already be familiar with what I call "twice-baked." The entire process takes 1-2 minutes and requires no brushing/photoshop work. Here's what you do.
Start w/ baseline processing. In this case, I used our new Visual Flow Pastel Pack – HDR Natural.
Open the Lightroom edited image in Luminar 4, replace the sky, then save out.
Go back to Lightroom, take the Luminar 4 image with the sky and apply a second layer preset, in this case, I applied Crush (a pack we are currently developing!).
Viola! Twice-baking is essentially re-applying a second coating of a look/preset over an image that has already been processed. It's a fun little trick to arrive at very interesting results." You can see more of Pye's befores/afters using our new Visual Flow Preset System over in our Lightroom Education Facebook Group.
"I started photography with the dark art stuff to discharge my emotions 12 years ago – I'm so passionate and emotional by nature, photography has been amazing allowing me to "let it all out" (hi free therapy!). Being all passionate and emotional, you can imagine sometimes "life gets to me" and it was again one of those phases when I called my friend Katrina and asked if she would like to model for me with this project I had in mind. She accepted without hesitation. The whole series was based on my past relationship. The guy I used to date was emotionally abusive and had lied to me about almost everything Anytime I face some sort of struggle, in business or in my private life, I do refer back to this project as it can be so many more things other than a result of a break-up. This was a photo taken in 2018 but represents my current mood. I used a cheap simple background stand and my black comforter for the backdrop and yes – unfortunately with all that fake blood we had to retire my comforter after the shoot because there was no way I was going to put that in the washer haha! And the only lighting I used was a single Yongnuo flash with a foldable softbox (proof that you don't need a lot of gear or expensive options)."
3. Take a Self Portrait
Self-portraits are a great way for photographers to practice their lighting, posing, and composition. Whether you need a new headshot or you want to try out a new composite trick, bust out your camera and tripod and take some photos of yourself. You'll find that being in front of the lens will give you a new perspective you may not have had when directing from behind the camera.
"The idea behind this photo was just to revive the initial years when I started taking self-portraits. During these hard times, I was able to take out time from my busy life. I promised myself that I will do these portraits more often because it makes me think more creatively and I am able to manage my time in the right direction by staying at home. It's more of an activity to find yourself again. So I look for elements at home, put them together, and try to take artistic portraits." Naman used a Nikon D750 with a Sigma 35mm 1.4 lens to create this image.
[Rewind]: Coronavirus: 10 Pieces of Business & Financial Advice for All Photographers
"Over the last few years, creative self-portraits have become an important release for me. They have documented all aspects of my life from the highest of highs to the trickiest of lows. My goal is to provide a visual narrative to look back on and to encapsulate my voice and emotions for years to come. Given everything happening with the 'rona, the weight of taking on a multitude of new roles, the expectations, the fears, and attempting to balance and navigate them all was resting on my shoulders. I channeled the emotion I was feeling and picked up my camera and took nine quick portraits to capture how I felt with all the new roles I was taking on. I wanted the miniature portraits to capture the balancing act our new normal required, plus I wanted to have one whispering and reminding me of the book being held — to do one thing daily that makes you happy."
"The portraits were a simple set up, using a tripod and minimal natural light (from an overcast Minnesotan morning). To simplify the composite process, the mini portraits were shot against a neutral backdrop and I shot things with the directional light of the base image in mind."
4. Facetime Portrait Sessions
The biggest challenge we face during this unexpected time off is the lack of practice and use of our creativity. Photographers have found a way to create portrait sessions through Facetime and really put their directorial and posing skills to the test. Read how these two photographers have conducted Facetime sessions with all proceeds going to charity.
"We are privileged in the UK to live in homes with a thousand ways to communicate around us, and I started to think around ways I could effectively make portraits of my friends, and keep my brain stimulated. I put a shout out to some friends to see if anyone was up for trying to use the fairly basic imaging capabilities of FaceTime, initially just as a fun experiment, and a way of collaborating with my creative mates around the world."
"The restrictions of the technology I've been using (FaceTime, an iPhone, and my normal editing software), kind of propelled us to be more thoughtful in our approach, and made working with the more basic capabilities than I am used to, kind of the mother of invention. Partners were employed as lighting stands, tripods, subjects and props. Phones were balanced on precarious Jenga-towers of random stuff, or blu-tacked to walls. These self-isolation spaces were searched for pockets of light and colour, mood & humour. Props were pulled from shelves and cupboards, or cat beds and cribs. I've shot people living within shouting distance, and stayed up way past my bedtime shooting people on the other side of the world. The shoots were fast & fun, locked into a short time frame and a similar visual language. They involved couples, individuals, children & pets. All of us in the same situations. All of us shut away."
"At any time this would have been fun – as a creative exercise and way of finding a new way of making portraits; but in this bizarre time we find ourselves, outside of our normal experience or comprehension, it made total sense that we made pictures in a new way too. The fact that it sparked such enthusiasm in people, resonated with them at a time where we are distanced from each other, from the world, is just bloody lovely as a human being. These images feel like tiny threads from one home to the next, waiting to be pulled again."
Tim decided to Facetime his subjects, him using a Macbook Pro and them using an iPhone. He gave them instructions on how to stage the pictures and then snapped the results on his screen to create compelling portraits of what people are doing in their homes during this time. Wanting to do something positive as well as giving him a creative outlet, he suggested clients donate £10 for each portrait Trussell Trust – you can book him for a session to document this historic time. He has a full step by step process on how to create Facetime photo sessions that you can read more on here.
"I treated the session as if I was actually there. I had them send me photos of places in their home they would like to shoot in and then I explained where they would put their phone. I prompted the clients how I would any session but it did require more vocal descriptions. With Facetime (IOS 11 and newer I believe) you can take a photo (there is an on-screen button) of just the people on the phone so your facetime box does not get in there! I edit with the Lightroom mobile app with the presets I use with any other session! I do not charge for these but I do have them donate to Direct Relief (an organization that provides medical supplies to healthcare workers!)"
"I saw a few other photographers post Facetime sessions in lieu of front porch sessions and that idea seemed so much better – less risk, we stay home as we should, and there is a lot of creative freedom in these. It is easy to fall into a funk or even depression during this scary time in the world. We are mixed with a sense of normalcy and mourning. We grieve our freedom and our loved ones but also we have been given the gift of time with ourselves, our kids, our spouse, whoever you live with. So it is just a confusing time and I don't think we know for sure how to feel. I find myself either not leaving my bed or feeling like I need to do it ALL during this downtime (cleaning, organizing, homeschooling, cooking, picking a new hobby, revamping business) so these are very two extremes. So doing these facetime sessions gave me a sense of normal routine, as if I am going to work and shoot a session. It makes me create a schedule and balance between working/productivity and also staying present."
[Rewind]: These Companies Are Helping Photographers During The Coronavirus Crisis
5. Practice Posing: No Models, No Problem
With most states and countries having a strict stay at home order it can be tough to swallow the pill of not being able to photograph human subjects, but that doesn't necessarily mean we don't have the ability to practice and perfect our skills. These photographers used Barbie dolls as models to create some couples and boudoir portraiture

René is a wedding photographer that resides in Michelfeld, a town in Germany. She decided that "in the current time, you have to be inventive." In order to stay creative, she went out to the fields around her village with her models, Barbie & Ken, and took photos using a Sony A7 III paired with a Sony 35mm f/1.4 and Sony 90mm f/2.8 Macro.
"Being a creative & running a non-essential creative business in a pandemic has been hard. I've been itching to shoot anything besides my kids and my cat! I was playing with my daughter and realized how easy it would be to pose one of her dolls in a boudoir-style shoot since she had all moveable joints. I found some outfits, a doll-sized bed and the rest is history! They've gotten so much positive feedback and have made lots of people smile, which is one of the goals I had in mind (along with keeping my creative side sane). It might turn into a challenge to find new outfits and new "sets" to shoot her on. We even have a contest right now in my boudoir group to name her. There will definitely be more of her on my pages in the coming weeks!"
We urge you to participate in online communities to seek comfort and acceptance in these uncertain times. We found all this talent in various Facebook groups and their creativity inspired us to create an article to share it. What other things have you been doing to stay creative?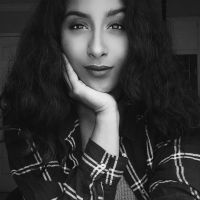 Shivani Reddy
Shivani wants to live in a world where laughter is the cure to pretty much everything. Since she can't claim "Serial Bingewatcher" as an occupation, she'll settle for wedding/portrait photographer at Lin and Jirsa & marketing coordinator here at SLR Lounge. For those rare moments when you won't find a camera in her hand, she will be dancing, eating a donut, or most likely watching Seinfeld. Follow her on Instagram:
@shivalry_inc