Welcome to Time Out with Tanya, where I've put my fast paced graphic design career on hold in favor of adventures in motherhood. I'm capturing every moment on camera and you can come along, if you'd like. Sign up for my weekly email here so you'll never miss a Time Out.
Ok, my friends, how many of you are in a creative rut? I must admit, I feel creatively stuck these days. Unless I'm getting paid for a job, I rarely pick up my camera, not even to photograph my kids! And that's sad, because since I was 12-years-old, photography has been a source of joy, exploration and creative expression for me. Somehow the fun has gone out of photography over the last year or so and I'm determined to get it back.
I love my job writing here at SLR Lounge and I want to keep inspiring you all to get out there and create. So, I made a list of 100 ways to be a more creative photographer and I'm going to do them all! Who wants to join me? I'll be writing about my experiments here and also posting to Instagram using the hashtag #100ways2B. Follow along and let me know what you think. Here's my list…
1. Read a Book (or 5)
2. Take a Class
3. Join a Workshop
4. Download a Tutorial
5. Get a Mentor
6. Be a Mentor
7. Teach a Workshop
8. Create a Tutorial
9. Teach a Class
10. Write a Book
11. Try a new technique
12. Try a new medium
13. Try a new lens
14. Try a new camera body
15. Try a new background
16. Get out of your comfort zone
17. Try a change of scenery
18. Take a photo walk
19. Take a walk without your camera
20. Meet someone new
21. Join a photo club
22. Join a facebook group
23. Enter a photography contest
24. Judge a photography contest
25. Ask for a critique
26. Play "pretend" with a child
27. Keep a dream journal
28. Brainstorm alone
29. Brainstorm with a friend
30. Take a drive
31. Start a personal project
32. Volunteer
33. Travel to a new place
34. Travel to an old place
35. People watch at a cafe
36. Go to the craft store
37. Go to the hardware store
38. Go to the book store
39. Go to the mall
40. Go to an antique store
41. Hire a model
42. Ask strangers to be your impromptu models
43. Photograph your parents (before it's too late)
44. Photograph your grandparents (if it's not too late)
45. Photograph your children in an intentional way
46. Look for shapes
47. Look for colors
48. Look for lines
49. Look for textures
50. Look for reflections
51. Study the light
52. Study the shadows
53. Study the midtones
54. Shoot in black and white
55. Shoot with film
56. Frame your subject 100 ways
57. Go to an art museum
58. Visit a local gallery
59. Have a showing of your work
60. Recreate famous images
61. Capture motion
62. Ask your subject for ideas
63. Shoot what you love
64. Shoot something new
65. Play dress up
66. Try a new lighting setup
67. Play with fire
68. Shoot by candle light
69. Shoot in the city
70. Shoot in the country
71. Shoot from above
72. Shoot from below
73. Make a video
74. Study design
75. Study architecture
76. Study fine art
77. Collaborate with other creatives
78. Collaborate with left-brainers
79. Study the human form
80. Shoot something that makes you feel uncomfortable
81. Shoot in bad weather
82. Add animals to your photos
83. Keep the camera at your eye
84. Shoot the same subject from 10 different angles
85. Shoot a surreal concept
86. Study popular culture
87. Study history
88. Try a new editing technique
89. Create a composite
90 Try multimedia collage
91. Get your hands dirty
92. Photo illustrate a story
93. Photo illustrate a concept
94. Shoot a surprise assignment in 15 minutes or less
95. Use paint in a creative way
96. Take 100 creative Instagram photos in one day
97. Have a food fight
98. Shoot in or around water
99. Shoot from a moving vehicle
100. Create your dream photo shoot
I would love to see what you come up with too! Post your photos using the hashtag #100ways2B and I'll keep an eye on what you're doing. Maybe we will feature you in a future article. In the meantime, if you want to get a jump start on trying something new, consider experimenting with textures from the SLR Lounge Photoshop Paper Textures Collection. Click here to view more details.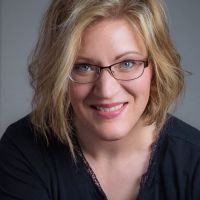 Tanya Goodall Smith
Tanya is the owner of WorkStory Branding Photography in Spokane, WA. Businesses hire her to create story-telling content that sells their high end products and services. She also teachings photographers her unique business model for making serious money as a corporate and personal branding photographer. Find her at
workstoryphotography.com
and
workstoryeducation.com