As the hands of time bring the winds of change in our industry it doesn't take genius to notice that there is a trend of photographers getting lots of work, creating truly accomplished bodies of it with the absolute minimal amount of gear. What's minimal? A camera with a lens or two, a few memory cards and a laptop. That's it, and sometimes less. I know a fashion photographer in South Beach who started shooting paid tests for major agencies here with a 5D Mark II and a 24-70 2.8, no pen tablet, and an old MacBook. No reflectors, no speedlite, no strobes. But you couldn't tell looking at the work. But how, you may wonder?
Well, clearly, studio work is exempt from this unless it's a natural light studio, but otherwise it was just clever use of natural light, time of day, and the combination of reflective surfaces and shade. It's no secret that this is done, but perhaps lesser known how widely these images can be found. In this short video by Jeff Rojas, he talks about just this kind of shooting, and for good reason. Many don't have the resources to drop a couple K on lighting gear, or just can't justify it yet, and for those this is a great watch. It's also an appropriate watch for everyone else as it's a reminder that you can do a lot without a lot.
As a simple example, I was shooting for a local clothing line in Miami a few years back and used the same premise to shoot the image below. Evening light, needed to permit to shoot in that area and didn't get one as it wasn't planned so I didn't want to be seen with anything other than a camera, so use the concrete walkway section to bounce back/sidelight onto the face, and used the hat to provide a little shade and contrast. It's not a final image, so some brightening in some areas are needed, but, you get the idea of what just a sidewalk can do.
The focus of the video is a simple premise: learning to maximize lighting on location primarily by making use of the 'natural' reflective surfaces around you, like walls, concrete, sand, etcetera. Within that context Jeff speaks about things to keep in mind such as surface color and its effect on the tones and hues in an image via reflection, and more. It's simple, direct, and hopefully will get you take more notice of the light and surfaces around you, and take advantage of them.
Check out more from Jeff on his YouTube channel.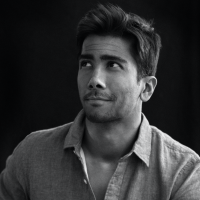 Kishore Sawh
A photographer and writer based in Miami, he can often be found at dog parks, and airports in London and Toronto. He is also a tremendous fan of flossing and the happiest guy around when the company's good.