It's likely you've had this internal debate at some point in your career: which lens should I purchase first as a wedding photographer? Do you start off with a workhorse lens like a 24-70mm or aim for a less intrusive beast like the 70-200mm?
In our Wedding Workshop series, we go into great detail as to which lenses we use most throughout a wedding day to capture journalistic moments and artistic wedding photography. Watch the full Facebook Live debate here:
The Argument for the 70-200mm
When I am given a choice between the two, I always reach for a Canon EF 70-200mm f/2.8L IS II, mainly for the beautiful compression created by this beast of a lens. Yes, it definitely has its drawbacks due to weight and price, but I am willing to look past that for the incredible quality of imagery it creates. When speaking of price, it isn't too far off from the 24-70mm, this is considering the fact that we are purchasing them at f/2.8 and not at more closed down apertures like f/4.
The Pros
A 70-200mm focal length range allows you to use foreground elements to create interesting compositions, greatly compress your backgrounds to pose your subjects against a beautifully blurred out space, and the gives you a stunning bokeh look.
Now, it is important to note that for most crucial moments of the day that require some type of portraiture or journalistic capture (bridal portraits, first look, couples session, wedding ceremony, reception, etc.) we stay on our 70-200 to remain unobtrusive as photographers. That longer focal distance gives us the ability to capture moments from afar with assurance in image stability and a wider aperture than its cheaper alternatives.
THE CONS
The weight does play a huge factor in why people are reluctant to purchase the 70-200mm, but we actually don't mind that so much. A more important reason to consider purchasing the 24-70mm first is because of its versatility in small spaces and quick moments. Let's take for example a wedding recessional: the bride and groom are quickly walking down the aisle, celebrating their new title, and you are on a 70-200. You will need to be quite a bit of distance away, due to the Minimum Focus Distance, to capture this movement and might actually miss it if you aren't far enough. For that reason alone, the 24-70mm is more a more favorable first purchase.
THE ARGUMENT FOR THE 24-70MM
For those looking to purchase their first lens as a wedding photographer, look no further, your answer is here. From our experience, the Canon EF 24-70mm f/2.8L II is by far the most utilized lens for us here at Lin and Jirsa Studios.
THE PROS
Whether it be group portraits, family formals, decor details, wedding processionals, or shutter drag portraits at night – the 24-70mm has time and time again proved its worth as a valuable and useful piece of glass. There is no other lens that gives you the depth of field you want at this range of focal lengths. For capturing journalistic, in-the-moment photos, there is no better candidate than this guy right here. Its versatility can be seen in the multitude of scenes it can be used in, especially when you are backed into a corner of a room with no area to move around and shoot.
THE CONS
The price of this lens may deter you from saving up and making this purchase, but consider its benefits before completely discarding it to purchase a Prime instead. While Primes give you a higher aperture, they tend to lead to alot of missed focuses. The compromise you then face is having a lens that photographs at f/2.8 that produces images that look a lot like a point-and-shoot camera. The artistic quality that is produced from images taken with a 70-200mm isn't at all the same and therefore your portfolio might look a little basic.
Which Do You buy first as a wedding photographer?
Our advice? Buy the 24-70mm and capture the moments that matter without the worry of missing them. Artistic composition and compression come secondary to capturing the moments that your couple is paying you good money to document, so you don't want to miss out on that for the sake of getting a cooler shot. Eventually, you can save up to have both of these quintessential lenses in your arsenal, but for right now if you are debating between the two, go for the 24-70mm.
Need more advice on what gear to buy next? Check out our entire Wedding Workshop Series which includes photo and lighting gear lists for lead & second shooters! Stream it now in SLRL Premium or purchase it in the SLRL Store!
Don't agree with our choice? Which is your favorite lens to shoot on during a wedding day? Let us know in the comments below!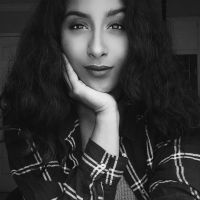 Shivani Reddy
Shivani wants to live in a world where laughter is the cure to pretty much everything. Since she can't claim "Serial Bingewatcher" as an occupation, she'll settle for wedding/portrait photographer at Lin and Jirsa & marketing coordinator here at SLR Lounge. For those rare moments when you won't find a camera in her hand, she will be dancing, eating a donut, or most likely watching Seinfeld. Follow her on Instagram:
@shivalry_inc