Our "SLR Lounge Awards Artist Feature" articles highlight SLR Lounge Awards winners, some of the very best wedding photographers around the globe. This article features Jason Vinson of Vinson Images (Northwest Arkansas, USA), which he owns and operates with his wife Chasnie. The Vinsons are well known for their ability to capture genuine moments, create amazing portraits, and master light. In this article, Jason shares his best tips for mastering light.
Jason has won a slew of awards for his photographs, across multiple platforms, including several SLR Lounge Apex Awards. SLR Lounge's curators select the Apex Awards from the top 1 percent of submissions.
We asked Jason to share his best tips for mastering light. He gave us five! And here they are …
1. Don't be afraid of contrast.
Photographers constantly flock to areas with soft light. Although it can make for amazing photographs, it can also make for boring photographs. Harsh light can be difficult to work with. But when done well, it leads to results that will separate you from the pack. The reason why most photographers find hard light so difficult is because they show up to a location, see a nice looking background, and start photographing (only to later find out that they just can't get the light to work the way they need). The trick is to find the best direction for your light in relation to your subject. Then, simply look for backgrounds that support that direction.
2. Don't be a "natural light" photographer.
I see a lot of photographers describe themselves as 'natural light photographers' … Of course, it's totally acceptable to primarily photograph using natural light. However, if you get paid to show up to a session, and the light isn't what you need? Well, your clients shouldn't suffer because of it. Instead, you should be able to produce amazing results, no matter the situation. There are so many great resources to learn off-camera flash. So spend a little time and add a new tool to your belt.
3. Learn how your camera sees light.
When you walk into a room, you can see details in the darkest shadows, and in the brightest highlights. But your camera can only see a fraction of what you see with your eye. Knowing how your camera sees light will not only help you see light in a more useful way, but it will also help you use that light in more meaningful ways. It's also super easy to learn!

Throw your camera into live view, and simply walk around the house and see what happens as you adjust your exposure for different lighting conditions in the room. And ask yourself questions. What parts of the frame go to white or black? What does that make your entire photograph look like? Also, what happens when you turn certain lights on and other lights off? Finally, where would you place a subject to draw the most attention to them? (Hint: In the highlights!)
4. Learn to use interesting light.
Now that you've learned how to use hard light and see light in a more meaningful way, it's time to start looking for, and using, interesting light. The way I do this is by looking for areas in a room with the brightest light. This could be from the small slits of light caused by the sun shining through some window blinds, or simply a patch of light from an open window that's letting some light into the room.

When someone views a photograph, the brightest object in the frame will draw their eye. So placing your subject in the brightest patch of light will make them stand out in your photograph. The key here is to make that patch of light interesting!
5. Learn to create interesting light.
So, now that we know how to see and use natural light, it's time to start using our flash in the same meaningful ways. The key with using flash, however, is to make it look like you're not using flash. To do this, gather your lighting inspiration from real life elements. Walk through your house and look for interesting light. Then ask yourself questions. How could I recreate that light if it wasn't there? Is it hard light or soft light? (This will tell you if you need to modify your flash.) What's the color of the light? (This will tell you if you need to add a colored gel to your flash.)

Then, later in the day, when that light is gone, actually go through the steps of recreating it. Now, the next time you walk into a room with a ton of boring light, you'll have a toolkit of ideas in order to make something out of nothing.
You can check out more of Jason's work on Jason & Chasnie's website. Also, give them a like on Facebook. And while you're at it, give both Jason and Chasnie a follow on Instagram as well!
Check out the latest SLR Lounge Award Winners here. Don't forget to submit by the December 31 deadline to be considered for SLR Lounge's December 2018 awards competition. Finally, remember that anyone can sign up for an SLR Lounge account for free and submit, but Premium Members are able to submit up to three photographs each month!
All photographs are copyrighted by Jason Vinson of Vinson Images and have been used with permission for SLR Lounge. Do not copy, modify, or re-post this article or the included photographs without express permission from SLR Lounge and the artist.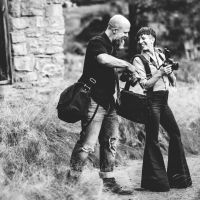 Amii & Andy Kauth
Amii & Andy are a wife and husband team of rad portrait and wedding photographers (Sunshine & Reign Photography) who absolutely love life and are generally just stoked! Yeah! When they aren't photographing or writing and teaching about photography, you'll find them off on a seriously legit adventure with their little ones, lifting weights in their garage, training jiu-jitsu, refining their archery skills, or surfing every chance they get. And on the rare chance they escape off on a "date night"? Yep! They'll find a wedding to crash (true fact). Website:
Sunshine & Reign Photography
Instagram:
@sunshineandreign