About two weeks ago we reported on the availability status of the Nikon D850 MB-D18 Multi-Power Battery Grip because for the longest time it had been unavailable to North American customers. Two weeks on it is still available for pre-order only, but now there's competition in the form of a grip from Vello.
Only a few days ago I spoke directly to a Vello rep who asserted the grip would be able to allow the D850 to reach its potential of 9FPS when used in conjunction with the EN-EL18b battery (from the D5) and the BL-5 cover kit, but that claim has been since challenged. Consequently, I have just spoken to someone else at Vello who has stated the grip was not, in fact, tested at 9fps but only at 7, and at this point it would be inaccurate to claim the the Vello BG-N19 Battery Grip for Nikon D850 would get 9.
Furthermore, there's a sense that the team at Vello is trying to figure this out, as I was told that the "current batch of grips" won't do 9fps, but it's being worked on, though with no guarantee of success. So it would seem for the time being, should you absolutely need 9fps, the Nikon MB-D18 Multi-Power Battery Pack is your best option. 
Just as a quick reminder as to why this attention was given to a third party grip, the D850's headline-grabbing specs of the 9FPS and 5000 shots come at a costly caveat, that those numbers can only be achieved of the battery grip, with a special battery kit inside which allowed the use of the battery plucked from the D5.
So, that's saying you need the grip, a second battery type, a second charger for that battery, and a cover adapter for the grip kit which is needed to use that other battery. Just buying the grip and slotting in a D850 battery will not deliver the goods. By the time you get the grip ($400), the new battery and charger for that battery (which is different than that of D850 body), the cost for all of that is just shy of $1,000. That's on top of the $3,300 just spent to buy the D850. So a $300 saving on the grip is significant.
Grip OPTIONS
Battery Grips
Vello BG-N19 Battery Grip for Nikon D850 ($99)
Nikon MB-D18 Multi-Power Battery Pack ($396)
Grip Accessories (used for either Vello or Nikon grips)
Nikon EN-EL18b Rechargeable Battery and BL-5 Cover Kit ($174)
Nikon MH-26aAK Charger Kit ($369)
or
Nikon MB-D18 Multi-Power Battery Pack with EN-EL18b Battery Kit (which includes Nikon Grip, battery, charger, BL-5 adapter cover) ($940)
PRODUCT HIGHLIGHTS
Extended Grip for Vertical Composition
Extends Shooting Time
Holds One EN-EL15a Battery
Also Works with Eight AA Batteries
Holds EN-EL18b Battery with BL-5 Cover
Supports EP-5B + EH-5c AC Adapter
Shutter Release Button with Control Lock
Two Command Dials, AF-ON and Fn Buttons
Slot for Holding Rubber Contact Cover
1/4″-20 Threaded Slot for Tripod Use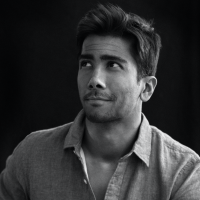 Kishore Sawh
A photographer and writer based in Miami, he can often be found at dog parks, and airports in London and Toronto. He is also a tremendous fan of flossing and the happiest guy around when the company's good.