Well, within a few short hours, our previous article on the controversial US Olympian photos have garnered quite a bit of talk among our readers, and really among photographers all across the web.
I learned that Pye's good friend, Kevin Jairaj, is also one of the photographers for the Olympic Media Summit. And in fact, there are actually plenty of other photographers and photos from that 2012 Team USA Media Summit shoot. Check out some of the shots that Kevin took for US Presswire.
We managed to garner a behind the scene's shot from Kevin's gallery. So, before viewing the photos that he took, take a look at the shooting space that Kevin had for the photo shoot along with his lighting setup. Kevin and the other photographers each have a small space to set up, and athletes would come in and have their short photo sessions with the photographers.
Photographers for these types of events will typically only have anywhere from 30 seconds to 2 minutes to shoot each athlete prior to them moving on. Correct lighting, posing, and experience under pressure are absolutely crucial.
Enjoy!


Kevin used a two light set up with a large 4×6 softbox as the key on camera right, a reflector to bounce back some fill, and a gridded strip box for rim light on camera left. It's a simple, but effective setup that Kevin was able to use for a wide range of athletes from gymnasts to volleyball players.
It is also interesting to note that photographers from these events are not allowed to do retouch and heavy post processing on these images as they are intended to be "journalistic." So, aside from cropping, basic contrast and exposure adjustments, these images are sent in virtually straight from the camera.
To see more of Kevin Jairaj coverage of the US Olympians, please visit USPresswire.com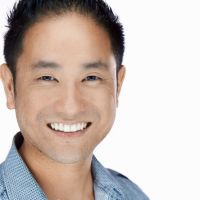 fotosiamo
Joe is a fashion and commercial photographer based in Los Angeles, CA. He blends creativity and edge with a strong style of lighting and emotion in his photographs.