It's Senior Photo season and, in spite of our best efforts to educate photographers everywhere about the dangers and liabilities of taking photos on tracks, my Facebook and Instagram feeds are still being flooded with images of kids on tracks and stories of people getting injured or killed while shooting on tracks. UGH!
Union Pacific has launched a campaign to encourage high school seniors to choose a safe location for their senior pics. Will you as photographers help us spread the word? Educate your clients about why it's not a good idea to trespass onto railroad property. Here's a summary of those reasons, which you can read about in more detail in the articles listed at the end of this post.
1. It's Dangerous!
See John stop faster than a train from Operation Lifesaver on Vimeo.
The number one objection I hear from photographers about staying off the tracks is that trains are huge and loud and they'll have plenty of time to get off if one is approaching. Fatality after fatality has proven this theory wrong. Modern trains are, in fact, practically silent and move at high speeds without the ability to stop if something (or someone) is in their way. Play it safe and just stay off the tracks!
2. It's Illegal
If safety is of no concern to you, perhaps keeping your criminal record clean or cash in your pocket will be motivation enough. Trespassing on tracks is a crime and photographers or models found on railroad property will be prosecuted and/or fined. Even if you aren't caught in the act, images posted online could be incriminating.
3. It Sets a Bad Example
Another common objection to staying off the tracks I hear from photographers, is that if they are using inactive tracks in a local park or they're "sure" no trains go on those tracks anymore, then it's not dangerous. If those tracks are on railroad property it's still illegal and unless the track truly is a disconnected small portion in a museum or something, you never know when the railroad might send a train down the line. PLUS, people viewing your images don't know you're on inactive tracks and it sends a message to those who don't know any better that it's ok to take pictures on tracks.
4. It's Cliché
Let's face it, pics on tracks have been overdone. Find a more interesting backdrop for your portraits. Union Pacific is urging high school seniors to put their safety first and consider the many alternative and safe locations for their photos. Get creative! As part of their campaign, Union Pacific asks Seniors and photographers everywhere to post photos showing the fun, creative and safe places they've chosen to celebrate their senior year on Facebook, Twitter or Instagram using the hashtag #SafeSeniorPhotos. Let's do it!
5. Consider the Railway Workers
The reason I'm so passionate about this cause is because of the many testimonies I've heard from railway workers about the horrors of hitting and killing a person with a train. They simply can't stop in time. Imagine how that would impact someone's life and try to be considerate of them when choosing your photo session locations. You can hear some of their testimonies in the videos in the article, The 5th Reason Photographers Should Stay Off the Tracks. Be sure to read the comments following the article as well for some insightful perspectives from railway workers.
Help us promote safety by encouraging your senior portrait clients to stay safe and stay off the tracks by letting them know, "#TracksAreForTrains, not your senior photos!" Share these videos or even this article with them. Invite them to share their creative and safe senior portraits on Facebook, Twitter or Instagram using the hashtag #SafeSeniorPhotos.
Still not convinced to stay off the tracks? Read these articles for more information:
REASONS NOT TO TAKE PORTRAITS ON RAILROAD TRACKS
THE 5TH REASON PHOTOGRAPHERS SHOULD STAY OFF THE TRACKS
PHOTOGRAPHERS STRUCK, ONE KILLED, ON RAILROAD TRACKS
FITNESS GURU GREG PLITT KILLED WHILE FILMING ON TRACKS
MAN STRUCK, KILLED ON TRAIN TRACKS WHILE POSING FOR PHOTO
Union Pacific Photography Policy
Find out more information at Operation Lifesaver.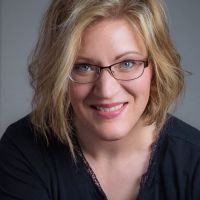 Tanya Goodall Smith
Tanya is the owner of WorkStory Branding Photography in Spokane, WA. Businesses hire her to create story-telling content that sells their high end products and services. She also teachings photographers her unique business model for making serious money as a corporate and personal branding photographer. Find her at
workstoryphotography.com
and
workstoryeducation.com