Los Angeles County is huge, with around 10 million people and around four million square miles of area. Los Angeles County is also diverse, both culturally to geographically. As photographers, we have the luxury of playing with this diversity in our images. We can find every style of architecture. We can travel up and down the coast to visit each of the unique beaches. We can even go into different parks and canyons to escape the feel of LA altogether to find hikes, forests, and even waterfalls.
Now, while this list is in no way comprehensive (or objective for that matter), we've shot many of the popular Los Angeles engagement photography locations and picked out our favorites to share. We hope you enjoy this resource and explore the beauty of LA. We hope to write a similar article on Orange County soon. Feel free to add your locations or your comments in the comments section.
Top 10 Los Angeles Engagement Photography Locations
For a larger list, see the following additional recommended resources:
Venice Beach
This is by far my favorite place for an engagement session. If you have four hours or so, you can start at Abbot Kinney, where bohemia meets Southern California. You'll love the colors, the architecture, the murals and textures on the walls and the vibe.
An entire engagement session could be done here alone, but if you have time, move over to Ëœthe strand, otherwise known as Ocean Front Walk. Here you'll find a whole host of interesting characters and street performers. The commotion allows you to sneak pictures of your couple hanging out, shopping, and having a good time without drawing any attention.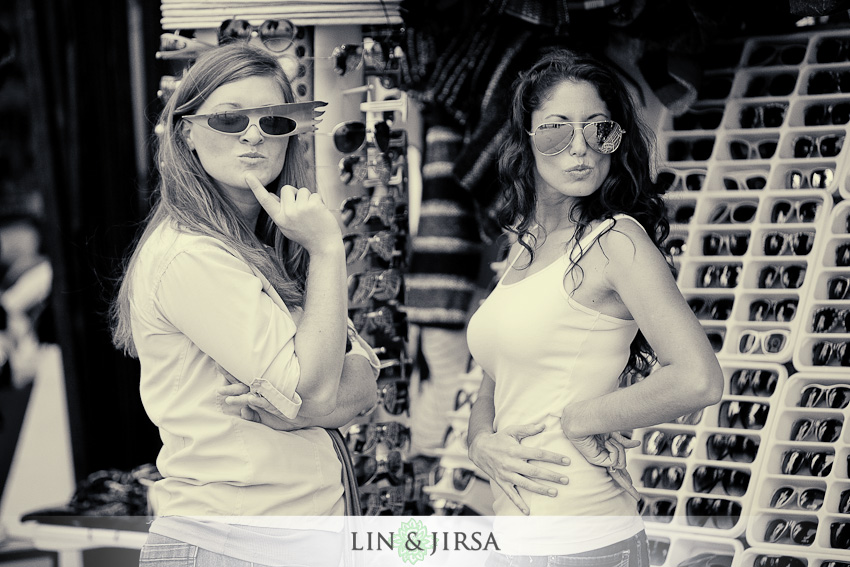 After that, move to the beach, where you'll find awesome graffiti and a low populated beach.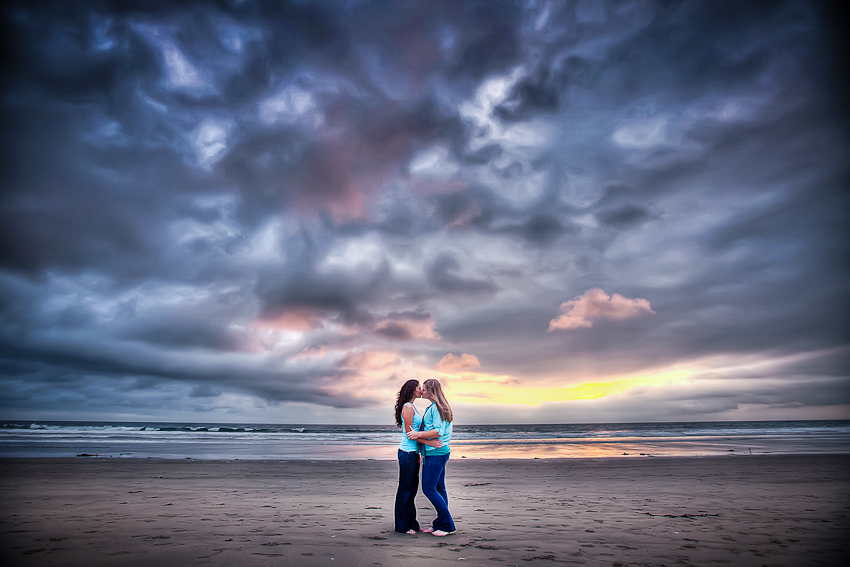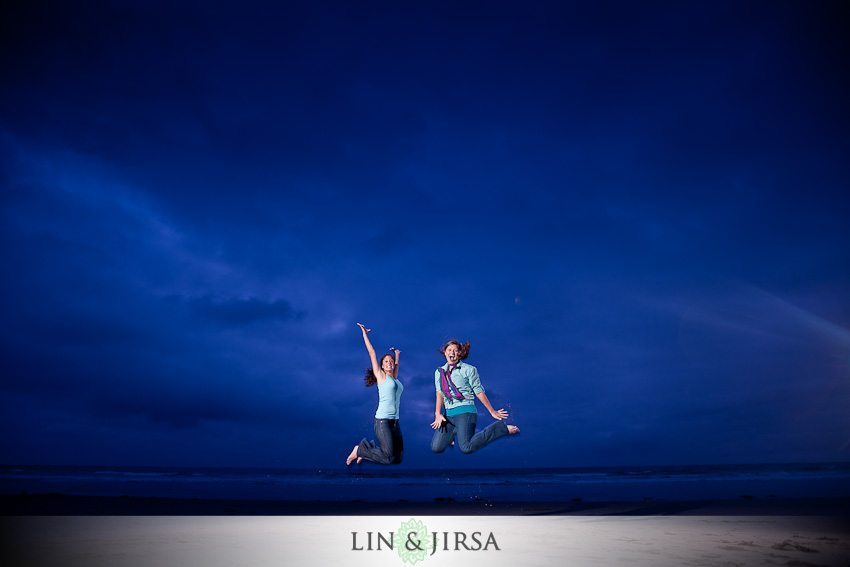 The Observatory is located on the southern slope of Mount Hollywood in Griffith Park, just above the Los Feliz neighborhood. It is 1,134 feet above sea level and is visible from many parts of the Los Angeles basin. Also a great place for an engagement session, Griffiths park is an escape from LA, with beautiful views of the valleys below and nice trails for short walks. The observatory is also a photographer's playground, as the building overlooks the city of Los Angeles.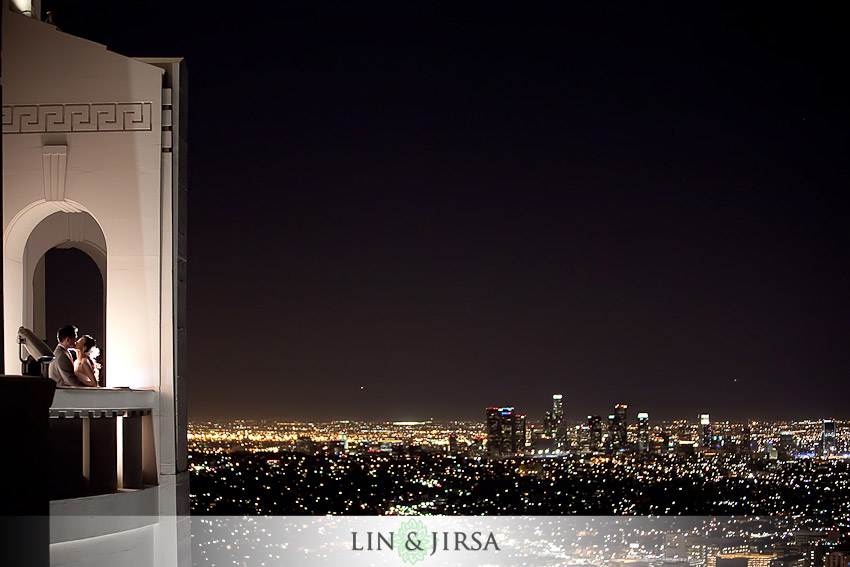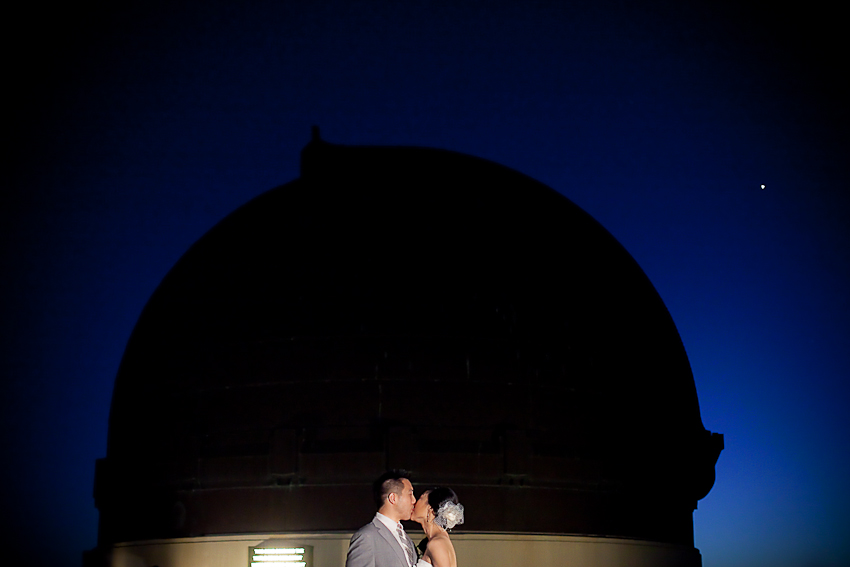 Address: 2800 East Observatory Road, Los Angeles, CA 90027
Click Here for more images
3) Walt Disney Concert Hall – In downtown Los Angeles, there's the beautiful, almost futuristic, structure of the Walt Disney Concert Hall. The security there is surprisingly photography friendly, allowing us to roam around with our couple and shoot for a couple of hours uninterrupted. The ally of silver walls create great lighting, and the interesting shapes of the building make for some interesting scenes. The attitude of the venue and the amazing architecture make this one of our favorite locations.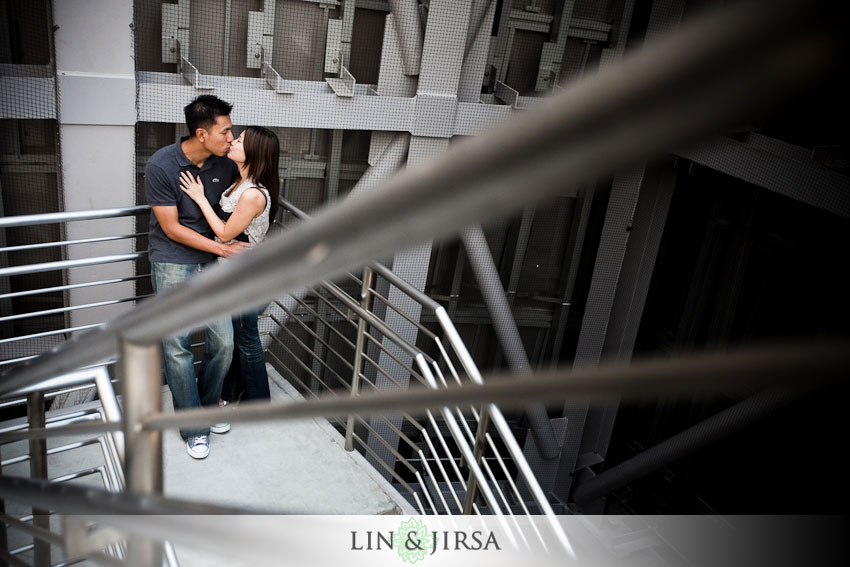 Address: 111 S Grand Ave, Los Angeles, CA
Manhattan Beach
Manhattan Beach is one of LA's cleanest beaches, and it has one of the nicest piers in the County. These two facts make it one of the best beaches for engagement sessions.
Address: Manhattan Beach Pier, Manhattan Beach, CA Ž
Millard Canyon
If you have a half day to spare, a little bit of a drive and a hike will take you up to Millard Canyon, the closest waterfall to Los Angeles we have been able to find. This hike is great however, as it's not very difficult, and it gives you a good amount of time to get to know your couple.
Address: Millard Canyon Pasadena, CA 91011
Santa Monica (3rd Street promenade and more)
Like Venice, you could also spend an entire day at Santa Monica. You could start at the 3rd Street Promenade for some interesting city/commercial shots.

After that, you could move over to the pier for some fun carnival-like shots. However, they are pretty strict about photography, so you either have to be very sneaky or get a permit. If you have time you can also go under the pier to a nice dark tunnel; and then of course, there's the beach, where you can catch your sunset shots. Right above the pier, there's a nice park with beautiful lamp posts that make great night shots.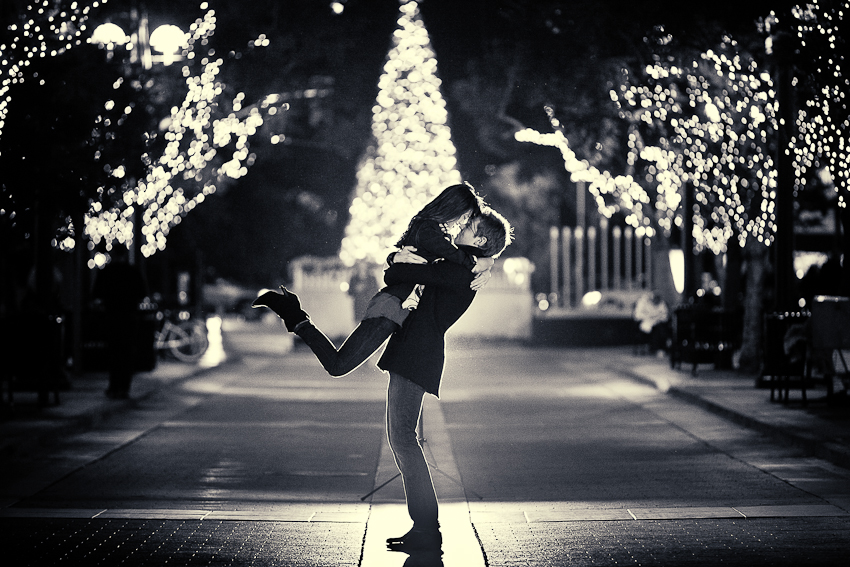 Address: 200 Santa Monica Pier, Santa Monica, CA
Close to the Walt Disney Concert Hall. There are a whole host of interesting structures, buildings, and fountains. We recommend just cruising around with your couple, hopping out every time you see something interesting. It helps to go with an assistant or friend, because parking is not always easy to find.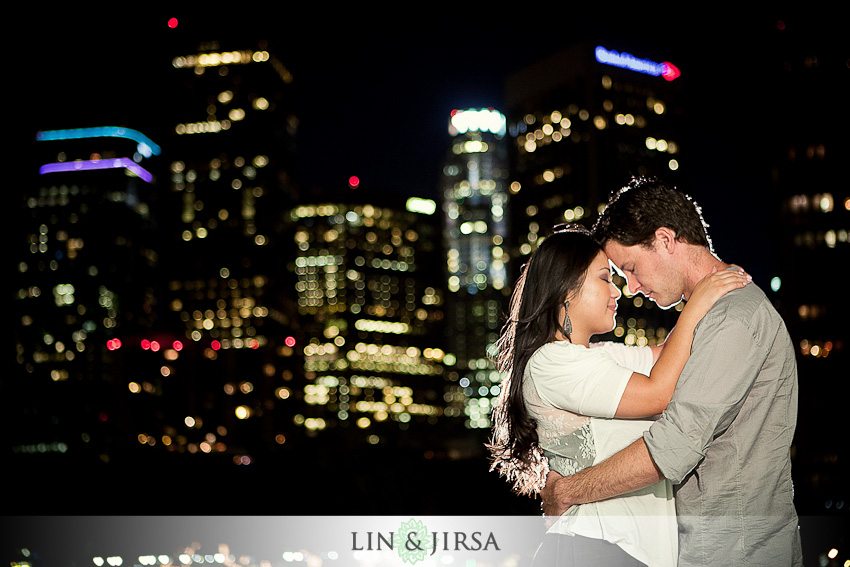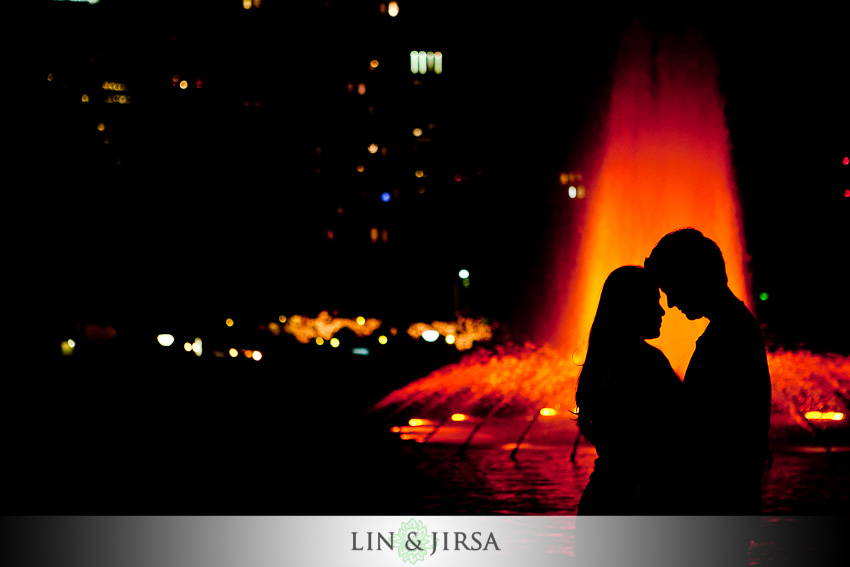 The Getty Museum
Note: Recently removed from the list due to strict rules and threats of lawsuits … you photographers know how it goes.
UCLA or USC
Most college campuses are beautiful; but there's a reason so many movies are filmed on the UCLA campus. Besides the fact that it's close to Hollywood, directors are drawn to the beautiful architecture. There are countless brick buildings with stunning columns, beautiful lights all around campus, and exquisite statues and other works of art all around campus. The tall buildings allow you to shoot during the day time with good shade, while the beautiful lights all around campus allow you to shoot well into the evening. You'll likely have to pay for parking, but the images will be well worth it. And besides, after the shoot you can hang out with your clients in Westwood to grab a pizza, some ice cream, or even a movie.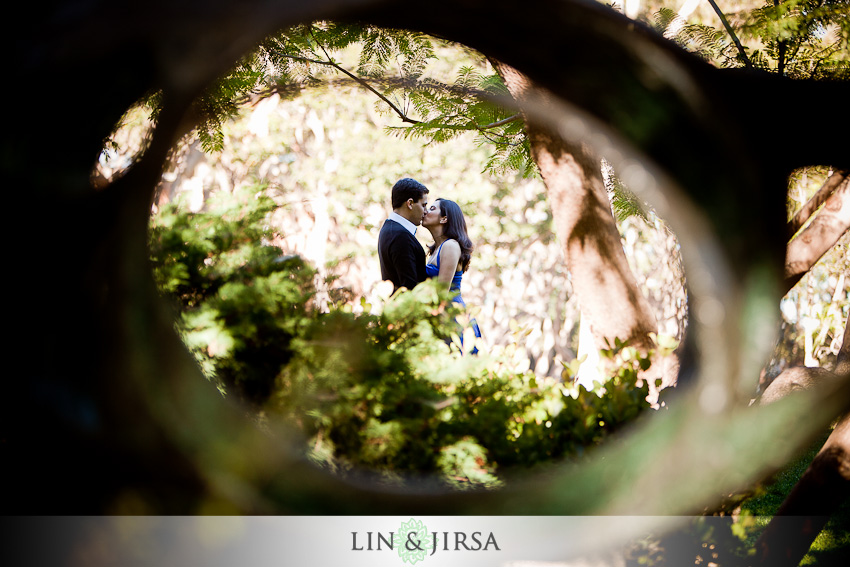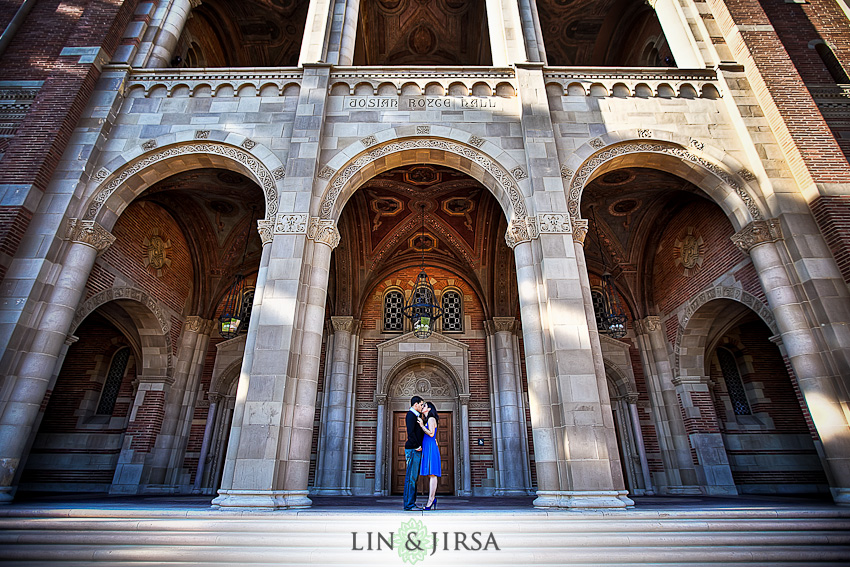 Address: 760 Westwood Plz, Los Angeles, CA
Click here for more UCLA Engagement Photos
Corona Lake
Even though Corona Lake is technically outside of Los Angeles County, we feel it deserves a mention, as it's truly one-of-a-kind. Sit your couple down in the golden fields or take them on a quick boat ride; and your pictures will come out with a beautiful, country, even Southern feel to them.

Address: Corona Lake 12510 Temescal Canyon Rd Corona, CA 92883
There are too many amazing locations to list in one article. For example, we left out all of Malibu, from its beaches to its Getty Museum. We left out USC and its architecture as well as the other beautiful beaches along the coast, like Hermosa Beach and Torrance Beach. Beverly Hills has a great commercial vibe; and San Pedro and Palos Verdes have stunning cliffs and great parks that overlook them. In short, LA is awesome!
By: Lin and Jirsa Photography Los Angeles Wedding Photographers