In difficult times, business owners who do well and pull through are the ones who take a deep breath and reassess their businesses from top to bottom. Having never had a "real" job, I've run my own businesses through 9/11, and the market crashes of 2001 and 2008. While each were bumpy rides, we got through and had a stronger business once we reached the other side. Here's how…
Tip #1 – Re-evaluate Your Contracts
One of the biggest topics during this ordeal has been whether to refund deposits on weddings that have been cancelled or moved. Decide what you want to do in these "Act of God" situations and adjust your contracts accordingly.
Tip #2 – Take Stock of Product Offerings
There are only two ways to increase revenues in a business, one is to attract more customers and the second is to make more money per customer. Evaluate your albums, wall art and cards and make sure you are offering all that you can to your clients.
If you need help with pricing or design ideas, the free Fundy Studio Setup Guide has a pricing calculator and best practices.

Tip #3 Seek New Channels
If you photograph only weddings, look at branching out into family photography, headshots, commercial photography, high school senior photography, etc.
Tip #4 Cut Down on Production
As artists, many of us spend too much time in Lightroom, Photoshop, etc. Often our workflow isn't as streamlined as it could be. Fundy's free Workflow Guide is full of free tips on how to cut steps out of your workflow.
Tip #5 Learn New Skills
If you aren't an expert in any part of your business, this is the time to become that expert. If you struggle with off camera flash, this is the time to learn that skill. If your detail shots are lacking, learn those skills.
One of the most important skills you can learn in a time like this is sales. Whether this means getting better at booking clients or learning In-Person sales strategies. Leads and clients are likely to decrease in the short term. By increasing your booking percentage and becoming adept at selling more albums, wall art and cards to each and every client you'll be able to generate as much revenue as possible. In our Guides pack, there is a free Fundy IPS Guide.
[Related Reading: Complete Photography Business Training System]
Tip #6 Client Experience
During this time, we are all re-evaluating every aspect of our business. This is a perfect time to take a second look at our client experience. Take a moment and list every single time a client comes in contact with your business.
This means taking out a piece of paper and listing out every ad, every bridal show, your website, your email formats, your phone scripts, your product delivery, everything. Now, from this list, make a list of ways that you can improve them. Start with the easiest changes and work your way up.
Tip #7 Retool Your Pricing, Packages and Products
This is a great time to tighten up your offerings and expand any products in your studio where you see opportunities.
Do your wedding packages encourage people to invest in wall art for their engagement sessions? Do your wedding packages encourage your clients to get album upgrades? If not, retool them.
If you've never priced a product before and are unsure of how to do it, the Fundy Studio Set-Up Guide has a free pricing calculator that uses PPA guidelines to help you price.
Stay Busy
During these times of uncertainty it is easy to fall into bad habits – spending hours on social media, watching the news or Netflix for hours on end. Set your business hours, just like you are working in an office and stay busy during those hours.
Hopefully the above tips will help you dive in and retool your business so it is stronger when the fog lifts. From experience, I know that this is what it takes to retool your photography business for success and now is the time to do it.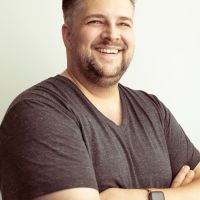 David J. Crewe
David J. Crewe is a full-time commercial photographer and Senior Editor with SLR Lounge. Based out of both Southern California & Las Vegas, Nevada. View his work and blog:
DavidJCrewe.com
Follow his Instagram:
@DavidJCrewe