We're prime lens wedding photographers, and we use our Nikon 24mm and Nikon 50mm lenses on our Nikon D750s for the vast majority of our 15-hour + wedding days. We'll also throw in our Nikon 45mm Tilt-Shift and occasionally our oh-so-trusty (from the '90s) Nikon 80-200mm.
But because we love creating images using the Brenizer Method (multiple shots, stitched together to create an image that appears to be shot with a wide-angle lens but that has a shallow depth of field [we use Kolor Autopano Giga for "the stitching"]), we wanted a prime lens that fell into the 70-200mm range. So we went on the hunt, and Sigma obliged when we met with them at WPPI 2016. They loaned us a lens, and, basically, we love it: the Sigma 85mm f/1.4 EX DG HSM Lens for Nikon.
Basics & Test Shot Images
You can find a ton of technical reviews of this lens, as it's been out for years now, but our interest was more in the realm of actual use in a real wedding environment.
Before making serious use of the lens over the course of a wedding day, however, we put it to use in a few different situations so that we could give it some initial testing/useWe found it to be tack sharp with gorgeous bokeh. Here's how we got started . . .
First, we did some portrait-style test shots of our own children in our backyard. Here's one of our first shots with the 85 (ISO 64, f/1.4, 1/4000 sec.):
Next, we took it with us for a portrait session that we did for a current wedding client (a Mother's Day shoot with our bride & her mother, and the bride's 31-year-old horse).
(ISO 250, f/10, 1/200 sec. + 2 Nikon SB-910s both gridded w/ MagMod MagGrids)
Then we took it out for some engagement adventure fun . . .
(ISO 50, f/1.6, 1/200 sec.)
(ISO 100, f/2.8, 1/3200 sec. Double Exposure)
Images from a Real Wedding
Having put it to use in environments where time was not as much of a constraint, we took it along for a ride as we shot some weddings. And that was the crux of our usage. So here's how we shot it (a recent wedding) with Sigma's 85mm (images + exif data + why we love this lens follow):
1. Standard Portraits
(ISO 50, f/4.5, 1/200 sec.)
(ISO 50, f/16, 1/160 sec.)
So, yeah: Sigma's 85mm is solid for all your standard wedding portrait needs, from getting ready shots to portrait sessions with the bride & groom. We love it for this purpose because we felt the lens produced extremely "crisp" images, and we loved its compression.
And we should mention that Amii loves it because it's smaller and lighter than our beast of an 80-200mm.
2. Brenizer Method
(ISO 50, f/2.2, 1/4000 sec.)
Without a lens like Sigma's 85mm prime lens, we'd naturally go to our 80-200mm and use it at (probably) somewhere around 80 when making application of the Brenizer Method. And since we'll very regularly "go there" and snap upwards of 100 images with the Brenizer Method technique, you can imagine that our heavy 80-200mm is certainly less than ideal. The above image, for example, is an 83-image "stitch." And, well, holding up our 80-200mm for that many shots isn't the easiest.
3. Multiple Exposures

(ISO 50, f/16, 1/160 sec. Double Exposure)
(ISO 50, f/16, 1/160 sec. Triple Exposure)
As we briefly mentioned, the compression of Sigma's 85mm lens is beautiful, and definitely diverse from the primes we typically shoot with . . . and it's an ideal portrait lens, for sure. Because the lens takes such solid portrait shots, it worked perfectly for us when creating multiple exposure images, which we do in camera.
4. Prism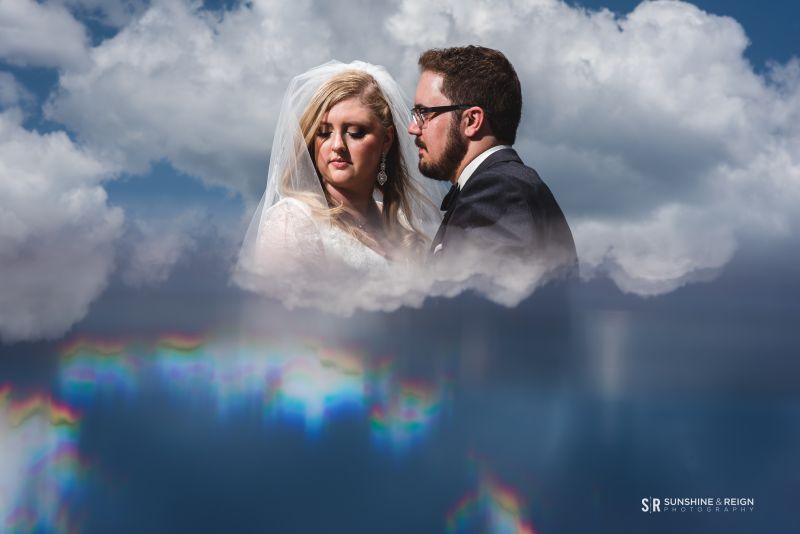 (ISO 50, f/14, 1/200 sec.)
Again, because of its tack sharp kick-assery (feel free to borrow that term) and because we regularly produce images beyond the standard style of wedding portraits, we were absolutely stoked over how well Sigma's 85mm interacted with our prisms. It worked really well with prisms because we found it focused very quickly, and when you place prisms (we use 6″ prisms) up against its casing, our hands didn't get into the frame. Previously, we could only use prisms with our 50mm as our hands would get all up in the frame when attempting to use prisms with a wide angle lens,  like our 24mm . . .
5. Long Exposure/Multiple Flash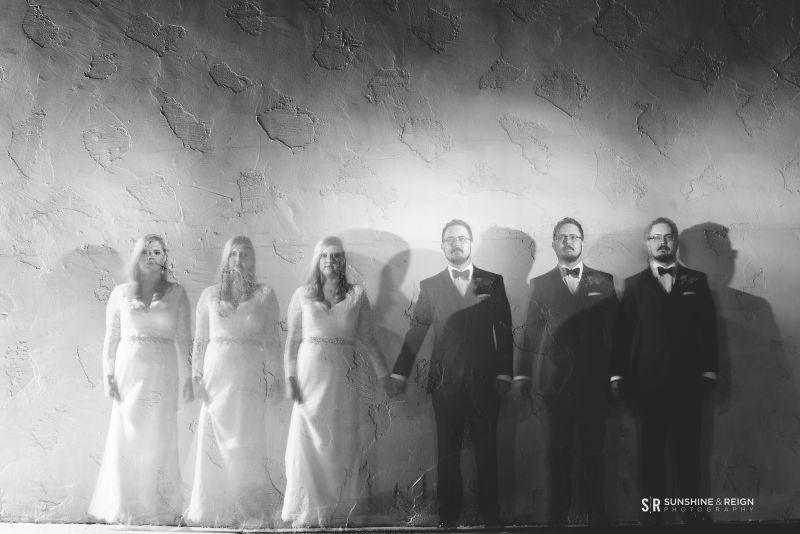 (ISO 160, f/9, 20 sec.)
For a long exposure/multiple flash shot (in this case 1 Nikon SB-910 flashed at the bride and groom individually, multiple times), the Sigma 85mm proved to continue to excel in sharpness. Its performance with this shot/technique definitely sold us on the fact that it's rad enough to hang with us even to the very end of our wedding days, which typically involve some crazy shenanigans. In this case a long exposure/multiple flash shot in a parking lot at 1:30 A.M.
Conclusion
Here's our conclusion: it's legit. If you need an 85mm prime lens that will deliver awesome portraits but can also hang with you as you head toward the upper limits of creativity throughout the entirety of a wedding day, and want something very reasonably priced (just under $1,000 in this case), then this is definitely a lens for you. You can get it here (currently $100 off for a total of $869): Sigma 85mm f/1.4 @ B&H. It will perform admirably, especially if you consider the price point of  its Nikon competition: the Nikon 85mm f/1.4 @ a price tag of $1,596.95 (nearly twice the cost).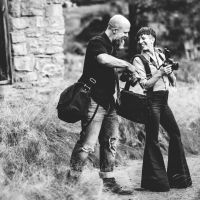 Amii & Andy Kauth
Amii & Andy are a wife and husband team of rad portrait and wedding photographers (Sunshine & Reign Photography) who absolutely love life and are generally just stoked! Yeah! When they aren't photographing or writing and teaching about photography, you'll find them off on a seriously legit adventure with their little ones, lifting weights in their garage, training jiu-jitsu, refining their archery skills, or surfing every chance they get. And on the rare chance they escape off on a "date night"? Yep! They'll find a wedding to crash (true fact). Website:
Sunshine & Reign Photography
Instagram:
@sunshineandreign