Fair to say everyone appreciates a good Panorama. Sometimes, a typical single frame image doesn't quite translate the scope, or beauty, of a scene as you can see with your naked eyes. The panorama gets you a little bit closer to being enveloped in the scene, and clearly, this is something most of us like to do given the proliferation of panorama applications on phones and pano options on cameras today. While the apps and settings can do a good job, it's unlikely going to give you something really phenomenal or worthy of a large print. To do this, stitching multiple images together will be your best bet, and even to do that, knowing how to take the images and then knowing how to process them in Photoshop is essential.
In the accompanying video, or rather the video to which this text accompanies, Aaron Nace takes some shots of Mt. Haleakalā (shot by fellow Phlearn team member and all 'round good guy, David J Crewe), holds your hand and guides you through the necessary steps to execute great shots for panoramas, and how to put them together and finish your image in Photoshop.
If you're a landscape shooter or a time-lapse shooter, some of this is probably already understood, but the tips on how to shoot are very valuable to anyone wanting to capture a great pano from a vacation. Some of the tips:
There's a saying often spoken in photography, that there are large, heavy, sturdy tripods, and then there are bad ones. While this may be an exaggeration, it helps to have a good one when taking panoramas.
Shoot more images than you actually need to give yourself more cropping ground
Contrary to what you might think, shooting at 50mm or higher is better than shooting very wide, as it allows for less distortion.
You'll want to choose an aperture that's very sharp, and typically, that means shooting within the f/8 to f/11 range
Manually focus
Shoot using slower shutter speeds, which may require ND filters, to reduce distracting elements of motion.
Once in Photoshop, the program does most of the heavy lifting for you. Simply by going to File>Automate>Photomerge, then keeping everything on automatic, will stitch your images together and give you a panorama to work from, and presents each image as a layer. You can then toggle the layers on and off to see how they make up the pano.
Once you're satisfied, you'll merge all the layers, and then address image distortion by going to Filter>Lens Correction and adjusting the sliders as you see fit. At this point, you should mostly be concerned with cropping to your taste, and then filling in any blank areas using either the Content Aware tool, or clone stamp, and then, finally, adjust the final colors in the image to produce something really spectacular.
As always, if you are a fan of Aaron's teachings (and who isn't?), be sure to check back here for updates, and follow along with Aaron on YouTube and Phlearn. You should also consider becoming quickly adept at Photoshop with the Phlearn Photoshop 101 & 201 sets as they are extremely comprehensive, and will have you quickly doing things with Photoshop you may have otherwise thought too complex, or didn't even know you could do.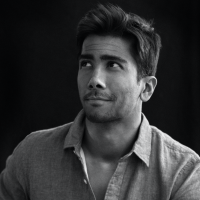 Kishore Sawh
A photographer and writer based in Miami, he can often be found at dog parks, and airports in London and Toronto. He is also a tremendous fan of flossing and the happiest guy around when the company's good.