With so many gimbals and stabilizers on the market nowadays it becomes increasingly more difficult and confusing to recognize which brands and models are dependable and worth the cost. We recently got our hands on the Feiyu MG-Lite V2 3-Axis Motorized Gimbal. Priced at $549, Feiyu's MG-Lite V2 comes at a competitive price in comparison to its peers, but is it worth the cost?
INITIAL THOUGHTS:
The Feiyu MG-Lite V2 comes packaged in a semi-hard case containing the gimbal, various grips, a 2-slot 18650 battery charger, and 4 batteries. Here it is with the case opened and set beside a 13-inch MacBook to show its size.
Setting up in its default pistol-grip is pretty straight forward: load two batteries, screw the bottom handle onto the gimbal, and hold the button below the joystick to turn it on. The gimbal itself feels lightweight and has a simple sleek design compared to Ikan's pistol-grip gimbals, and is much smaller than the Pilotfly H1 or H2. Mind you, this stabilizer is designed to hold mirror-less cameras that are lightweight.
The outstanding difference is the method of adjusting the gimbal. As opposed to traditional screws or small handles that allow you to tighten and loosen the tilt/pan axis, the Feiyu has knobs which were a bit frustrating initially because the adjustment would slightly slide when I tightened the knobs. However, it's easy to get used to quickly and wouldn't necessarily be a deal-breaker.
If you typically act like a hot-shot and try to figure out things without initially looking at the manual, you can do so, and in this instance it was thrown into trial by fire  but rigging a Sony A7r II, with a Metabones IV and Tamron 24-70mm attached to it. Would I recommend this? No. But it worked — which gave peace of mind knowing that it could fly a much smaller wide lens and it'd be fine. Here's some test footage of me using the gimbal:
TEST FOOTAGE
OVERALL THOUGHTS
I haven't played with too many pistol-gripped gimbals or budget stabilizers under the $1000 price point, other than the Ikan Beholder EC-1 and DS-1 that my friends have (Psst Ikan or Pilotfly…). However, I'm impressed with the quality of the Feiyu for the price point at which it's offered.
PROS AND CONS
Having 3 different options to grip it is really nice and is pretty unique in comparison to other pistol-grip gimbals around.
(all of these positions can be inverted)
It's not easy to set up in comparison to the Ikan Beholder gimbals, but being cheaper by $300, it's still worth it. The base plate, however, sucks, so get a quick release plate and save yourself the hassle of having to unscrew and screw it back onto the gimbal. Also, the fact that it doesn't come with any extra screws in case we lose the two for the base plate gives reason to be annoyed and paranoid.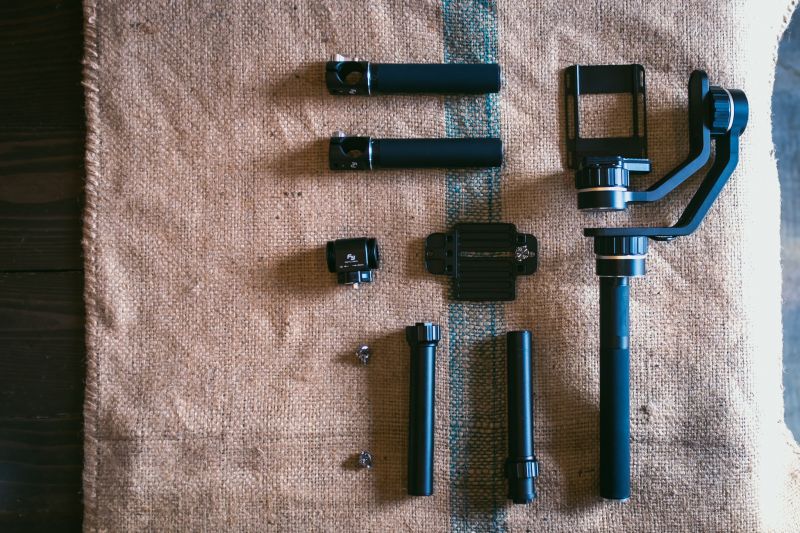 Additionally, I found that the panning wasn't very smooth. It jolts a little when you steer and rotate the gimbal. However, you should be able to adjust the panning settings by pressing the button 6 times, and moving the joystick up or down to change the parameters.
Lastly, the firmware update… Mac users beware, the firmware update only works if you operate on a PC. This, in it of itself, is the really big elephant in the room and a a deal-breaker for me.
IS IT WORTH IT?
The Feiyu MG-Lite V2 is a pistol-grip and dual-grip gimbal hybrid that's designed to fly mirror-less cameras. For those looking for a budget friendly stabilizer, and aren't trying to do too too much professional work with it, this is the gimbal for you. It's relatively cheap, it works, and with a little bit of patience and dedication to actually reading the manual & watching a few setup configuration videos online, it'll serve you your purpose. The fact that I can modify the grip in so many ways is actually a huge benefit and one of the more unique differences compared to other gimbals.
The setup is a pain, which is why I highly recommend investing in a quick release plate if you do purchase this product. Also, firmware updates can be problematic if you're running Mac OSX, since Feiyu's firmware updates only run on PC Windows. Things like this worry me as a consumer and incites a bit of doubt when considering customer service in relation to my product if anything were to go wrong with it.
All in all, you get what you pay for with the Feiyu MG-Lite V2. For the price-point, it is a great gimbal to purchase for cheap. However, if you can manage to save a bit more money and invest in a better brand, I would highly recommend that as well.
SPECS
Payload: 3.6 lbs // 1.63kg
Operation Modes: 3 modes: Panning, Pan + Tilt, Lock modes
Battery life: 6 hours~ (four 18650 batteries included, two needed for 6 hours of operation)
Weight: 2 lbs (without anything on it)
About the Author:
Yohan is a friend of SLR Lounge and a filmmaker/photographer based out of LA. He's a tinkerer and a thinker and you can find more of his awesome work here.
Alice Houstons
Photography has been a part of Alice Houston's life for over a decade now. Here at SLR Lounge, she prides herself on being a wealth of knowledge in the latest photography news and tech. Always searching and a self-described "Digital Nomad," she loves learning about those unique stories that inspire photographers around the world!