What do you do when you don't "got sunshine on a cloudy day"? As much as we hope and pray for golden skies or bright sunlight, we can't predict the weather, so how do we circumvent cloudy days and gloomy skies in order to make our clients happy? By recreating golden hour of course! Moments like these are truly your time to shine, and prove that your technical know-how compliments your artistic abilities.
Join Premium
Required Lighting Gear for golden hour photography
We are trying to match the power of sunlight, a tall order that requires a heavy dose of strobe power to compensate for the lack of ambient light. We have found that you'll need about 4-5 pocket strobes to equal the power of a full power strobe like the Profoto B2, however, this technique only requires anywhere from 1-3 (depending on your scene) to get just enough light. Our three favorites wireless flash systems are:
The tighter the shot, the easier it will be to showcase the effect since wider surface areas require more flash power and more light spread. Stay on your telephoto lens to compress your background and shoot tight to avoid seeing areas of the image that your light may not have been able to spread to.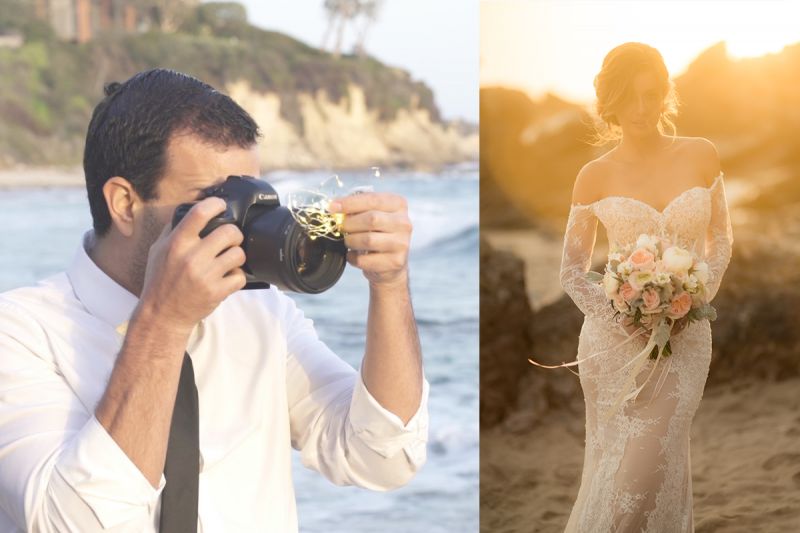 In our latest special effects workshop, Recreating Golden Hour, we cover all of the essential gear required to recreate golden hour, and take you step by step from shoot to post on how to manipulate and enhance these effects – click here for more info & a discount on the workshop or here to become a Premium member!
Let's take a look at a couple of case studies to see exactly how to use off-camera flash to emulate the look and feel of natural light or golden hour:
Natural Light
At first glance, the image above doesn't seem to appear manipulated at all, it just looks like a regular classroom scene with natural light flowing through the windows just to the left of the couple. Usually, the tell-tale signs of additional light are revealed in the edge lighting, yet we see highlights on each chair and shadows to follow. In order to create the look and feel of natural light we first deciphered our light direction, naturally coming through the windows on the left, and placed our flashes to the left. We then turned off all the existing lights in the classroom to avoid any mixed lighting. Using 3 Canon 600EX's at full power, we bounced the light off of the wall to simulate diffused window light shining through into the classroom.
We actually demonstrated the process of arriving at the image on the right in a Facebook Live video (check it out here). As beautiful as this room is, the light coming through the windows doesn't provide enough illumination which would require us to blow-out the room by bringing up Exposure and/or ISO, losing overall detail in the image. Using one single Phottix Mitros Plus at full power placed at the center window to match the direction of natural light, we create a powerful light source that emulates the sun.
This is another perfect example of how a simple burst of light, or three Canon 600EX's in this case, can enhance a rather bland scene. This image also demonstrates why it is important to stay tight in terms of framing because if you look at the top left portion of the image, where you can see the sky through the trees, you will see the ambient light and color of the sky juxtaposed against the areas where the light is hitting. The reason this is shot from a lower angle is to avoid seeing the light spill onto the ground – another potential tell-tale sign of artificial light.
Golden Hour lighting
This scene takes place in an outdoor mall, filled with distracting background elements, people, and parking lots, so, we reached for our 70-200 once again, to compress and cut the image off precisely within the frame parameters shown. If we chose any other lens it would likely reveal distortion. No sunlight could be seen past the bushes and without any manipulation, the shot is just average. In comes a Canon 600EX with a CTO gel to recreate that beautiful orange gold, placed just to camera right, at 1/8th power.
This next session was just after the sun had set, but it wouldn't have mattered as this location doesn't have the best visibility of sunlight after a certain point. When you are cornered by such situations, dive into your bag of tricks and be resourceful.
Using one CTO gelled Yongnuo 600EX at full power set approximately 20 feet behind the couple, we illuminated them from behind as if the sun was just about to set which produced a natural flare of light just through the space between their faces. You can see that some light spilled onto the fence behind the couple which is exactly what we want in order to portray the realism of actual light spread.
You can see from the natural light shot that the flash was facing halfway between the couple and the camera's position, and this is to ensure that the light spreads evenly and casts a realistic shadow as you can see on the water tower. This shot, however, could have benefited from an additional OCF to add more of an edge light around the couple as well.
Join Premium
These techniques are easy to adapt and great for when you are in a bind with the odds against you. Be sure to check out our Recreating Golden Hour Workshop to learn how to enhance these images in post to take your images from ordinary to extraordinary in just a few clicks with the SLRL Lightroom Preset system.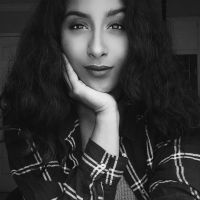 Shivani Reddy
Shivani wants to live in a world where laughter is the cure to pretty much everything. Since she can't claim "Serial Bingewatcher" as an occupation, she'll settle for wedding/portrait photographer at Lin and Jirsa & marketing coordinator here at SLR Lounge. For those rare moments when you won't find a camera in her hand, she will be dancing, eating a donut, or most likely watching Seinfeld. Follow her on Instagram:
@shivalry_inc