Given that we're all under a lockdown currently, it's likely most of us "don't have any models laying around the house" to shoot with, and since _most_ of us behind the camera are not models, the team at Mango Street have put together an awesome video full of helpful tips from a couple of actual models to help you get better at posing for your next shoot.
Tips For Taking a Better Self Portrait From Professional Models
"Think About It" – Having an actual "thought" in your head will translate through your eyes. It'll help you emote better
Use Fluid Movements – Don't be afraid to move, just let things flow naturally and you'll likely catch something unplanned and epic in-between the "actual poses"
Learn Your Angles – Take the time to learn your "angles" and it'll help your photographer and set directors. It'll make things easier if you know how to position yourself in relation to the camera to get the best look
Use Your Environment – If you don't have access to props, make use of what's around you to add "another level" to your shot. Use your own clothes as a prop and/or make use the things in the room with you.
Start Natural – Do what feels natural to start, and evolve from there.
Get Out of Your Own Head – We're all nervous about looking weird or taking a bad shot, but don't be afraid, people will look at what you're doing, but just remain focused on your shoot and you'll be fine!
Don't Be Afraid To Look Directly Into the Lens – Making "eye contact" can be intimidating in a photoshoot, but sometimes it'll land you a very powerful image.
Whether you want to be a better model, or just to learn how to take better portraits of yourself, the tips in the video here will hopefully help you on your journey and let you capture something a little better the next time you're in front of the lens.
What do you think? Do you have any other tips or tricks to add to this list? Let us know in the comments below.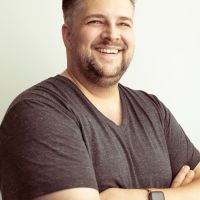 David J. Crewe
David J. Crewe is a full-time commercial photographer and Senior Editor with SLR Lounge. Based out of both Southern California & Las Vegas, Nevada. View his work and blog:
DavidJCrewe.com
Follow his Instagram:
@DavidJCrewe