When PocketWizard released the Plus III, it was a moment to savor, because it was the moment when the world of digital transceivers seemed to embark down a sensible road again. You see, PocketWizard triggers had been the gold standard in a market of few, and because of that domination, they could afford to, and did charge a premium for their product. As is natural in that sort of market environment, the seeds of competition were sewn by various companies no one ever heard of or cared for, who would compete on the basis of price. Queue then, the proliferation of discount triggers and a divide between the good and the unreliable.
PocketWizard seemed totally uncaring about the new eBay offerings and continued to produce products that were very good, but pricey. They knew their mettle was proved, and the other brands were just so far behind. So if you were looking to buy, you either dropped a lot of cash on PWs, or you spent about 1/8th of a PW on something like a Neewer or Yongnuo, or Cactus or whatnot and realized rather quickly that these cheap triggers were just not reliable.
Fast forward a bit and PocketWizard was still going on with the same, but in the meantime, the other brands started becoming a little better, and thus a lot more appealing. Where before they were little more than disposable training wheels for beginners, they became just decent enough for enthusiasts to use, and not that I've seen the P&L statements, but PW was likely bruised. What many of us knew, however, was that for the working professional, PWs were still better by a measure of reliability, and on set or in the field that's paramount to price. So when they released the Plus III, with all those features at a smaller price point, it showed that PW listened.
And then they fell silent.
Not quite in a Wonka factory manner, PW seemed to just drift out of view, quietly chugging on with daily operations, busy, no doubt, with the resounding success of the Plus III, even though they did, sort of, have communication issues when they weren't upright. But now they've finally released the Plus IV, which picks up right where the Plus III left off, equaling in price and besting in features. With each unit coming in at $153 USD, they're not cheap, but historically speaking they are better.
They look, as many have noted, a bit like the Plus III on its side, and that design allows what some will say is the best of both worlds: You can do on-camera TTL and control remote flashes. When used as a transmitter, the IV will control most Nikon, Canon, Fuji, Panasonic, and Olympus flashes, and of course, it'll communicate nicely and fully with PocketWizard-enabled gear such as some offerings from Profoto, Dynalite, Sekonic, and so on. Karen Marshall, CEO of LPA Design, the U.S.-based manufacturer, and distributor of PocketWizard products had this to say,
Serious photographers understand the benefits of controlling the light at the time of exposure, both in-studio and on location…I'm delighted that PocketWizard engineers have been able to add TTL pass–through, for use with on-camera flash, and a metal foot and applied it to our time-tested technology, offering our users even greater versatility.
In a slightly strange move, the company suggests that this is not an outright replacement of the Plus III, but rather something to use in conjunction with, describing a scenario as having an on-camera IV for TTL and the Plus III on studio strobes. Interesting. I just spent some time with and reviewed the Impact PowerSync 16-80 triggers which are significantly less expensive than PWs but with almost as rich a feature list, and in my experience (though not shooting weddings and I'm strictly a no-TTL guy), they worked very well – exceedingly well one might say. I'm very interested to see just how much better these can be, but I gather they are something special. Get your shiny new and workhorse Plus IV here.

If lighting is your game or you want to make sure you get up to speed at record speeds, then Lighting 201 is right up your alley.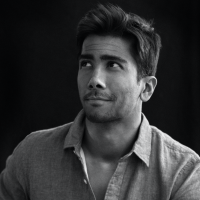 Kishore Sawh
A photographer and writer based in Miami, he can often be found at dog parks, and airports in London and Toronto. He is also a tremendous fan of flossing and the happiest guy around when the company's good.