Writing a bag review can be a lot like writing about your favorite pair of jeans or your favorite pair of dress shoes; subjective at best. Personal taste can play a big role in choosing a camera bag, especially when it comes to ONA bags. Some photographers are strictly interested in durability and how well a bag can protect their gear, no matter what the bag looks like. Other photographers that tend to deal with clients and care about the look that they portray, putting emphasis on the styling of their camera bag. ONA is a company that designs their bags for the latter, focusing on style as well as versatility, and they do an exceptional job at it.
Just like my camera gear, I have different bags for different purposes. I have bags that are more robust and made to take on more extreme conditions, bags that are simply for traveling and built to take a beating, and I have bags for when I am just out and about or when I want to look good. A bag that has always seemed to be difficult for me to find is one that is small enough to carry around with me on shoots that simply does not get in my way. I tried a number of different bags, some were either too small and didn't hold enough, some were awkward to carry or uncomfortable, and the ones that did meet those qualifications simply weren't very good looking. Finding a bag that could hold enough to make it worth carrying, comfortable, and looked stylish at the same time was a tough task.
Since my interaction with my clients is a big part of my photography business, I realized a few years ago that I wanted to not only look good in front of them, but also look professional. I didn't like carrying around camera bags on shoots that made my clients think I had no style sense, especially on engagement shoots. These clients are not only paying a lot of money for me to take amazing photos of them, but most of them also rely on me helping them look their best. Most ask for my opinion on how they should dress, what shoes to wear, what accessories, etc. I didn't want to give them a reason to question my suggestions and guidance because I dressed like a slob or carried a camera bag that looked like it was cheap or was meant to be taken on a hike in the mountains.
ONA is a company that not only understands the need for a stylish camera bag, but they understand that looks only go so far if the bag itself is junk. They designed the Bowery line of bags for photographers looking for something just like I had been for years. A bag that is small, comfortable, carried just enough equipment for a shoot, and looked good. Just as ONA describes the bag, it's very sleek and versatile. I first purchased the brown leather Bowery, which is handcrafted with Italian-tanned leather and detailed with antique brass accents. It has five exterior pockets and a soft inside that can hold one DSLR with a lens attached on one side and an additional lens on the other. I also use it to hold my Leica M9 with a lens on one side and my Sony A7II with a lens on the other.
The design is excellent, and it holds just about everything I need when walking around with my clients on a shoot. When I do decide that I need to carry more gear with me, I usually carry it along with my Holdfast Moneymaker straps which allow me to carry two additional camera setups. A lot of times when I go on a shoot, I try to only bring one camera and 2 prime lenses. As many of you that follow my work know, I have a lot of gear. I never carry a lot of gear with me though, too many choices while shooting simply doesn't work for me. This bag allows me to pack it and go, leaving no room for any other gear I may be tempted to bring.
As much as I love this bag though, there is a downside to it, and that is a result of its small size. I've been told several times that it looks like I'm carrying a purse. I'm a little bigger in size than most, so carrying around a little leather bag tends to look a little funny to people. Honestly, I'm not one to go out and walk the streets to take photos, I take it with me on shoots where the only people I see or care about are my clients. Being told it looks like a purse doesn't bother me, and for as many times I have heard that, I have been told twice as much just how awesome it looks. The other downside is the price, which to some is a little too much for a small bag that doesn't carry much. I can tell you that you're paying for quality and craftsmanship. This is my 3rd ONA bag, and I have beat them all up pretty well, the Bowery being no different. They have all taken their beating well and are still smiling, and beautiful.
The ONA Bowery is an excellent bag and I highly recommend it for someone looking to go light and look good. This isn't a one bag for all, nor is it a bag you will want to take on your next excursion through the wilderness. You will know if this is a bag you need or not, and if you do, you'll look sharp carrying it. My wife liked the one I bought so much that we bought her one as well, so take it for what it's worth, but I ended up buying a second one. You can see the entire ONA line of bags at www.onabags.com.
All photos of me were taken by my awesome intern Austin Wheeler.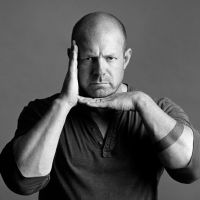 Jay Cassario
Jay Cassario is a fulltime photographer from South Jersey, owner of the multi-photographer wedding and portrait studio
Twisted Oaks, and Brand Ambassador for Leica Camera USA. WEBSITE:
Jay Cassario Personal Facebook:
Jay Cassario Business Facebook:
Twisted Oaks Studio Google Plus:
Jay's Google + Twitter:
@JayCassario