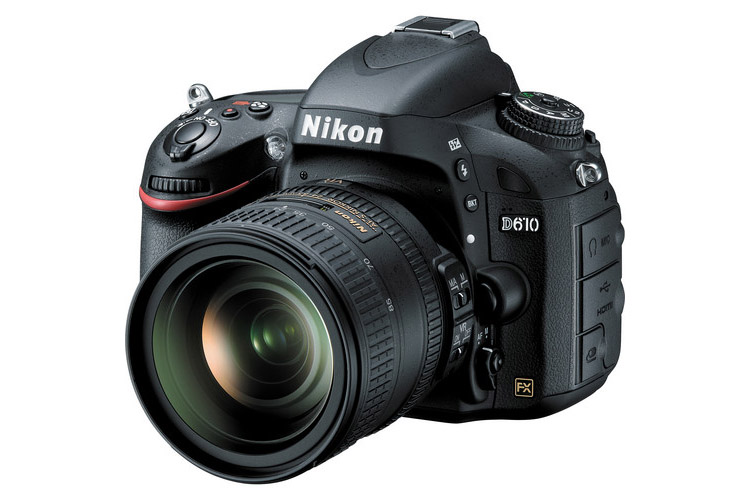 Nikon has announced the D610, an amateur / prosumer level full-frame DSLR body for $1,999.  Coming out barely a year after the Nikon D600 and with almost identical features, the question is this: shouldn't Nikon simply have dubbed it the "D600s" instead?  Probably.  Actually, most of the time a Nikon "S" camera update has even more improvements than this.  Regardless, here are the specs of the D610, with commentary:
Nikon D610 Specifications
24 megapixel full-frame CMOS sensor
The same awe-inspiring image quality that we described in our complete D600 field review, which you can find HERE:  Incredible dynamic range, mostly on-par with the Nikon D800's dynamic range in fact, and great overall image quality.
ISO 100-6400 native, ISO 50-25600 with "HI" and "LO" options
Again the same as the D600, and once again there's nothing wrong with that!  If there is any glimmer of hope, it is important to note that often times even the same sensor can yield slightly better final images in a camera "update".  Any time Nikon makes an "S" version of a camera, ISO performance gets almost a stop better.  No promises so far, but just something to keep in mind.  Most likely there is no difference, otherwsie Nikon would have touted it.
39 point autofocus
Again the same as the D600, however this is actually unfortunate because personally I have found Nikon's 39 point AF to be just slightly less amazing than the flagship 51 point AF in the likes of the Nikon D800, D700, and of course the Nikon D4.  But then again, what do you expect in a consumer-oriented DSLR?
A "completely new" shutter assembly, capable of 6 FPS instead of the D600's 5.5 FPS and a better silent mode
Of course a 0.5 FPS improvement isn't even the real reason Nikon did away with the D600's old shutter assembly, nor is a better silent mode.  (Although Nikon's previous "silent mode" was kind of a joke, so this is quite welcome…)
No, anyone who considered buying a D600 would tell you that there were widespread issues with dirty sensors due to shutter oil finding its way onto the sensor and attracting lots of dust.  In fact according to some, Nikon's entire reason for releasing the D610 is this one single issue….ending the bad reputation that the D600 received because of the sensor oil issue.
There were also reports of the Nikon D600 having other, more serious shutter or exposure issues, however in either case the response from Nikon has always been, "if there is anything wrong, send it in and we will fix it!"  (More on this crucial issue in just a minute)
…But Wait!  Still 1/4000th sec max shutter speed, and 1/200th max sync speed
Okay so, "completely new" was a bit of a stretch for the D610's shutter assembly.  Some photographers had hoped that Nikon would up the ante and stick the D800's shutter in the D600, giving it 1/8000th sec max speed and 1/250th sec max flash sync.
Better Auto White Balance
While this might be useful to many amateurs and hobbyists or even a few select professionals who choose to use the D610 in a few select conditions in which auto white balance is useful, it isn't a feature worth more than a few dollars in our opinion.
Weather sealing to match that of the D800
While ambiguous, the wording of the specification is indeed different from that of the D600's original announcement.  It is possible that the D610 has slightly better weather sealing.
Same body layout, controls, features, and customizations all-around VS the D600
We won't know for sure just how deep the identical-ness goes until we actually get one in our hands, however aside from the shutter, WB and possible weather sealing improvements, it seems that the D610 is going to be identical to the D600.
This is good because the D600 already had fantastic features and decent control functionality, however I will definitely be very, very sad if the D610 does not turn out to have two more obscure features that even the new DX sensor D7100 has:  True oldschool "bulb" shutter mode, (click-open, click-shut style instead of "hold the shutter down for the entire exposure" style) …and 1-click 100% zooming during image playback with the customization of the "OK" button.
Pre-Ordering
The Nikon D610 will be available later this month, and you can pre-order it at the following links:
B&H – Nikon D610 – Body Only – $1999
B&H – Nikon D610 – Kit with 24-85mm lens – $2599
B&H – Nikon D610 – Kit with 28-300mm lens – $3049
B&H – Nikon D610 – Kit with 24-85mm & 70-300mm lens – $3249
Amazon – Nikon D610 (body only and kits available)
Is the D610 worth buying compared to the D600?
Mainly in my opinion, it all comes down timing, (how soon you need a camera) …and what you need from your camera.  The differences between the two cameras are minor, and the biggest issues with the D600 seem to be one that Nikon is willing to fix for free.
Therefore, unless there is an actual issue with the D600's overall shutter reliability, the D600 seems to still be an absolute great buy, if you can pick one up for cheap and still get access to the warranty.  (And learn to clean your sensor, and clean it regularly… ;-)
Of course keep in mind that brand new D600's are probably going to disappear pretty quick, so soon this whole thing will be a moot point.  The bottom line is that both of these cameras are totally worth $2000 for their overall image quality alone, and within a few months the D610 will be the only camera available new.
In other words, if you already own a D600 you probably won't need to upgrade, but if you haven't bought one yet then it's a toss-up for the time being.  Maybe if there are a few subtle  software-based differences the D610 could be of greater value to more discerning photographers?  Or of course, if the D610's shutter isn't susceptible to excessive amounts of dust, that would be valuable to many as well.
Either way, we'll have a brief review online soon!
Take care,
=Matthew Saville=