'We accept the reality of the world with which we're presented. It's as simple as that.' – The Truman Show
When you think of a movie you love it tends to seem obvious why you love it. Your appreciation could be routed in a memory, affection for a cast member, a particularly moving or clever scene, a great soundtrack or smart dialogue. It could a combination of any number of things you can put your finger on, but it would also appear that it could very well be due to things you can't.
Often the reason we are taken by a photograph or a piece of film could pertain to the subject matter or something easy to see, but how the imagery plays upon our subconscious plays a critical role; perhaps chief among which is composition. While we are all capable of dissecting a still to analyze the comp, in the flow of film it's always happening and tends to mark our judgment almost effortlessly.
Filmmakers and cinematographers aren't confined to a single shot, allowing them to carry out their art throughout a scene, altering its course, frame by frame, and Raymond Thi of Composition Cam, demonstrates the use of the rules of composition in classic and iconic films using pink lines to sketch out triangles, lines of symmetry, & examples of the rule of thirds.
As a viewer watching these movies, we get quick glimpses at various scenes, making it challenging to truly analyze and appreciate the thoughtful artistic direction behind each scene. Raymond gives us an insight into some of the genius we've surrounded ourselves with, and perhaps never fully appreciated.
As photographers and filmmakers, the rules of composition are one of the many foundational concepts used to manifest our art. Thi has devised a camera app that overlays various compositional guides on your phone screen, allowing you to envision unique compositions and perspective shots. His objective is to get creative minds thinking in unconventional ways to make learning composition accessible and straightforward, and it's truly interesting and thought provoking stuff.
See if you can guess which famous movies sparked his inspiration:
Interested in seeing more of Raymond's work? Check out his Facebook and Twitter to see more compositional theories in films.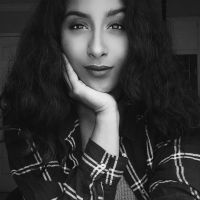 Shivani Reddy
Shivani wants to live in a world where laughter is the cure to pretty much everything. Since she can't claim "Serial Bingewatcher" as an occupation, she'll settle for wedding/portrait photographer at Lin and Jirsa & marketing coordinator here at SLR Lounge. For those rare moments when you won't find a camera in her hand, she will be dancing, eating a donut, or most likely watching Seinfeld. Follow her on Instagram:
@shivalry_inc