Do you remember that pivotal moment when you first fell in love with photography? The art is exhilarating and it is no wonder that so many dream to one day be in business for themselves and spend their days doing what they love. The quest of becoming a freelance photographer quickly unveils that the business of photography is so much more than image making; it is one of the most difficult transitions to make and if you find yourself getting discouraged along the way, know that you aren't alone. Jeff Rojas shares words of encouragement as well as lessons that he's learned during his 5-year tenure as a freelancer.
Tips for aspiring photographers
Be persistent in growing your business and growing as an artist.
Find the business opportunities within the market and adapt accordingly.
Create with a purpose and turn those dreams into goals.
Learn from your mistakes.
Don't take "no" for an answer.
Things aren't what they used to be and that isn't necessarily a bad thing. Think like a creative entrepreneur, treat art as a business and find the opportunities within the marketplace that you can create a niche and build upon that foundation.
[REWIND: Getting Started As A Fashion Photographer Part 2 | NYC Fashion Can Be Brutal, Be Prepared]
Create with a clearly defined purpose and turn those dreams into goals so that you have focus. Mistakes will be made along the way and it is imperative to learn from them and grow from them. As discouraging as it can be, don't take "no" for an answer and keep pushing forward. Becoming a freelance photographer is a lifestyle, not a job, and it can be as frustrating as it is rewarding.
I'd also emphasize the necessity of networking within the industry and growing a sound social media following as they both have more power to open doors than a stellar portfolio alone. Plus, I have found that these connections made during the journey often blossom into lifelong friendships.
The following video is just under 10 minutes and is perfect for anyone who is in need of a dose of inspiration. Be sure to check out and subscribe to Jeff's YouTube channel as well as keep up with him on Instagram.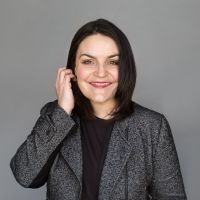 Brittany Smith
Brittany is a fashion and beauty photographer who works between NYC, Montana and LA. She photographs the way she has always wanted to feel and believes in the power of raw simplicity. When not behind a camera she can usually be found at a local coffeeshop, teaching fitness classes at the YMCA, or baking something fabulous in the kitchen. Instagram: @brittanysmithphoto