Speed is addictive. Whether you're driving, flying, running or even monitoring the rate of something, there's something about pushing that little bit further that speaks to the very nature of us. Perhaps a little more insidiously, however, is that you get used to speed; you build up a tolerance.
It's like a drug really, and coming off of it causes withdrawals.
This is one reason why anyone considering getting a LaCie 6Big Thunderbolt 3 should approach doing so with caution, because there's just no going back afterward – doing without it becomes a non-starter. It's bonkers fast, and will have you grinning like an idiot every time to push it.
But headline-stealing configuration-dependent speed isn't all there is to the unit, but rather one facet. What LaCie has has in fact done with the 6big Thunderbolt 3, is create something that shows forward thinking; that not only will give you back more of that nonrenewable resource (time), but also help to simplify your connections, easily manage the headache of wires, allow you to get more out of your current computers and devices, and help to future-proof your entire system.
It's the kind of device that propels you forward and improves many aspects of your production's workflow. Let's get into a few details.
LaCie 6Big Thunderbolt 3
PRODUCT HIGHLIGHTS
Drives 6 x hot-swappable, enterprise-class 7200 rpm hard drives
2 x Thunderbolt 3
1 x USB 3.1
Read / Write Speeds Thunderbolt 3

RAID 0: 1400 MB/s Read and Write
RAID 5: 1200 MB/s Read, 1150 MB/s Write

USB 3.1 –

RAID 0: 400 MB/s Read and Write
RAID 5: 350 MB/s Read and Write

Both Thunderbolt 3 and USB 3.1 through a reversible USB-C cable
Bi-directional, dual-protocol, and supports dual 4K displays or one 5K display
RAID Modes 0/1/5/6/10/50
Cooling: 2 x redundant fans
Heat-dissipating, all-aluminum enclosure
IndicatorsL Front-facing status LEDs for disk, power, and alarm events
System monitoring, audible alarm, and email alerts for failure and warning events via LaCie RAID manager
Power Supply: 100 to 240 VAC, 50/60 Hz, 250 W
Dimensions: (W x H x D) 6.3 x 8.9 x 9.3″ / 161 x 225 x 237 mm
**Backwarrds compatible
Quick Note On USB-C Thunderbolt 3
The fulcrum feature of this unit is the adoption of the Thunderbolt 3 I/O, something LaCie were very early to do. The early Apple adoption of USB-C was a pretty bold move, but as tends to happen with major Apple decisions, the rest of the world conforms, and Thunderbolt 3 really lets you take advantage of modern power, speeds, and the USB-C form, which seems here to stay.
Thunderbolt 3 has a transfer rate ability of 40Gbps, which is double that of Thunderbolt 2, and 4x that of Thunderbolt and USB 3.1, which translates into being able to carry audio, video, data, and power through a single cable. And that means a LaCie 6Big Thunderbolt 3 can daisy-chain up to two 4K monitors, numerous other peripherals, power your laptop, or even charge a camera. The Sony A7Riii and something like the Leica TL2 both have USB-C ports.
Will it charge your MacBook Pro?
Common question, and the answer is 'yes and no'. Your 6Big will send 27W (USB 3) of power to the laptop, but that's not quite up to the 87W that you'll get from the MacBook Pro's included charger. Still, you can extend the life of the laptop charge by reducing its rate of depletion, or charge it slowly when it's off or asleep.
Pause on that, if you will. For those who haven't seen what all of this means in action, picture this: Single MacBook Pro connected via a single USBC Thunderbolt 3 cable through to a 6Big Thunderbolt 3 unit, which then acts as a data-dub, then out from that into two 4K monitors. Beautiful. Stoic, even.
Build
Just before touching on the actual speeds, it warrants mentioning the build of the 6Big, because it's unusual, and by unusual I mean unusually good. First and foremost it's a premium aluminum build, and it's probably smaller than you think. It is, however, heavier than you think. Coming in at around 24lbs, this isn't something you're going to move around with, and it's best left on your desk or off to the side.
If you do keep it on your desk, you'll be treated to near silence, and the somewhat soothing glow of the trademark LaCie blue lights that change color and flash depending on what's going on with it. As it's operating you'll hear the typical clicks associated with the type, but even there it's…less jarring than others from G-Tech, for example, and the fans are most often whisper quiet.
Performance
As the 6Big Thunderbolt 3 has 6 drives, that opens up a lot of options for single or multiple arrays, from RAID 0,1,5,6,10, and even 50. Typically I recommend a minimum of RAID 5 (which is what the default is) as it has decent compromise between speed and stability (read: if one drive fails you're still good to go), or even RAID 6 which allows for two drive failures. However, each array configuration will perform differently, so here's a look at speeds typical of the LaCie 6Big Thunderbolt 3 with various RAID array levels and using Thunderbolt 3:
*Changing array configuration is simple within the LaCie RAID Manager software, even if the company does little in the way of explaining how it works. Their FAQ section on site, is lacking. If you have questions shoot them over to me.
RAID 0: (The fastest but no protection): 1170 Write / 1210 read
RAID 5: 842 Write / 1021 Read
RAID 6: 752 Write / 813 Read
RAID 10: 587 Write / 311 Read
RAID 50: 743 Write / 761 Read
What if I don't have a Thunderbolt 3 computer?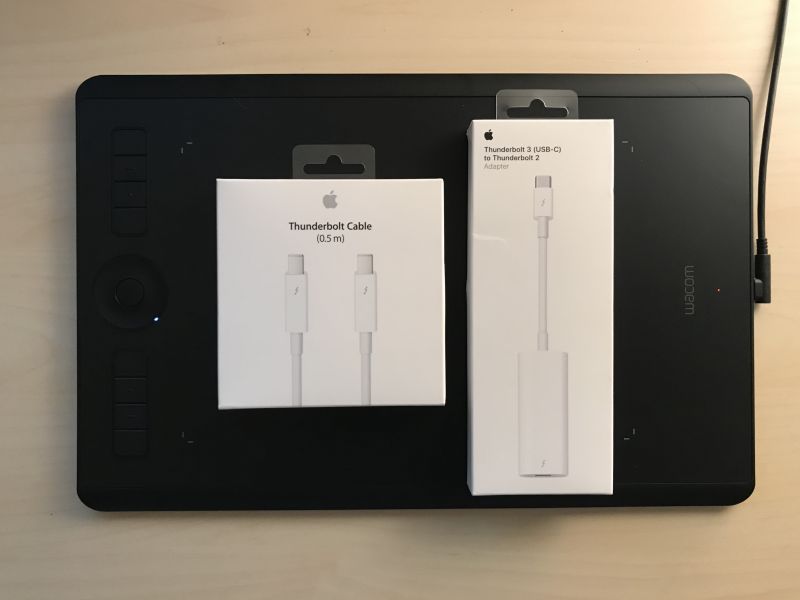 Not to worry, as this device is backwards compatible. There are, however, caveats. You can use USB 3.1 into your computer (LaCie was kind enough to include these) but you will not be seeing the speeds like using Thunderbolt 3. The rate of USB 3.1 is 10Gbps, and what that translated to in terms of speed in the 6Big with a RAID 5 array, were around 345 MB/s write and around the same read. Not shabby at all, but considering what speeds it's capable of, it's not near the top.
However, you can get Apple's Thunderbolt 3 (USB-C) to Thunderbolt 2 Adapter (see image above), which makes for easy connection to older Macs with much faster performance. If you don't have a USB-C/Thunderbolt 3 computer, I wouldn't let that hold you back from integrating a 6Big, just get this.
Here are speeds with the Thunderbolt 2 adapter into a 2015 MacBook pro:
RAID 0: 767 Write / 826 Read
RAID 5: 656 Write / 400 Read
There's quite a lot to take in here, and above all this has been the most consistent (in terms of speed) unit of its type I have ever used, with offerings from G-Tech having proved less consistent and overall a bit slower, even if prices above.
While I was not able to achieve the max 1400 MBs printed by LaCie, that's not exactly a surprise, as those speeds re generally attained through a very specific system set-up. But 1170 Write / 1210 Read in RAID 0 is still the fastest I've seen.
Even better than that, the RAID 5 and 6 speeds were even more impressive, particularly RAID 6 given the level of protection you're getting. Even RAID 6 using Thunderbolt 2 was surprising, which really says to me that if you haven't got a Thunderbolt 3 machine yet but have Thunderbolt 2, don't let that hold you back form getting this if you could use it – your next device is surely going to have TB3. Essentially, you can scale with this device a good way into the future.
Cost
Anyone who has brushed the world of data management will know that it is a bit of a Pandora's Box, as one change generally leads to a number of others, and often more devices. In that vein you'll know that data management can be costly, particularly for a professional system like this. The 6Big Thunderbolt 3 is no different, but the purpose of this is to illuminate why it may be worth it.
The LaCie 6Big Thunderbolt 3 comes in 4 flavors of capacity, ranging from $2,600 for the 24TB, and a tear-inducing $4,800 for the 60TB. Those prices are, understandably, a barrier to entry for many photographers and videographers, but for those who want to grow, and who look deeper into what's on offer, competitor pricing and feature-sets, what you'll see is the price is actually very good.
If you do the basic math, what we are looking at here is near-as-makes-no-difference $80 per terabyte, and for professional grade drives like the hot-swappable, enterprise-class 7200 rpm hard drives in a system like this, that's actually on the low end. You can typically expect that number to be closer to $100 a TB.
Who is it For?
If you're reading this, I'd wager 'you' is a suitable answer. Well, the other obvious answer would be for video and studio professionals. Given the performance you can edit 4K footage with this without so much as a hiccup, and you will not be wanting for space. However, I think the mistake would be to think that it's only for video pros, or even creatives in general. Actually, if you have any kind of small business, this is the kind of performance and security you could do well with, from a real estate office, to small medical facility.
The thing is, if this was 3 years ago I may have thought the market for this would be very small, but with everyone now using drones with high resolution cameras, and regular cameras shooting 4K and 40-odd megapixels, the creative community on a whole is creating a veritable mountain of data, and the rate and volume of which continues to grow. If you're a video freelancer, or you have a wedding photography business, or a drone business you're going to love having this in your arsenal.
This is going to shave considerable time off pretty much all aspects of your back-up and post production workflow, and the kind of device that encourages you to professionalize the rest of your workflow.
In addition, if you are working in that type of professional capacity, it's nice to know that you have a 5-year warranty and also 5 years of of Rescue Data Recovery Services at your disposal. And of course you're running Seagate® IronWolf™ Pro with 300TB/year workloads – there shouldn't be a problem.
So then, the LaCie 6Big Thunderbolt 3 is performance and peace of mind – how do you put a price on that?
Highly recommend.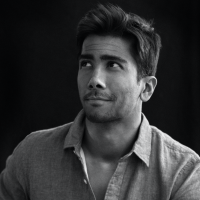 Kishore Sawh
A photographer and writer based in Miami, he can often be found at dog parks, and airports in London and Toronto. He is also a tremendous fan of flossing and the happiest guy around when the company's good.