The promise held in Apple's lauded dual-camera system, sporting a 28mm wide angle lens at f/1.8 and a 56mm telephoto lens at f/2.8, has left the public anxiously waiting to see results. These two cameras work in tandem to create its latest revolution called Portrait Mode, showcased in its new Beta release for the iPhone 7 Plus.
Reproducing Depth of Field
The DOF effect created in Portrait Mode is a combination of both hardware and software. Apple acquired tech company LiNx early last year with the goal to create DSLR-like mobile photography, and Portrait Mode is their solution to emulating images shot on a DSLR with a telephoto lens. The two paired up to create data that the "image processor can use to craft a 3D terrain map of its surroundings" (TechCrunch).
Portrait Mode In Use
Portrait mode exclusively uses the telephoto lens, 56mm, to shoot the image while the wide angle lens simultaneously gathers the depth data to produce a 9 layer map. TechCrunch gives a perfect example of how the cameras "see" differently:
If you want to get a feel for how this works, hold your hand up in front of your face and close one eye. Then open that one and close the other. Do you see how you can see "around" your hand? That's how Apple's camera system is working. Once it has these nine slices, it can then pick and choose which layers are sharp and which get a blur blur effect applied to them.
When put to the test we found these noteworthy issues:
– The zoom function works better in more light, i.e: When you watch TV in a dimly lit room zoom towards the TV, then slowly transition off of the TV to the dimly lit room and there is a small "stutter" which is basically the iPhone switching from the native zoom, to a digital zoom with the wide
– It takes some time to save the photo after each take, so it's difficult to rapid fire and get candid moments. It can be used generally for static people and objects.
– At lower light settings, there is a considerable amount of noise in the shadows vs. shooting without the DOF effect
– Portrait mode not the best for moving (even somewhat slow) subjects
Portrait mode sample images
We gathered several images to showcase the effects of Portrait Mode, currently only available to Beta users of the iPhone 7Plus. The camera takes two images, one using the telephoto lens to detect the subject either with auto-focus or touch focus, and another using the wide-angle's gauge of depth data to simulate the blur surrounding the subject.
The subject must be a minimum of 19″ away or the user will receive an error message, similar to how a lens won't cooperate unless you are the minimum focusing distance away from the subject.
If you look closely, you can see that the gauge of depth missed the mark just in the center of the image between their bodies, making it blatantly obvious that the effect is indeed processed, however the results of the first phase Portrait Mode seem to live up to hype. The impressive depth separation effect is about to make waves for iPhone users, once again proving that Apple's easy-to-use interface could quite possibly mean a desolate future for the point-and-shoot market.
Some people are unimpressed with the upgrade, calling it an amateur Gaussian blur, but regardless of mixed opinions, its functionality speaks for itself, and we will likely see a substantial transformation in the quality of iPhonegraphy as we know it.  Remember, this is a tool for a broad base of people who aren't all photographers. Apple has even clarified that it is in fact not a Gaussian blur but a custom disc blur, having more of a defined, circular shape, just to put the haters to rest.
With promised stronger low-light capabilities and the imminent arrival of RAW capture & processing, it is evident that Apple is trying to engineer their way into the leaders of mobile photography. What are you thoughts on Portrait Mode? Leave them in the comments down below.
CREDITS: Photographs are copyrighted and have been used with permission for SLR Lounge. Do not copy, modify or re-post this article or images without express permission from SLR Lounge and the artist.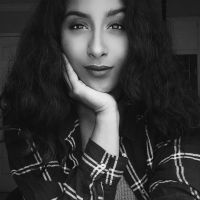 Shivani Reddy
Shivani wants to live in a world where laughter is the cure to pretty much everything. Since she can't claim "Serial Bingewatcher" as an occupation, she'll settle for wedding/portrait photographer at Lin and Jirsa & marketing coordinator here at SLR Lounge. For those rare moments when you won't find a camera in her hand, she will be dancing, eating a donut, or most likely watching Seinfeld. Follow her on Instagram:
@shivalry_inc